Commencement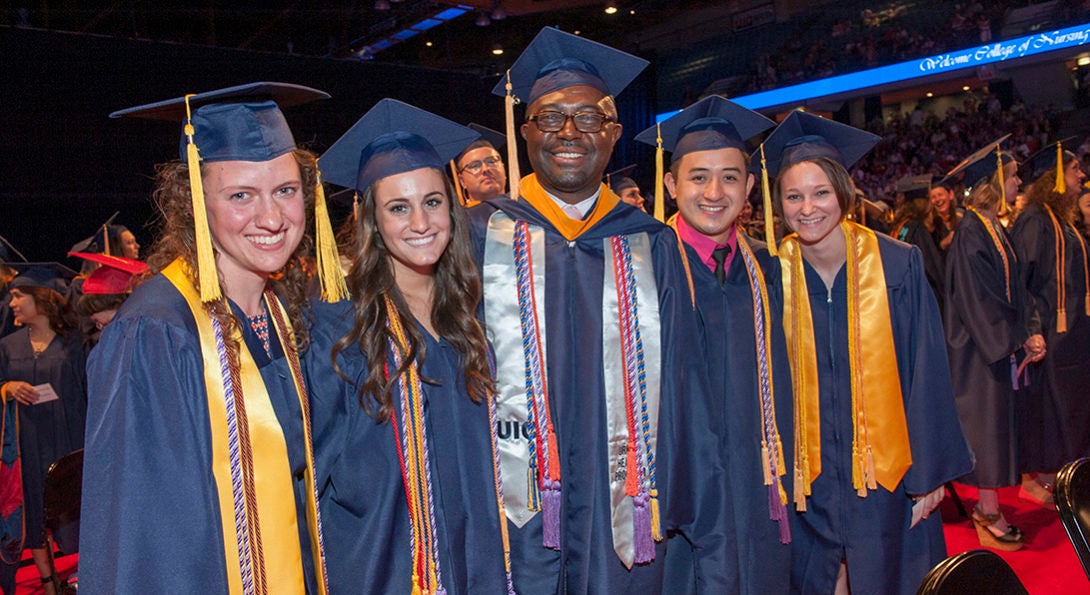 The College of Nursing spring 2020 commencement ceremony will be held Mon., May 11, at 2:30 p.m. in the Credit Union 1 Arena.
body copy
The ceremony will last approximately two hours. All graduates planning to attend the commencement ceremony must RSVP no later than March 30, 2020.
Crucial information for graduates
Arrive on time fully dressed
Graduates are expected at GATE 2 at the UIC Credit Union 1 Arena

at 1 p.m.

Allow for extra time for new Credit Union 1 Arena Policies

For the safety of all, the UIC Credit Union 1 Arena requires all guests to go through metal detector screening prior to entrance, and limits or prohibits certain items. Please view the policies here:

There will be an attendant from the Book Store available to assist with some regalia issues, however, students should come fully dressed.

Wear your tassels on the

right

as you walk in the forum hall.

If you're being hooded (DNP, PhD), hoods should be draped over your

right arm

(unbuttoned) as you process up on stage. Stand between the hooders and turn to face the audience while being hooded.

Master's students should put on their hoods prior to entering the Credit Union 1 Arena hall.
Leave your personal belongings with a family member or friend.
There is no secure location backstage to store items during the ceremony.
Collect your name card
There will be several staff members* distributing name cards to graduates at the Credit Union 1 Arena. To get your card, locate the line lists first initial of your last name (A-L or M-Z).

Please do this as

swiftly

and as

patiently

as possible

Do not lose this card!

You will be handing it the faculty name reader before you cross the stage to receive your diploma.

This card will have information about your assigned seat

.
Find your seat in the Credit Union 1 Arena
Graduates will be asked to make their way to the Credit Union 1 Arena to find their seats promptly after picking up their name card. Credit Union 1 Arena staff will be on site to assist with finding your seat.

All graduates must be seated in their assigned seat by 1:55 p.m.

Once you reach your chair, you are to sit; do not remain standing.
During the ceremony
Restrooms will be available in the Credit Union 1 Arena before and after the ceremony.

If it is absolutely necessary, you may see a Marshal for restroom assistance.  

Please use appropriate decorum on stage; including NO chewing gum, cellphones or other electronics.

The ceremony is approximately two hours long.

Celebrate your accomplishment in a way that is in keeping with the solemnity of this occasion. Keep in mind that many people have worked long and hard to enjoy this day. Do not allow your celebrations to disrupt the ceremony.
After the ceremony
When the ceremony concludes, students will follow marshals in processional form out of the the Credit Union 1 Arena through the garage entrance. Please do not stop on the ramp or garage area.
Miscellaneous
Chicago weather is at best unpredictable; rain or shine the ceremony will take place!

Temperature inside the Credit Union 1 Arena may be cooler than some may find comfortable; please plan accordingly.

If you have further questions or need additional information, please contact Clare K. Delaney via e-mail or contact your campus's staff associate.