Basket Weaving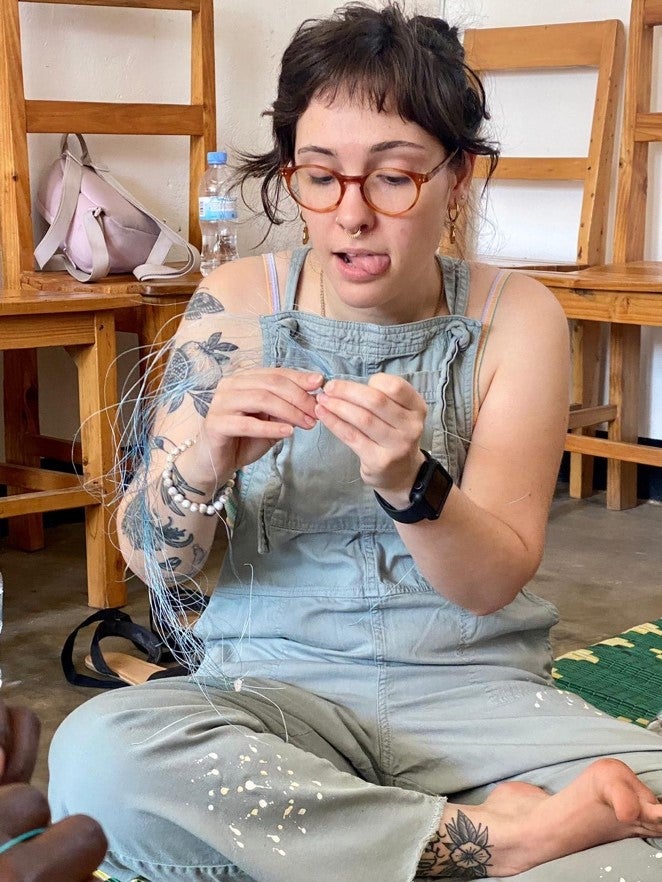 Aubrey Meunier, MS Student
Today was a monumental day in terms of my time in Africa thus far. Today I participated in a voluntary (and self-arranged) basket weaving class at the women's center. It ended up being a class consisting of my classmates, Angela and Dhriti, and two of the center's program directors Mary and Christine.
During our weaving class, we
discovered a significant gap in healthcare access and transparency among the women in this community. Mary and Christine communicated a need for education and access to information about the Human Papilloma Virus (HPV) and cervical cancer screening. The virus is sexually transmitted and the primary cause of cervical cancer.
A day that I anticipated to be largely a relaxation day among the many homework and activity-filled days I have had thus far turned into an incredibly transformative day that I believe will inform my Maternal and Child Health presentation project. Not only did I realize how knowledgeable and hard-working the women of the center were today, but it was also made clear that they were not being taken seriously regarding their health. One of the directors communicated that she had had several abdominal surgeries, some of which she did not know the reason behind. And despite such, she still suffers complications today.
According to local women, some older doctors will write off various positive sexual transmitted infections (STI) results as normal and not tell the women. As a healthcare professional, I find this unacceptable, and we should find ways to improve communication regarding results. How can somebody say that your results all look good and fail to mention that they are positive for various STIs? To help with the gap in healthcare access and transparency, my classmates and I plan to provide the local women with basic STI education and hopefully will be able to facilitate a cervical cancer screening for them all as well.
Aubrey Meunier is a Masters nursing student at University of Illinois at Chicago. She also works as a nanny in Wrigleyville and as a standardized patient at UIC Nursing. Her passion is women's health and midwifery.
Modified on February 02, 2023