Beyond a Buzzword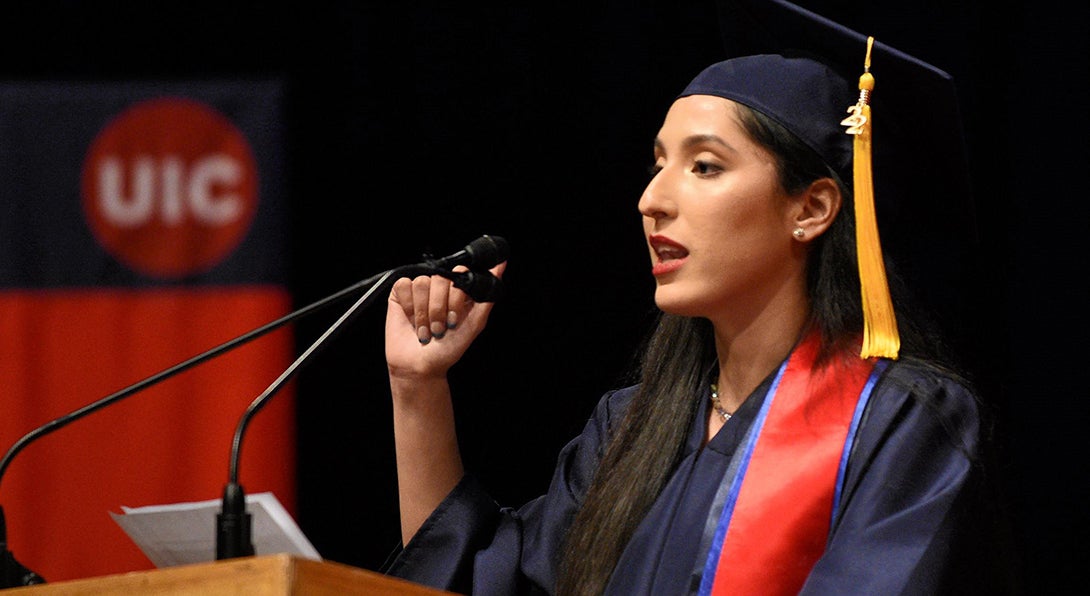 At UIC Nursing, diversity is a reality that students are immersed in every day In fall 2022, for the first time ever, more than half of the college's students were racial or ethnic minorities.
Jasmine Medina, BSN '22, chose UIC for its diversity.
From a Puerto Rican family living in a predominantly Latino neighborhood of Chicago, Medina didn't want to go to a college where her racial and ethnic identity would stand out. She wanted to be around students who looked like her, while also getting exposure to people with a wide variety of backgrounds.
"Going to school at the UIC College of Nursing, you just look at all of the students in class with you, and it's diverse," Medina says. "They come from a bunch of different backgrounds, and I've learned a lot from them – their struggles and their barriers."
So, when she applied to give the UIC College of Nursing student commencement address, she knew she wanted to make diversity the hallmark of her speech.
On stage in May, she asked her fellow graduating students to stand if they fit into one of four categories: a racial or ethnic minority group; a first-generation college student; a DREAMer (brought to the U.S. as a child) or bilingual.
By the time she finished, she estimates at least two-thirds of the graduates were standing, and the audience was roaring with applause.
"I really wanted to do a speech for the students," she says. "Seeing that [much diversity] is not something you see all the time, and those students worked super, super hard."
A minority majority
UIC is one of the nation's most diverse public research institutions, ranked among the 25 most diverse schools in the nation in U.S. News & World Report's ethnic diversity index.
Within UIC Nursing, the diversity of the student body has been growing each year. In fall 2022, for the first time, more than half of the students identified as racial and ethnic minorities. That compares to 2014-2015, when just 35% of students were in that category, which includes Asians, African Americans, Hispanics, international students, and those who identify as multi-race.
And while UIC cultivates diversity broadly (including veterans, students with disabilities, sexual and gender minorities, and more), there has been a deliberate effort in the College of Nursing to recruit and support students of color, who have historically been underrepresented in the nursing profession.
"It's important because Hispanics, African Americans and Native Americans—they make up a large portion of the U.S. population," says Rose Hernandez, PhD, UIC Nursing associate dean for equity and inclusion. "But there have been barriers, sometimes through systemic or structural violence, that have kept some of these students out of academia."
Hernandez says it was in large part her own story that drew her to UIC Nursing. The daughter of Mexican immigrants, her father never had any formal schooling, only learning enough to sign his name. Hernandez grew up in Chicago and was introduced to higher education—and UIC specifically— through the Urban Health Program, which recruited at her high school. Hernandez got three degrees from UIC, with a PhD in public health.
"That's the story of many of our students," Hernandez says. "Their parents are coming from different parts of the world, coming to the U.S. for the first time, and often not knowing how to navigate the university environment. How do we build the system at UIC Nursing that allows students that share that type of background to succeed?"
Addressing injustices
Hernandez credits the Urban Health Program with allowing her to meet mentors and friends who shared similar backgrounds, championing her academic ambitions. "To see someone from my own background, doing this type of work [in higher ed], was encouraging to me," she says.
The program was established 43 years ago to address "the injustices that underrepresented minorities faced in gaining admission to some of our health science programs," says Charese Smith, who has led the UIC Nursing division of the program since 2009. Now the program involves 538 nursing students, about a third of the college's student body.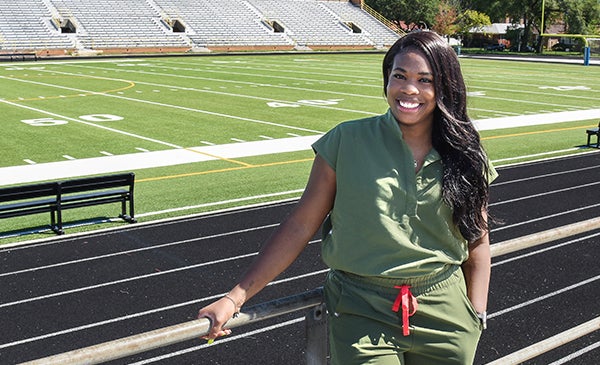 But Smith says it's not enough to just bring students into the program. They also need to feel like they're in a safe space. She wants students to know: "We support you; we want you to do your best; and we want you to excel while you're here."
The program's signature series is the Seminars for Excellence in Nursing Sciences Program, which helps prepare incoming Urban Health Program students for the rigors of nursing coursework. A peer-mentoring program launched in 2021 focuses on the psychological and emotional well-being of students, featuring sessions on topics like coping with microaggressions and adversity.
The Chicago campus also opened the Center for Academic Excellence and Cultural Engagement in spring 2022—a brick-and-mortar space intended to promote academic success and build a sense of inclusion and respect for diversity among all students, not only those from minority backgrounds. [See p. 5 for more on the new center.]
Infusing the nursing workforce
When a student graduates from UIC Nursing's bachelor's, master's or DNP program, the college asks if they intend to work with a largely rural or medically underserved population. In 2021-22, about 37% of respondents said yes.
Jessica Dudley, DNP '20, MS '17, RN, is one of those graduates. She loves Chicago and says she never wants to leave. She's from the working-class neighborhood of South Chicago on the Southeast side of the city, one of six children raised by a single mom.
"I'm very grateful to [my mom] because she gave me so many unique experiences, like sleepovers at the Field Museum," Dudley says. "I never felt like the poor little girl from the South Side."
Although Dudley's family lived below the poverty line, she spent her childhood playing outside, biking, going to the park and museums. She always had food, clothes and supplies for school. Her experiences were far from the stereotypical images of the South Side depicted in media, but she still noticed qualities about her neighborhood that she questioned.
"I'm not [criticizing] my neighborhood," she says. "I love where I came from. But we had candy stores on every corner in my neighborhood. There was a liquor store down the block from my church. I didn't understand why my neighborhood had so many liquor stores, especially with the number of folks you would see who were alcohol dependent."
Dudley connected some of these neighborhood qualities to the general health of her community. As a student in UIC's Advanced Generalist Master of Science/graduate-entry program, Dudley was able to name what she had observed: social determinants of health.
Dudley is now determined to effect change and improve health outcomes—specifically birth outcomes among people of color. She is currently a labor and delivery nurse at UI Health. As she's progressed through her UIC Nursing education—from the master's program, to a DNP in advanced population health, and currently to a post-DNP certificate in midwifery—one goal has remained constant: "I knew for sure I wanted to advocate for and work with people like the ones I grew up with in Chicago," she says.
Holistic admissions = holistic nurses
The trend toward increasingly diverse classes at UIC Nursing stems in part from a change to holistic admissions in 2014. Then, the college began incorporating an applicant's experiences and attributes into admission decisions, in addition to using traditional academic metrics.
Concerns about potential negative outcomes—such as declining graduation or NCLEX pass rates—were unfounded, according to a 2018 study of the program. College leaders believe strongly that admitting students with a diversity of backgrounds means all UIC Nursing students become better equipped for patients they will encounter in practice.
"One of the goals behind increasing student diversity is to expose all students to different views and perspectives," says Dean Eileen Collins. "We want students, in partnership with faculty, to be in dialogue and to share lived experiences that might help each other connect with their patients. Regardless of their background, all students benefit from a diverse student body and can bring what they learn into their practice."
Increasing student diversity also serves to "infuse the health professions workforce with practitioners that can serve their community," says Smith.
The nursing profession remains predominantly female and white. The National Nursing Workforce Study in 2020 found about 19% of RN respondents self-reported as minority, while about 42% of Americans are non-white, as of 2020.
Nurses who can speak a patient's native language—if it's not English—can be critical to ensuring patients get appropriate care and continue to seek it. Medina says she noticed this among her community in Humboldt Park.
"I've seen it with my own eyes," she says. "A lot of patients don't go to the doctor because they fear they won't be understood. [They wonder:] 'Why can't I have someone I can speak to?' It makes the visit unfair and less meaningful."
In her commencement speech, Medina imagined a different reality for her community and others like it.
"Now imagine looking into your patient's eyes and saying, 'It's ok. Yo hablo Español. I speak Spanish.' Think about the happiness that they will feel. Diversity in health care fields is essential. UIC will be sending out future nurses that are diverse and well-rounded."
Modified on October 13, 2023