'Community nursing on steroids'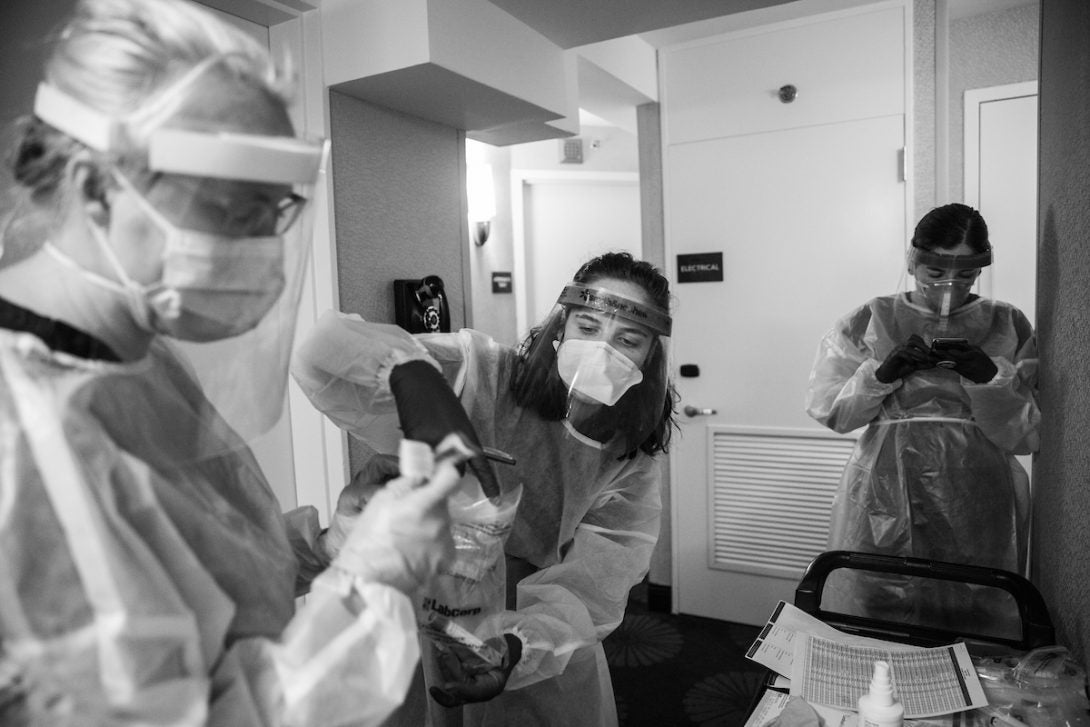 At the beginning of the pandemic, Norah Kilpatrick, a master's degree student who doesn't yet have a nursing license, says she felt "pretty useless."
But then she learned about the COVID Rapid Response Team, an interdisciplinary group that tests people across Chicago in homeless shelters, encampments, senior housing and long-term care facilities. She began volunteering with the team in April and kept coming back, week after week.
"I can't tell you how much this means to me, to be part of a team that responds to outbreaks and is actually making a difference during a pandemic," says Kilpatrick, who is now a site coordinator.
Four to five days each week, the team, led by UIC Nursing assistant professor Rebecca Singer, DNP '18, RN, and UIC College of Medicine assistant professor Stockton Mayer, arrives at a site somewhere in Chicago to conduct COVID-19 testing under a contract with the Chicago Department of Public Health. Pre-licensure students are able to collect samples under the supervision of a licensed nurse or physician on site.
Because the population of people being tested are particularly at-risk, the project aligns well with the college's mission of social justice and care of vulnerable populations.
Kilpatrick, who grew up in Chicago, calls it "community nursing on steroids" because of the diverse settings where the team travels.
The team can be intimidating, Kilpatrick says, arriving with carts of equipment, asking for personal information and taking an uncomfortable nasopharyngeal swab. They also wear head-to-toe personal protective equipment (PPE) —an N95 mask, face shield, gown and gloves.
She says although the interactions are short, she tries to create a connection with each patient to reduce anxiety and develop trust.
"We have pictures of ourselves that we laminated and wear on the outside of our PPE," she says. "[It's telling them] 'This is me in real life; I don't always look like a space trooper.'"
Modified on October 08, 2020