DNP students earn inaugural scholarship awards
Two UIC College of Nursing students are the inaugural recipients of two prestigious scholarships.
Adiba Sirojeva, RN, is the first recipient of the UIC Lynn Kustes Nursing Scholarship Fund – an endowed scholarship for advanced practice nursing students enrolled at UIC Nursing-Quad Cities – and Darlene Steinkamp, RN, of Springfield, Illinois, has been named the inaugural recipient of the UIC at UIS American Association of University Women Springfield Branch Scholarship.
Both Sirojeva and Steinkamp are DNP students.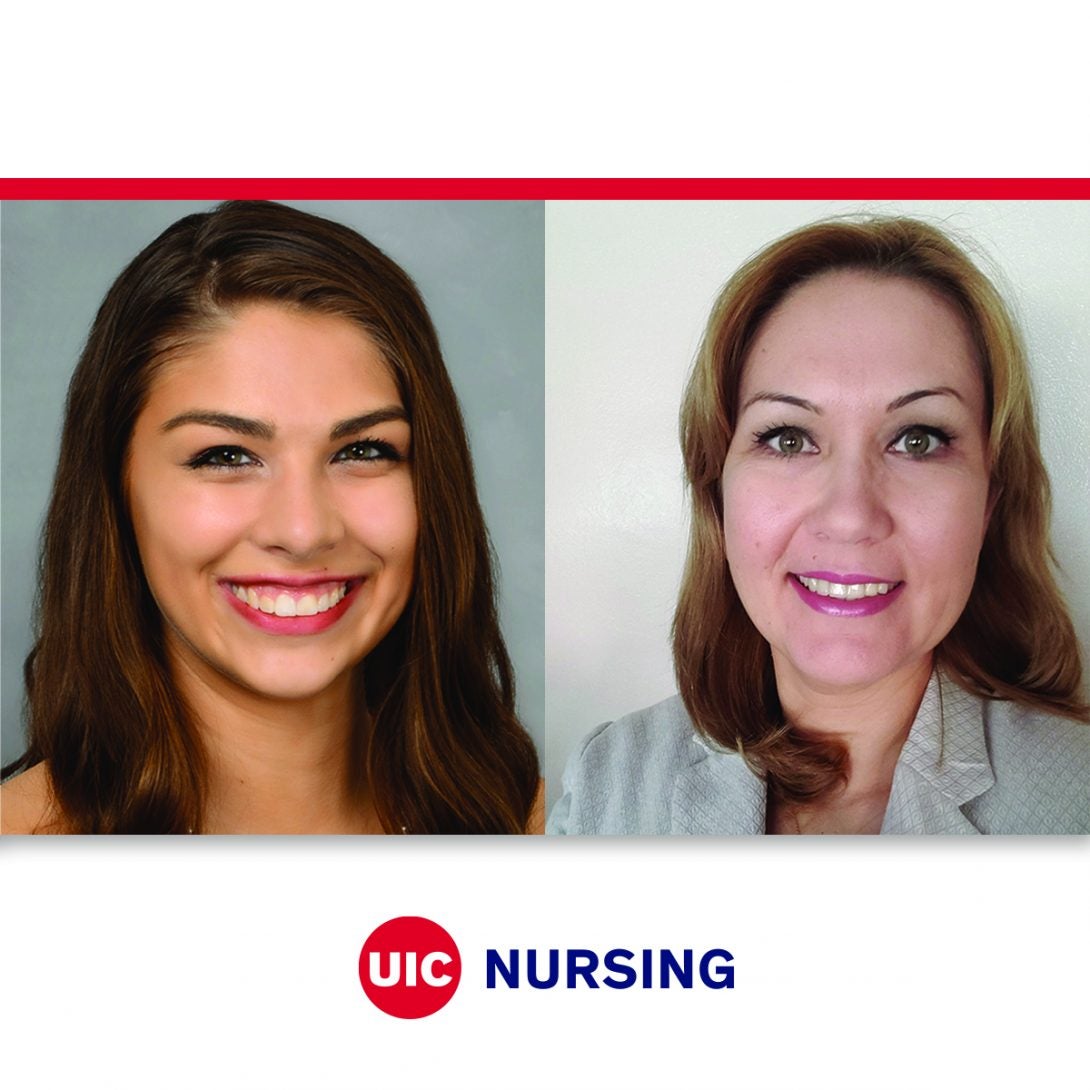 Sirojeva says she is grateful for the scholarship – established in memory of Lynn Kustes, who was in the first class of graduates from the Quad Cities campus in 1982 and was a passionate UIC supporter.
Sirojeva's husband lost his job in 2020, and her family experienced unexpected financial difficulties due to the COVID-19 pandemic. She practices as a nurse on the orthopedic-surgical floor at UnityPoint Hospital in Bettendorf, Iowa, while also taking classes to become a nurse practitioner with a specialty in adult gerontology.
"Graduate school is not easy," she says. "You must balance work and school, and it takes a lot of time, energy, effort and sleepless nights. One of the main challenges is undoubtedly financial. I was fortunate to receive both this scholarship and the Nursing Dean's Scholarship [from UIC], which are helping me on my path to a nurse practitioner career."
This year, the UIC College of Nursing distributed $425,000 in scholarships to students across all programs.
After Lynn Kustes unexpectedly passed away in September 2017, her husband, John, established the scholarship in her memory. He recalls how excited she was to learn UIC was establishing a program in the Quad Cities in 1980, where she could complete her bachelor's degree in nursing after earning a nursing diploma from the Lutheran Hospital School of Nursing in Moline. She was a registered nurse in staff, leadership and coordination positions, starting at Lutheran Hospital and retiring from Trinity Health Systems (now UnityPoint) in 2015.
"Lynn was passionate about nursing excellence and was continually inspired by the quotation, 'Nursing is love made visible,' which hangs in our home," Kustes says. "I felt supporting the educational goals and professional aspirations of local nursing students was a fitting way to lovingly honor Lynn's spirit and perpetuate the demonstrated care of her 41-year nursing career."
Kathleen Sparbel, PhD, MS '96, FNP-BC, director of the Quad Cities campus, says, "Lynn's legacy will live on in the nurses who will be able to advance their careers because of this scholarship."
Kustes was awarded the 2017 Quad Cities Director's Legacy Award for her work promoting the program, including serving as chair of the alumni board for more than 25 years.
"Lynn tirelessly recruited and encouraged students, like Adiba, to continue their education in our program," Sparbel says. "This scholarship will ensure that our students are able to pursue the exceptional nursing careers that Lynn championed."
Currently, Steinkamp works as an RN in the burn/trauma unit at Memorial Medical Center in Springfield. She is studying to become an adult-gerontology acute care nurse practitioner, which will position her to continue working in a hospital setting in an advanced practice role.
"My desire to constantly learn and advocate for my patients has pushed me to continue my education," says Steinkamp. "I also try to share what I learn. When COVID was reaching its height in Springfield, I helped train and support new nurses coming to our floor. I then went and worked on the COVID floor myself."
Because of generous funding from the Springfield branch of the American Association of University Women, the scholarship is fully endowed so that it can be awarded every year in perpetuity.
Since she was a child, Steinkamp says, she knew she wanted to be in a profession that involved caring for others. "I was always helping others when they were sick. I would go over to a friend's house to bring them soup and cough drops even though their mom was home with them," she says.
Her experience on the job in 2020 was not what she imagined in those childhood dreams. "During my first year as a nurse, a pandemic emerged, and the whole world changed," she says. "That has reminded me that nursing is about being able to constantly adapt and learn."
Modified on February 15, 2021