Doorenbos selected for Harriet H. Werley Endowed Chair
World-renowned pain researcher takes the mantle from professor emerita Carol Ferrans, who retired in 2020.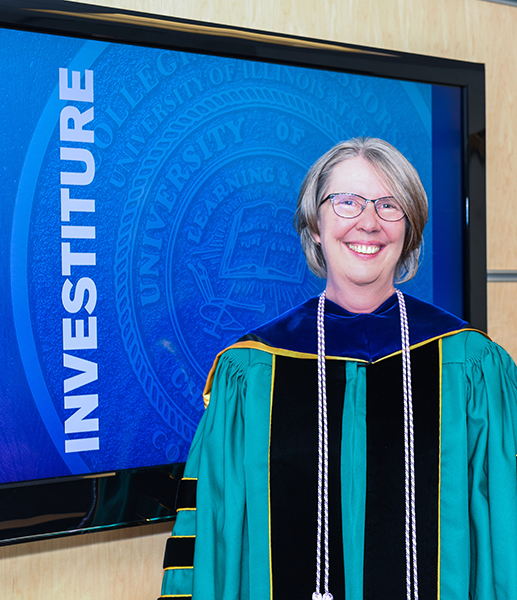 Ardith Z. Doorenbos, PhD, RN, FAAN, has been selected as the Harriet H. Werley Endowed Chair for Nursing Research, UIC Nursing's top academic honor and one reserved for a nurse researcher who is engaged in the highest level of scholarship.
"The Werley Chair is designated for a scholar who engages in life-changing research—someone who will help shape research development at the college, inspire others, serve as a mentor and has a commitment to diversity," says UIC Nursing Dean Eileen Collins, PhD, RN, FAAN, ATSF. "After a broad search, we knew Ardith thoroughly embodied all of these things and more."
Doorenbos, Nursing Collegiate Professor and director of palliative care in the University of Illinois Cancer Center, is internationally recognized for her contributions to palliative care, oncology and pain and symptom management.
She was hired in 2018 as one of the first seven scholars recruited through the President's Distinguished Faculty Recruitment Program, a University of Illinois initiative to woo faculty of national and international distinction in a broad range of disciplines. That same year, she was inducted into the Sigma Theta Tau Nurse Researcher Hall of Fame.
Doorenbos' research focuses on finding alternatives to prescription opioids to manage pain. She has published more than 150 peer-reviewed, data-based publications during her career and her grant portfolio is funded by the National Institutes of Health and the Congressionally Directed Medical Research Programs, among others.
She is currently working on two major NIH grants: one targets adults on hemodialysis and the other tackles sickle cell disease pain. Historically disadvantaged individuals make up the majority of participants in both studies, which is critical, Doorenbos says, because the opioid epidemic is also disproportionately affecting marginalized and underserved communities.
"I am incredibly honored to have been selected for the Werley Chair, and to build on the legacy of Harriet Werley and previous holders of this position," Doorenbos says. "Endowed positions like this one are so important, because they give researchers the time and opportunity to focus on important issues that are at the forefront of individuals' lives."

About Harriet H. Werley and the Endowed Chair for Nursing Research
Harriet Werley (1914-2002) was a pioneer in nursing informatics and the first associate dean for research in the UIC College of Nursing. which she held from 1974 to 1979. Her generous, seven-figure gift in 1993 established the college's first endowed academic position: the Harriet H. Werley Chair in Nursing Research. While there are awards at other nursing schools bearing Werley's name, this undisputed legend in nursing research chose the UIC College of Nursing as the home for her only endowed chair. So firm was her belief in UIC Nursing as the best place for researchers to experience the pinnacle of their careers, that she made a gift of permanent funding for them here.
Suzanne Feetham, PhD, RN, FAAN, was the first to hold the Werley Chair. Professor emerita Carol Estwing Ferrans, PhD '85, MS '82, RN FAAN, most recently held the title, before retiring in 2020.
Modified on December 07, 2021