Eileen Collins takes the helm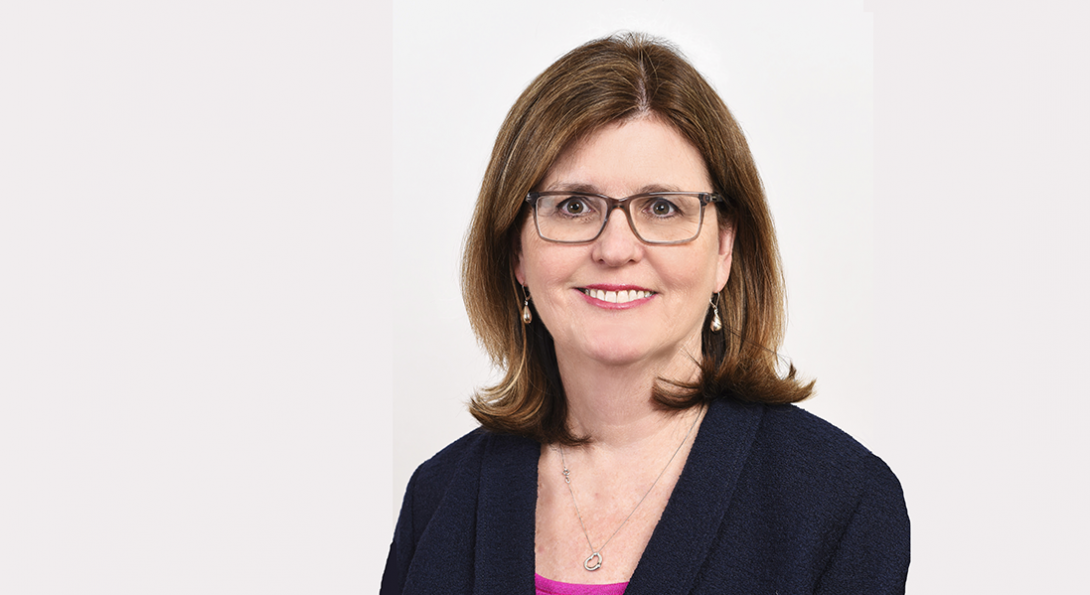 On faculty for nearly 20 years, Collins leaves her post as associate dean for research to succeed Terri Weaver as dean
Effective Sept 1, 2021, Eileen G. Collins, PhD, RN, FAAN, FAACVPR, ATSF, becomes the ninth dean of the University of Illinois Chicago College of Nursing, pending approval by the University of Illinois Board of Trustees.
Collins has been on the UIC College of Nursing faculty since 2002, promoted to full professor in 2011 and appointed associate dean for research in 2018. In that role, she was instrumental in achieving the college's current rank of No. 8 among all U.S. nursing schools, and No. 3 among public universities, for NIH funding.
Known worldwide for her research focused on improving physical function and quality of life through cardiovascular and pulmonary rehabilitation interventions, Collins was inducted into the International Nurse Researcher Hall of Fame in 2016. The honor recognized her outstanding research career, continually funded for decades by organizations such as NIH, the VA and independent foundations. Collins has published more than 100 papers in peer-reviewed publications. Since joining the UIC community, she has mentored faculty and students in grant preparation and career scholarship, which has resulted in an increased number of funded tenured/tenure track faculty from 44% to 67% across the college.
Among her many additional accolades, Collins was one of only nine nurses named to the American Thoracic Society's first class of fellows, which also included immediate past dean Terri Weaver. Later, she was selected as the 2020 recipient of the Elizabeth A. Rich Award, an honor given annually to an outstanding female member of the American Thoracic Society. Only the second RN to receive the honor since the award was established 20 years prior, Collins was chosen for her significant contributions to the fields of pulmonary, critical care and sleep medicine and her leadership and mentorship within the ATS.
Before joining UIC full-time, Collins had a half-time appointment at the College of Nursing while splitting her professional time with Edward Hines Jr. VA Hospital and the Captain James A. Lovell Federal Healthcare Center. There, over the course of 30 years and multiple promotions, she ascended to the post of acting associate chief of staff for research and development, responsible for upwards of $19 million per year in research program expenditures. As a nurse scientist at the Hines VA Hospital and UIC, Collins secured $41 million in research grant funding.
Collins earned her BSN, MSN and PhD degrees in nursing at Loyola University Chicago. She would later go on to complete an MS in exercise science at Northeastern University.
Early in her clinical career, Collins served as a staff nurse at Northwest Hospital and at Foster McGaw Hospital (Loyola University Chicago).
"I am confident that Dr. Collins will continue the outstanding legacy for the UIC College of Nursing, having extensive research background, leadership skills and experience necessary to lead across all domains of the college," said Robert Barish, MD, vice chancellor for health affairs at UI Health. "She is certain to be a welcome addition to the broader group of deans at UIC."
Modified on October 07, 2021