Faculty star in COVID vaccine comic book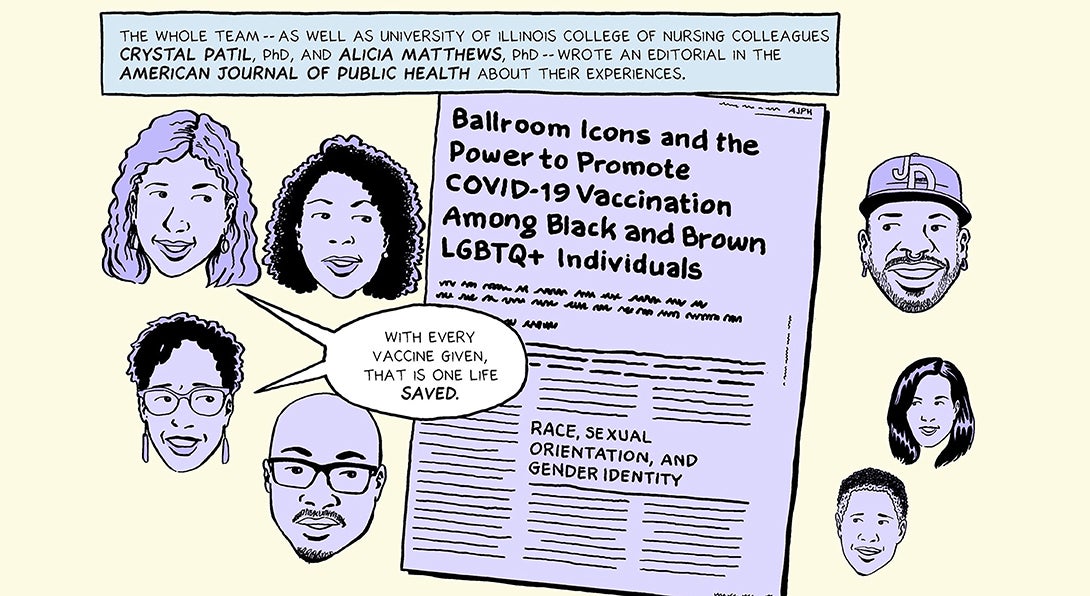 In a piece published in The Journalist's Resource, comics journalist Josh Neufeld immortalized the work of UIC College of Nursing faculty members Randi Singer, PhD, Natasha Crooks, PhD, RN, and Rebecca Singer, DNP '18, RN.
In partnership with Noel Green at the Chicago Center for HIV Elimination and Jahari Stamps, a Chicago House Ball "father" with the House of Ferré, they worked to increase COVID-19 vaccination rates of Black and Latino LGBTQ individuals.
The comic, "Vaccinated at the Ball: A True Story about Trusted Messengers," focuses on the use of community representatives to promote vaccinations at Chicago House Balls, which are events that celebrate Black and Latino LGBTQ+ culture.
The full piece ran in the Chicago Sun-Times on Sunday, June 26, the day of the 51st annual Chicago Pride Parade.
The comic explores how initial offers of the vaccine encountered resistance, with ball-goers referencing negative experiences with institutional medicine. This included the infamous Tuskegee experiments of the mid-20th century, where Black men suffered and died from syphilis under the watchful eye of the U.S. Public Health Service.
"There's a lot of mistrust – 'oh great, we're the test cases again,'" says Crooks in the comic.
The team, which also includes UIC professors Crystal Patil, PhD, and Phoenix (Alicia) Matthews, PhD, published a paper in the American Journal of Public Health in January about their use of "ballroom icons" – leaders who represent the community — to overcome mistrust and misinformation.
"They implemented a 'trauma-informed' approach, utilizing the diffusion of innovation theory," Neufeld writes in the comic, explaining that 'diffusion of innovation' looks at how new technologies spread.
The comic also illustrates Stamps getting vaccinated at a ball, and later getting his booster at #JamOutSaveLives, a vaccination clinic and jam session held in Chicago's Jackson Park, where UIC Nursing students administered the vaccines. A video made from the event has been viewed more than 1 million times on Instagram.
Modified on September 09, 2022