Grand opening held for new student success center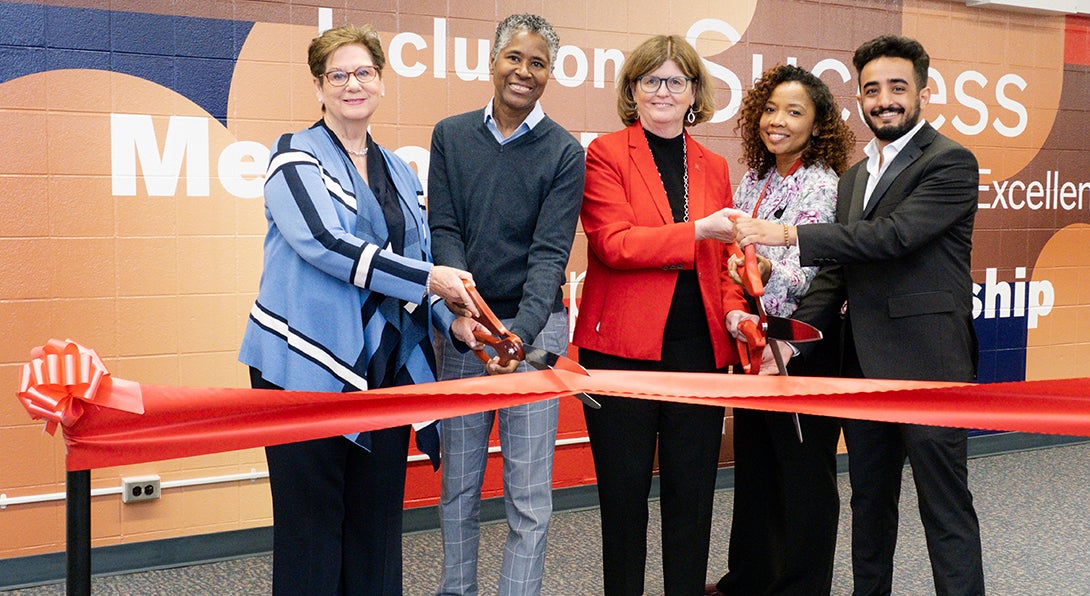 Nursing students prompt creation of Center for Academic Excellence and Cultural Engagement Heading link
UIC College of Nursing officials unveiled in May the Center for Academic Excellence and Cultural Engagement – a place where students can study, receive academic support and take part in transformational programming. The center resides on the fourth floor of the college's Chicago campus building.
"The student success center was initiated based on requests from our students," says Phoenix Matthews, PhD, associate dean for equity and inclusion. "They asked for a place here in the college in which students could meet to create a sense of community and support for one another. We have every hope that the success center will provide our students with that special place to grow together as they pursue their dreams of becoming nurses."
Activities and events offered in the center will include academic coaching, mentorship, communal and individual study, wellness sessions, lunch- and- learn sessions, cultural exhibits and inclusive dialogue circles.
Adam Saleh, BSN '22, says the center will serve as a "second home to students" and will promote themes of respect and inclusion among a diverse student body.
A mural on the center's exterior wall features words that students and staff hope the center embodies: inclusion, mentorship, respect, success, academic excellence, leadership, dialogue, belonging and diversity.
"I am happy for the future generation of nursing students that will get the opportunity to engage in this center where transformational dialogue will take place and feelings of belonging for students of all backgrounds will be guaranteed," Saleh says.
UIC Nursing Dean Eileen Collins, PhD, RN, FAAN, ATSF, says she envisions the center making it easier for nursing students to engage with students from UIC's seven Centers for Cultural Understanding and Social Change , many of which are located about a mile east of the nursing building.
"This will be a place where UIC's cultural centers and other undergraduate support offices could come and engage with nursing students directly – to help lighten the burden of students needing to travel to the east side of campus," Collins says.
The space and its programming will be managed by staff at the Clinical Learning Resource Center and Charese Smith, assistant director for the Urban Health Program.
Smith says the center will serve as a complement to an existing student lounge in the M. Christine Schwartz Experiential Learning & Simulation Laboratory, by offering a dedicated space for students to receive academic services and hold activities and programming.
The center is largely funded with internal college funds, in addition to a philanthropic gift from Terri Weaver, PhD, RN, FAAN, ATSF, FAASM, dean emerita of UIC Nursing, and her husband, Bruce Fiedler.
Modified on May 24, 2022