Halloway, four alums inducted as AAN Fellows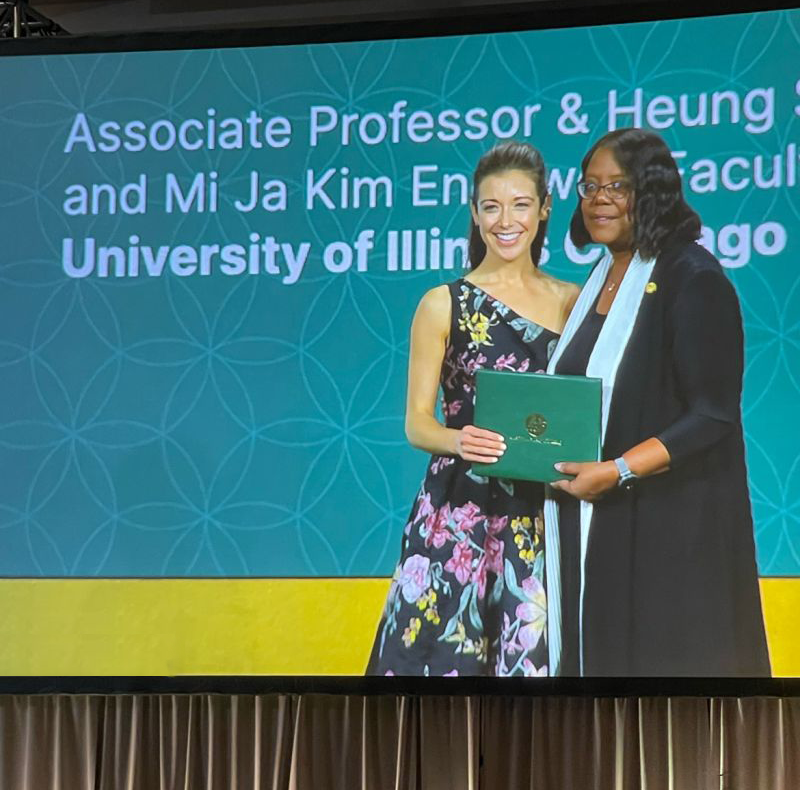 UIC Nursing associate professor Shannon Halloway, PhD, RN, FAHA, and four alumni were inducted into the American Academy of Nursing 2022 class of Fellows on Saturday, Oct. 29.
Halloway joined UIC Nursing in September as the college's first Heung Soo & Mi Ja Kim Endowed Faculty Scholar. Her NIH-funded research targets preventing memory loss in older women with cardiovascular disease through physical activity and cognitive training.
UIC Nursing alumni who were inducted include: Dawn Bounds, BSN '99, PhD, PMHNP-BC, University of California, Irvine; Masako Mayahara, PhD -09, CHPN, FPCH, Rush University; Charles Yingling, DNP '12, MS '05, FNP-BC, FAANP, University of Michigan; and Heeseung Choi, Postdoc '06, PhD, MPH, RN, Seoul National University.
AAN Fellows were selected based on their contributions to advance the public's health after a competitive application process. Induction into the fellowship represents a significant milestone in a nurse leader's career.
This year, 250 distinguished nurse leaders were selected as Fellows, the largest class since the organization began nearly 50 years ago. The newest Fellows come from 35 states the District of Columbia, Puerto Rico, the U.S. Virgin Islands, and 17 countries, and will join more than 3,000 leaders who are represent nursing policy, research, administration, practice, and academia.
The Academy's Fellow Selection Committee reviewed a record number of applications, representing a 30% increase from the previous year.
This year's Induction Ceremony was held on the evening of Saturday, Oct. 29, at the Academy's annual Health Policy Conference in Washington, DC.
Modified on November 01, 2022