Jennifer Sedlock
DNP '19, BSN '04, Urbana
body copy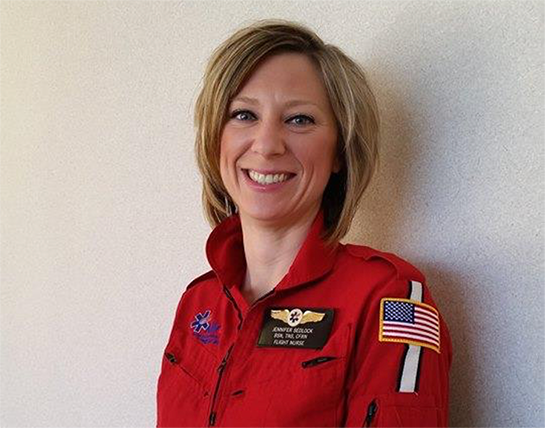 For the last 13 years, I've been working as a nurse on AirLife, an air medical transport team.
It's something very outside-the-box as far as nursing goes. What I love about it is it's very unpredictable. Every flight is an emergency and we have to be ready to go 24-7.
I see the whole age range of patients. We do NICU transports for pre-term babies. We do obstetrics when a mom is having an obstetric emergency. We do traumas. I've gotten to see many, many things that I would never see working inside a hospital.
My job as a flight nurse – and before that as an ICU nurse — has given me a really good foundation on assessment skills and understanding disease processes and medications. But I've never had the opportunity to build a relationship with a patient and follow her through her course of treatment.
After getting my DNP, I'm going to do almost a 180-degree turn. I'm going into adult gerontology primary care and I'll be working as a nurse practitioner at Carle Foundation Hospital with GI patients.
I'm looking forward to being a patient's provider for years — learning their story and building a relationship with them — instead of seeing them in only one snapshot in time.
I love a challenge and UIC Nursing has prepared me well for each one that I take on.