Kirsten Landowne
Graduate-Entry MS, Urbana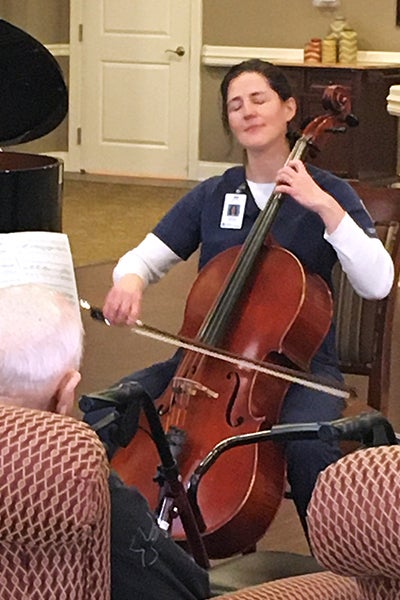 Music and medicine: There has always been a connection there. I have my bachelor's and master's degrees in music performance and I've worked as a concert cellist and teacher for 25 years. I see music, in a way, as a healing art. It helps people connect to their feelings and emotions. It can even help ease pain and suffering. I play in nursing homes sometimes, and it is very satisfying when someone comes to me and says, "I didn't feel pain in my arm the whole time you were playing."
Besides music, I've done part-time jobs as a caretaker in a nursing home and as a home care provider for people with disabilities. Now my three children are all out of the house, and I found I had more time on my hands. I wanted to make the caretaking aspect of my life more into a career. I decided it was the right moment for me to go back to school to study nursing. And that choice was made easier when I received a Helene Fuld [Health Trust] Scholarship.
I was excited to go back to school and learn a whole new subject matter—to immerse myself in scientific study. I thought it was such a great chance to do something new at age 47. I've been interested in science, but because my focus was on music performance, I haven't taken classes in biology and chemistry since high school.
I love that we get to learn a little bit about everything. Then you realize how much more there is to learn. We're exposed to a lot of different clinical situations and topics. To be a beginner again in my 40s, I've had to trust that I have the capacity to learn all this new material. I may look like I'm older and wiser, but I'm a newbie here. I'm learning how to be a nurse just like the 20-year-olds are.
I love nursing because it's so hands-on and you can clearly see the direct consequences of your care. But I know I'm not going to stop playing cello. In my clinicals, I've taken the opportunity to bring my instrument in to patients on a psychiatric floor and to an assisted living facility. I hope I can continue to find opportunities to share music with people who are not able to come to concert halls.
Modified on June 23, 2020