Lecture explores nursing correspondence courses of early 1900s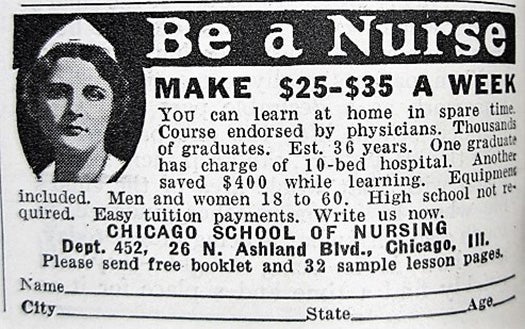 "Be a nurse. Make $25-$35 a week. You can learn at home in your spare time." So declared an ad for a correspondence course at the Chicago School of Nursing in the early 20th century.
On Oct. 27, April D. Matthias, PhD, RN, CNE, explored these courses in a virtual lecture hosted by the Midwest Nursing History Research Center (MNHRC). Matthias covered the quality of the curriculum and perspectives of the students who enrolled in the courses, which have been denounced by nursing establishment and have received only negative mention by nursing history narratives or have been entirely deleted.
Matthias, an associate professor at the University of North Carolina Wilmington, was the 2018 recipient of the Karyn and Terrance Holm Visiting Scholar Award, which partially funded her travel to the MNHRC to conduct her research on the topic.
The Midwest Nursing History Research Center at UIC was established in 1978; it is one of only three dedicated nursing history centers within schools of nursing in the United States. Currently, with funding from the Pritzker Military Museum & Library (PMML), the center is engaged in two exciting projects helping to document the role nurses played during the First World War:
U.S. Army School of Nursing, 1918-1931: Nursing in the U.S. Military Hospitals during and immediately following WWI
S. Base Hospitals of WWI: The Chicago Story
On top of its original gift, PMML is now offering additional funding for these projects in the form of a matching gift challenge. Donors who give to the PMML–Tawani Matching Gift Fund in support of the history center by Dec. 31, 2020, are helping to unlock an additional $15,000 that will allow the MNHRC to complete these projects and to disseminate valuable insights from nurses of the past.
Modified on November 17, 2020