Matthews is 'On Duty'
Phoenix Matthews addresses diversity issues in nursing workforce in new webinar series Heading link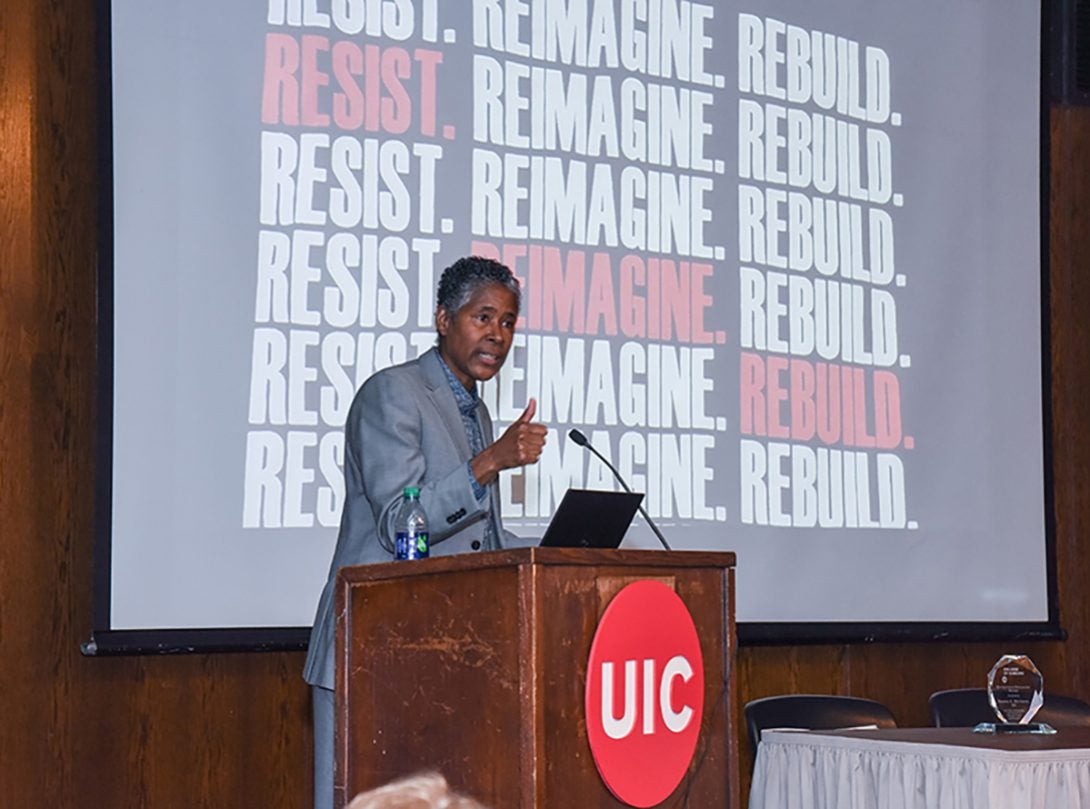 Associate dean for equity and inclusion Phoenix Matthews, PhD, opened the Jan. 19 On Duty webinar by noting the frontline role of nurses in fighting COVID-19 and saying that the health crisis "has really highlighted what we have known as a discipline for a couple of decades, and that is the dramatic shortage of nursing workforce and staff."
Matthews laid out reasons that increasing and diversifying the U.S. nursing workforce should be equal priorities, not least of all because a workforce that looks more like the national population—where white Americans are quickly losing the majority—will help address ongoing health inequalities based on race and ethnicity.
Matthews then turned their attention to pipeline development programs for all disciplines, which they say are "ubiquitous and well-funded," but often overlook the social, emotional and contextual factors that lead to attrition, or "leakage," in the pipeline.
"The majority of pipeline programs focus on academic readiness and professional development," said Matthews, "and while we know [such] skills are highly instrumental to success in higher education, the most recent research is highlighting the issue of extra-academic factors that are contributing to high rates of attrition."
As evidence of the point, Matthews described a 2015 study of Black nursing students at predominantly white schools, which found four institutional barriers—social isolation, insecure faculty relationships, lack of tailored support and inhospitable climate—that led to dissatisfaction and early withdrawal.
"Studies suggest [social isolation is] contributing to a sense of isolation, depression, diminished self-esteem and higher rates of attrition," said Matthews
They asserted that this is also true for faculty in higher education.
Matthews said the data also shows that establishing a critical mass of underrepresented minorities in a student body or faculty body can make all the difference in overcoming institutional barriers. In this case, critical mass is defined as 15% of the population.
Among tactics for doing this, Matthews described several initiatives being undertaken at UIC Nursing.
The first is a holistic admissions process in which applicants are invited for interviews to demonstrate qualities beyond GPA and test scores—qualities leadership, resilience and nonacademic successes that "are less negatively impacted by structural sources of oppression."
Another is cohort admission, the strategy of hiring small groups of faculty and postdoctoral fellows, all from the same unrepresented group, at roughly the same time, which helps reduce social isolation and increases support.
Among several other initiatives being undertaken by Matthews' Office of Equity & Inclusion in the College of Nursing is a pilot mentorship program focused on building a community of underrepresented minority nursing students that will increase their sense of belonging and satisfaction, "so that we're able to stop the leaks in our pipeline," said Matthews, adding that the larger goal is to see these students through to master's, DNP and PhD programs, "so that we're able to contribute to the diversification of the next generation of leaders in nursing."
Modified on January 29, 2021