McPherson named next Springfield Campus Director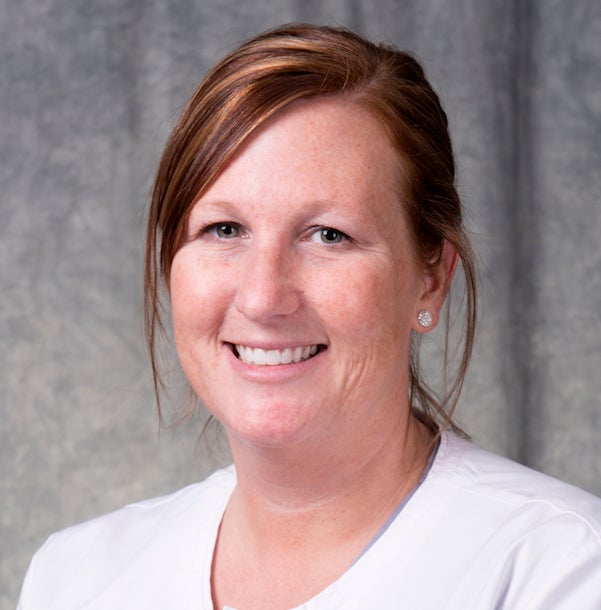 Assistant clinical professor Sara McPherson, PhD, RN, CNE, will be the next director of the Springfield Campus. The appointment is effective Aug. 16, pending Board of Trustees' approval.
McPherson has been with UIC Nursing since 2016, assuming several informal leadership roles in the college. She has coordinated many courses, including foundations and medical/surgical nursing, helping to orient faculty in the lab and clinical settings.
"She was a vital part in preparing our simulation lab," Dean Terri E. Weaver says. "Her knowledge of simulation helped develop simulations throughout the curriculum to better prepare our students. She has been a tremendous asset as we have transitioned to more online and lab activities during the pandemic.
"She consistently mentors faculty across the curriculum and was an integral part in getting all faculty using the online testing software. Her work with both full-time and part-time faculty has helped us recruit and retain some excellent educators on our campus."
McPherson came to UIC Nursing with several years of undergraduate teaching experience and has a substantial amount of expertise in pedagogy and simulation. Her scholarship interests include nursing education and developing novice faculty.
McPherson has been a leader in scholarship on the Springfield campus and for bedside nurses at a local hospital. She has mentored faculty and led a group to conduct a Delphi study.
In addition, McPherson has worked with bedside nurses to conduct a study on their comfort with implementing evidence-based practice and is currently conducting a study on fear of COVID and job satisfaction among rural Magnet hospital nurses.
McPherson also is a significant contributor and leader on many UIC Nursing committees, including the Faculty Executive Committee. She was selected to serve on the UIC Nursing dean search, the Undergraduate Course Coordinators and the Simulation Work Group.
As an Illinois Nurses Foundation 40 Under 40 awardee, she was recently named a Nurse Educator Fellow by the Illinois Board of Higher Education. McPherson also serves on the Board of the Illinois League for Nursing.
"Dr. McPherson is truly an up and coming leader," Weaver adds.
Her research interests also play an important role in undergraduate education, disseminating her research with a focus on undergraduate clinical faculty and nursing education with presentations ranging from the local to international level. As an emerging scholar, McPherson has published several manuscripts in peer-reviewed journals. She continues to investigate several aspects of undergraduate education and serves as a mentor to more junior faculty navigating the publication process. One of her goals is to present her research at the National League for Nursing Summit.
Modified on March 21, 2022