Professor invited to speak at National Academies of Sciences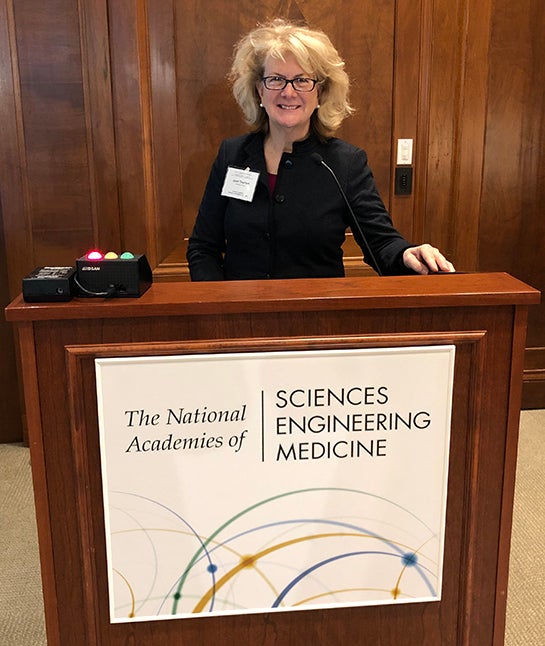 UPDATED 8/5/20: The National Academies have released the brief, "Nutrition During Pregnancy and Lactation Exploring New Evidence: Proceedings of a Workshop," which summarizes the presentations and discussions that took place at the January 2020 workshop, including that of Janet Thorlton.
Clinical associate professor Janet Thorlton, PhD, RN, CNE, spoke at a two-day workshop held by the Health and Medicine Division (previously the Institute of Medicine) of the National Academies of Sciences, Engineering, and Medicine on Jan. 29 and 30 in Washington, D.C.
The workshop, developed by an ad hoc planning committee of the National Academies, focused on exploring the state of the science related to nutrition during pregnancy and lactation. The National Academies are private, nonprofit institutions that provide expert advice on pressing challenges facing the nation and the world.
Thorlton, an Urbana campus faculty member, shared her expertise on the potential risks associated with the use of caffeine – and more specifically, energy drinks – during pregnancy and lactation.
Thorlton's research focuses on reducing preventable harm from substance misuse, abuse, and errors. She authored the article, "Energy Drinks: Implications for the Breastfeeding Mother," published in the American Journal of Maternal/Child Nursing, and the policy analysis, "Proposed Actions for the U.S. Food & Drug Administration to Implement to Minimize Adverse Effects Associated with Energy Drink Consumption," published in the American Journal of Public Health.
Modified on February 21, 2023