The afterglow of IGNITE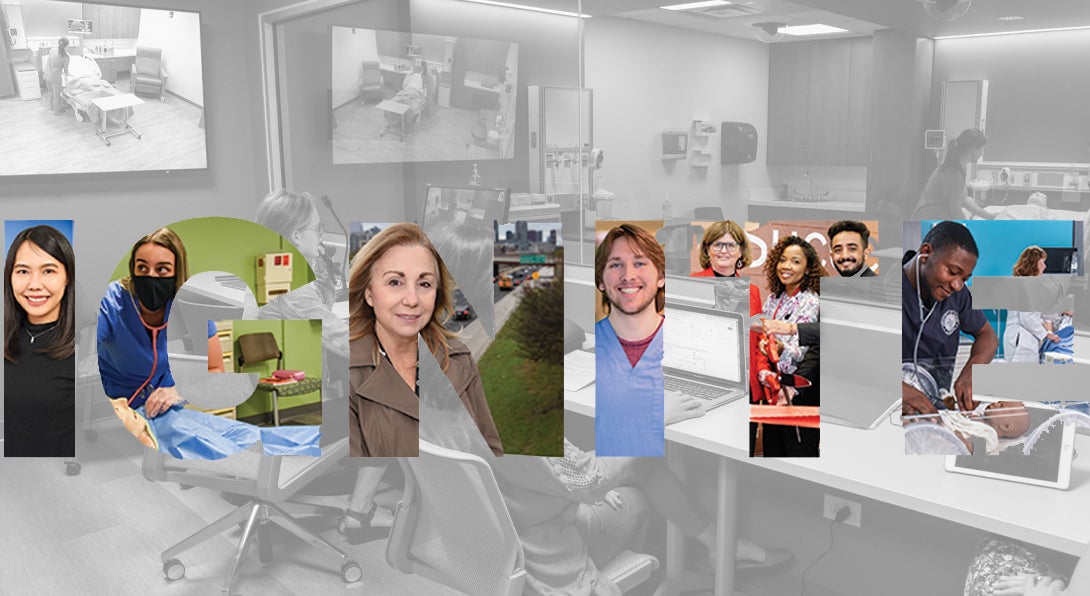 UIC-wide fundraising effort raises more than $800 million Heading link
The most ambitious fundraising effort in UIC's history concluded with a record level of giving to promote student success, empower faculty, drive discovery and connect to communities.
On June 30, 2022, the University of Illinois Chicago ended IGNITE: The Campaign for UIC. The seven-year effort to raise $750 million universitywide was a resounding success, closing at $803.4 million, more than $125 million more than in the campaign that preceded IGNITE.
Of that UIC total, $37,529,703 is attributable to the generous donors who supported the College of Nursing, helping us end the campaign having raised two and half times more than the college raised during the university's most recent campaign preceding IGNITE.
Throughout, UIC Nursing focused its fundraising efforts on three mission-critical aspects of our college: enhancing key brick-and-mortar spaces, building scholarship assistance for students, and supporting faculty and research.
Enhancing Space
More than $8 million given to the College of Nursing during IGNITE was aimed directly at enhancing physical spaces dedicated to learning and researching. Alumna Christine Schwartz, BSN '70, gave $5 million, the largest gift in college history, to create the M. Christine Schwartz Experiential Learning & Simulation Laboratory.
The Schwartz Lab—which includes the Francis Family Birthing Suite, named by a $1 million gift from Nita and Phil Francis—has been transformative for the college. Not only does it provide multiple, true-to-life simulated environments where faculty can immerse students in high-stakes scenarios with low-stakes consequences, but it was also instrumental in enabling the college to conduct necessary, in-person education during the height of the COVID-19 pandemic.
Supporting Students
Students are the lifeblood of any college, and it is a principal aspiration of UIC Nursing leaders, faculty and staff to support all students' success, from Day One through graduation. That support takes many forms, and during IGNITE, donors contributed nearly $9 million to the effort. About 65% of that has been directed to scholarships that help students with financial need and academic merit afford to stay enrolled and on track.
Because of those gifts, the college has been able to quadruple the number of students receiving scholarship assistance each year. (The goal was to triple the number.) Additional gifts are funding instructional tools and supplementary programming, including, for example, the Center for Academic Excellence and Cultural Engagement.
Supporting Faculty
UIC is one of the world's most productive hubs of nursing research. Currently ranked No. 7 for NIH funding to U.S. nursing schools, UIC Nursing has long been a reliable investment for individuals, foundations and corporations wanting to help drive discovery. Similarly, with BSN, MS and DNP programs ranked in the top 15 nationally by U.S. News & World Report, UIC boasts some of nursing education's most effective classroom and clinical instructors.
Recruiting and retaining top-tier nurse scientists and educators is highly competitive, which is why the college was proud to receive $17.6 million during IGNITE to support faculty. These investments yielded nine new endowed chairs, professorships, faculty scholars, faculty awards and research funds; that was four times the number of philanthropically supported faculty positions in the college at the beginning of IGNITE.
Flexible Funding
During IGNITE, unrestricted gifts totaling nearly $3 million provided nimble support, directly and indirectly, to students and faculty alike. These gifts, each typically under $1,000, come from hundreds of donors and collectively provide a powerful source of funding that the dean can direct where it's needed, when it's needed. This type of funding has become especially important as state support for public higher education has declined roughly 25% over the past 10 years.
For more about gifts to the college during IGNITE and the many people who benefited from them, visit our Faces of Philanthropy page.
Modified on January 17, 2023