Transition program introduces incoming students to the rigors of nursing school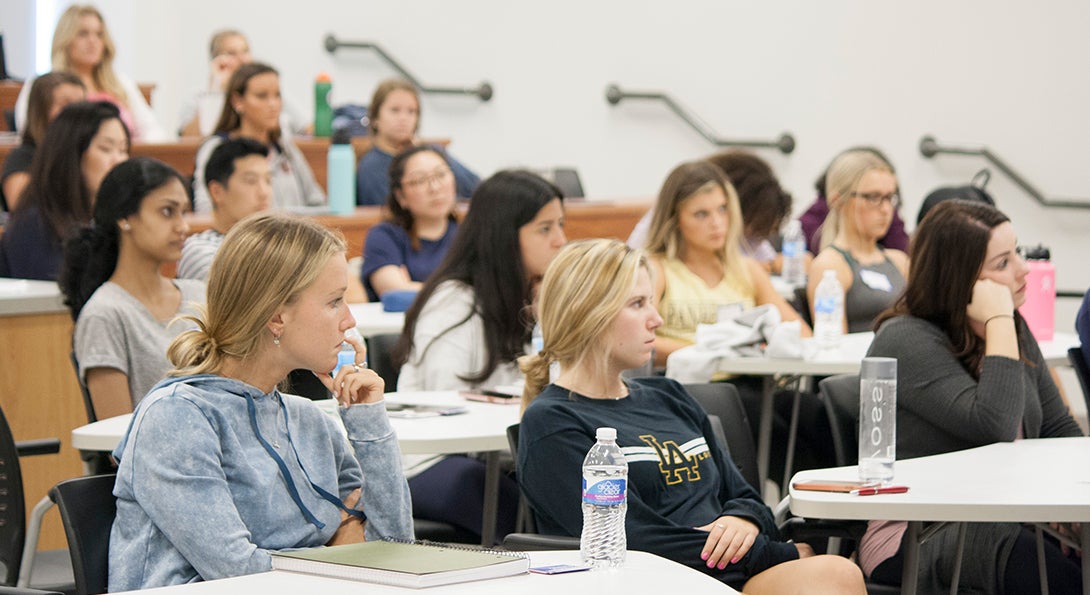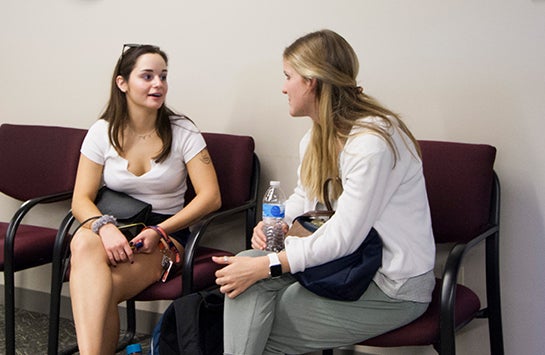 For new students, the unique challenges of nursing school can seem overwhelming—not only in terms of academic rigor, but also in the volume and pace of the work.
To help students feel better prepared, faculty at UIC Nursing's Urbana campus have developed a dynamic introductory program for incoming BSN and graduate-entry MS students. First offered in 2018 at the college's Urbana, Springfield and Chicago campuses, the "Transition to Nursing" program has earned a reputation as a sort of nursing bootcamp—minus the push-ups and loud drill instructors.
"Faculty recognized that we had a small number of students in each [class] who were struggling," says Krista Jones, DNP '11, MS '07, PHNA©BC, RN, director of UIC Nursing's Urbana campus. She adds that a small percentage of students admitted to the BSN and grad-entry MS programs become decelerated in their first year, a result of failing one of their courses.
"We're trying to lower those numbers," she says. "This is our way of welcoming them into the profession and getting them on the best possible path for success."
That welcome involves educating students on how to budget their study time, introducing them to available academic resources and supports, and providing an overview of the medical terminology and math equations they will need to know in their first courses.
Now in just its second year, the transition program—designed by clinical assistant professor Celeste Schultz, PhD, RN, teaching associates Alisha Carter, RN, and Cathy Leipold, RN, and simulation lab coordinator Samantha Bothwell, RN—is becoming an essential experience for new, non-RN students at UIC Nursing.
First-year BSN student Allie Gade says the transition program opened her eyes to the realities of nursing school. While admitting the expectations for new students were overwhelming at first—"They really drilled in that we have to plan our days by the hour," she says—she also felt the transition program would help her to meet those expectations.
Kacie Trapp, another new BSN student, praised the transition program for offering a "realistic view" of what students should expect.
"This program is giving us more insight into the challenges we're going to experience, but it's also giving us a lot of strategies for how to cope and how to effectively handle the program," she says.
Natale Brunelle took part in the inaugural Transition to Nursing event in 2018. Now a senior, she returned to the transition program in 2019, this time as a peer mentor.
"People hear horror stories that [nursing school] is going to be very difficult, but if you have a community, you can really get through anything," she says. Brunnelle was one of several seniors on hand to help calm nerves. "It's a team environment," she says. "It's a family; that's why I came back today."
Encouraged by the enthusiasm of participants, faculty now plan to collect data to evaluate whether the program is truly delivering its intended outcomes.
"From the information we collect, we can build up the program and also help facilitate similar programs at other schools," Schultz says.
Modified on June 07, 2023