Two faculty receive award from the National Association of School Nurses
body copy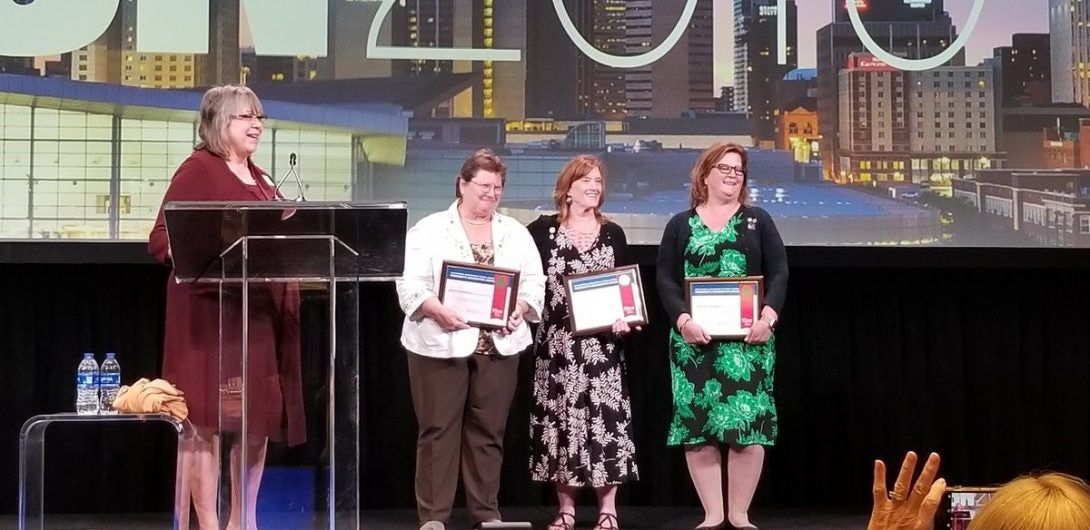 Clinical assistant professors Robin Adair Shannon, DNP '17, MS '09, RN, NCSN, PHNA-BC, and Cathy Yonkaitis, DNP '17, RN, NCSN, PEL-CSN, PHNA-BC, were awarded the 2019 Presidential Recognition Award from the National Association of School Nurses for their efforts as co-editors of the third edition of School Nursing: A Comprehensive Text. Janice Selekman, a professor in the School of Nursing at the University of Delaware and co-editor, was also recognized.
The award was given out at the National Association of School Nurses (NASN) 51st annual conference in Denver on June 28 by NASN President Nina Fekaris.
The student-centered textbook is the "go-to reference for school nursing and student health," according to the National Association of School Nurses, with 39 peer-reviewed chapters representing the collective knowledge of 63 contributing authors.
Shannon created the Model for Developing Evidence-based Clinical Practice Guidelines for School Nursing under the auspices of NASN and Yonkaitis is director of the School Nurse Certificate program at UIC Nursing.