UIC Nursing APRNs help run UI Health COVID-19 clinic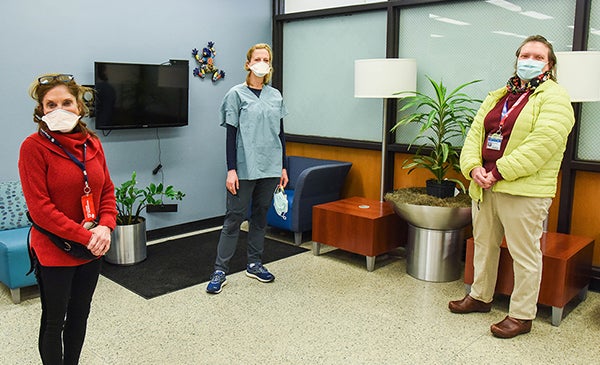 Advanced practice nurses from UIC Nursing have volunteered to team up with nurses, physicians, and other health professionals at the UI Health Pilsen Family Health Center Lower West to assess potential COVID-19 patients.
The Pilsen clinic, which typically offers comprehensive family care, has been temporarily transformed into a facility for providers to evaluate patients with COVID symptoms. By appointment only, patients will be scheduled to see a provider there after first being triaged through the main phone line: 866-600-CARE.
It will be staffed by physicians and nurses from UI Health, the UIC College of Medicine, and UIC Nursing, including adjunct clinical assistant professor Carolyn Dickens, PhD '17, APRN, ACNP-BC, clinical instructor Janey Kottler, DNP, FNP-BC, and clinical assistant professor Karen Cotler, DNP, FNP-BC, FAANP.
UIC Nursing alumni and UI Health nurse practitioners Maureen Smith, MS '10, APRN, Sisay Mersha, MS '10, BSN '05, Rose Gonzalez, DNP '11, MS '96, BSN '89, Chika Nwachukwu, DNP '17, are also providing care at the clinic.
Last week, the providers got a walk-through of the space, were fitted for N95 masks and other personal protective gear, and got a tutorial from ear, nose and throat physicians on the correct swabbing technique to test for COVID. Dickens says patients will be "seen in a very safe environment." Only two patients will be allowed in the waiting room at a time and will remain 15 feet apart.
"It's a great space," Dickens says. "It's big enough so patients can have social distancing, and it's as safe as can be for providers."
Kottler, who will be at the clinic three times a week, says the providers will evaluate patients there to see if they should be tested for COVID, if they can manage at home or need to be hospitalized, and if they have comorbidities that could put them at higher risk. Kottler, who typically practices at the nurse-run Mile Square-Humboldt Park, says the nurse practitioners may also prescribe medication for symptom management at home.
Dickens, UI Health nurse practitioner in cardiology and adjunct clinical assistant professor at UIC Nursing, says she is proud of how her fellow advanced practice nurses (APRNs) stepped up to volunteer at the new clinic.
"We recognize that this virus is highly contagious," she says. "We're all going to extra lengths to protect our families at home. But we all feel a responsibility as APRNs to provide the needed care for our patient population."
Modified on May 07, 2020