UIC Nursing leads volunteer effort at COVID-19 vaccine clinics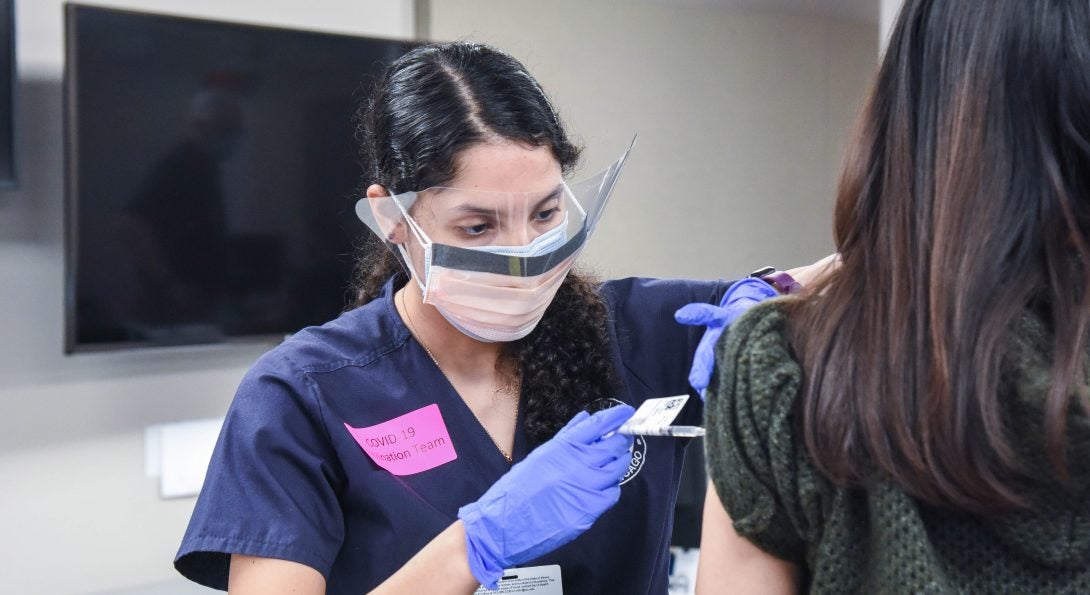 When the call came for volunteers to help administer the long-awaited COVID-19 vaccine, UIC College of Nursing students and faculty were eager to answer.
"It wasn't even a question when I saw the call come out for help back in mid-December," says DNP student Kelly Moore, RN. "I think a lot of us students, we have our hands in quite a few different places, whether we're working full time or part time, plus classes. Regardless of what we're doing professionally, the response to COVID-19 is a once-in-a-lifetime opportunity, and being a small part in this moment in history is really gratifying."
Moore is one of 165 students and 43 faculty members from the colleges of Nursing,  Pharmacy and Medicine who, in less than a month, have combined for more than 2,000 hours of volunteer time at a University Health Service vaccine clinic.
Thanks to their efforts, the clinic has vaccinated almost 12,000 people since it opened on Dec. 18, with the first immunizations going to patient-facing providers and staff at the University of Illinois Hospital and Health Sciences System. As supply has been available, students, staff and faculty of UIC health science colleges have also had the opportunity to get vaccines.
Virginia Reising, DNP '18, RN, PEL-CSN, PHNA-BC, UIC Nursing clinical assistant professor, is coordinating the volunteer effort along with Sheila Allen, PharmD, BCPS, a clinical assistant professor in the College of Pharmacy.
"The response from our students was just incredible," Reising says. "We had students there the day before Christmas, the day after Christmas and New Year's Eve. What's most awe-inspiring to me about our students is that, even though they have complicated lives and are incredibly busy, they're still finding time to come in and do this. That's what blows me away."
Lovel Espino, RN, a UIC Nursing student in the family nurse practitioner DNP program and a nurse in the observation unit at UI Hospital, has volunteered about 60 hours at the clinic.
Espino says she gets fulfillment out of seeing people's reactions — "the anticipation, the excitement, the fear and the relief." She said one woman broke into tears after Espino gave her the vaccine because she could finally see her family.
"You have people thanking you, acknowledging that your help makes a difference," Espino says. "It brings me pride and joy that I'm nurse."
Jasmine Medina, a junior in the bachelor's degree program, says volunteering has given her critical experience because some of her clinical rotations have been canceled or moved online due to COVID-19.
"It's just something that is very important to me because I feel like I'm connecting more with health workers and seeing things through their perspective," Medina says. "I just love it."
Students, faculty and staff from UIC Nursing will continue taking a leading role with an even bigger operation next month: a vaccination clinic at the Credit One Arena for individuals in Tier 1B, which includes people 65 and older and essential workers. The college will lead volunteer staffing of the unit, Reising says, and will need both clinical faculty and students to serve as vaccinators and nonclinical volunteers to welcome and register people.
Modified on January 17, 2022