UIC Nursing students partner with Rep. Ann Williams to expand treatment of STIs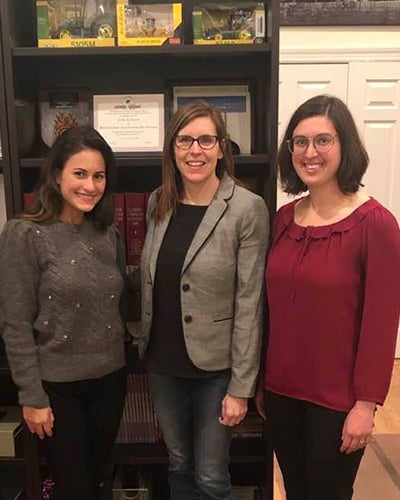 UIC College of Nursing students in the Doctor of Nursing Practice program successfully worked with Rep. Ann Williams, D-Chicago, to advocate for an expansion of Illinois law, which will help curb the sexually transmitted infection, trichomaniasis.
Under the amendment, signed by Gov. J.B. Pritzker on July 30, healthcare providers in Illinois will be able to treat the sex partners of patients diagnosed with trichomoniasis. This practice, called "expedited partner therapy" already applies to patients diagnosed with chlamydia and gonorrhea under current state law.
The update to the law goes into effect on Jan. 1, 2022.
"Expedited partner therapy is considered the gold standard of care for treating patients with an STI, per the CDC," says Michelle Seaquist, RN, a UIC Nursing student in the DNP program who advocated for the legislation. "Because it's sexually transmitted, re-infection is going to happen unless both partners get treated. This is ideal for patients with partners who aren't going to the doctor themselves."
Trichomaniasis is a parasitic sexually transmitted infection, with an estimated 3.7 million people infected in the U.S. According to the CDC, it is the most common curable STI. About 70% of infections are asymptomatic, meaning individuals may unknowingly spread it to their partners. Complications include an increased risk of HIV/STI transmission, preterm labor for pregnant people, and low birth weight in babies born to people with trichomoniasis.
Treatment is possible by taking antibiotics, abstaining from sexual intercourse until symptoms are resolved, and treating sex partners to avoid reinfection.
"The passage of [this bill] makes important strides towards closing gaps in treatment," Williams says. "When UIC nursing students came to my office to propose this bill, I was impressed by their identification of a specific legislative solution to a treatment disparity. The result? A positive impact on public health."
UIC Nursing alumnae Emma Oanes, DNP '20, RN, and Anna Baboulas, DNP '20, BSN '15, RN, first began working with Rep. Williams on the legislation in 2019 under the faculty guidance of Denise Bockwoldt, PhD, FNP-BC, and Charles Yingling, DNP '12, MS '05, FNP-BC, FAANP. As part of their project, Oanes and Baboulas surveyed Illinois healthcare providers and pharmacists and found unanimous support for the legislation.
But due to the COVID-19 pandemic in spring of 2020, the bill lost momentum. After Oanes and Baboulas graduated in May of 2020, Seaquist took on the project and began working with Williams to reintroduce the bill in early 2021. Sen. Sara Feigenholtz, D-Chicago, was the chief Senate sponsor.
As part of their efforts, the students created information sheets to disseminate to legislators. Seaquist also testified in front of the Health Care Licenses Committee this spring and wrote a letter to Pritzker urging him to sign the legislation.
With passage of the law, Seaquist will work on disseminating news of the policy—and its Jan. 1, 2022, effective date—to healthcare providers in Illinois, particularly women's health clinics, federally qualified health centers and OB-GYN offices.
"What I have found most inspiring about this whole process is the fact that everyday citizens can change the law," says Seaquist, who works as an urgent care nurse at UI Health's Mile Square Health Center while completing her DNP.
Modified on January 17, 2022