UIC Nursing to celebrate faculty, alums at American Academy of Nursing conference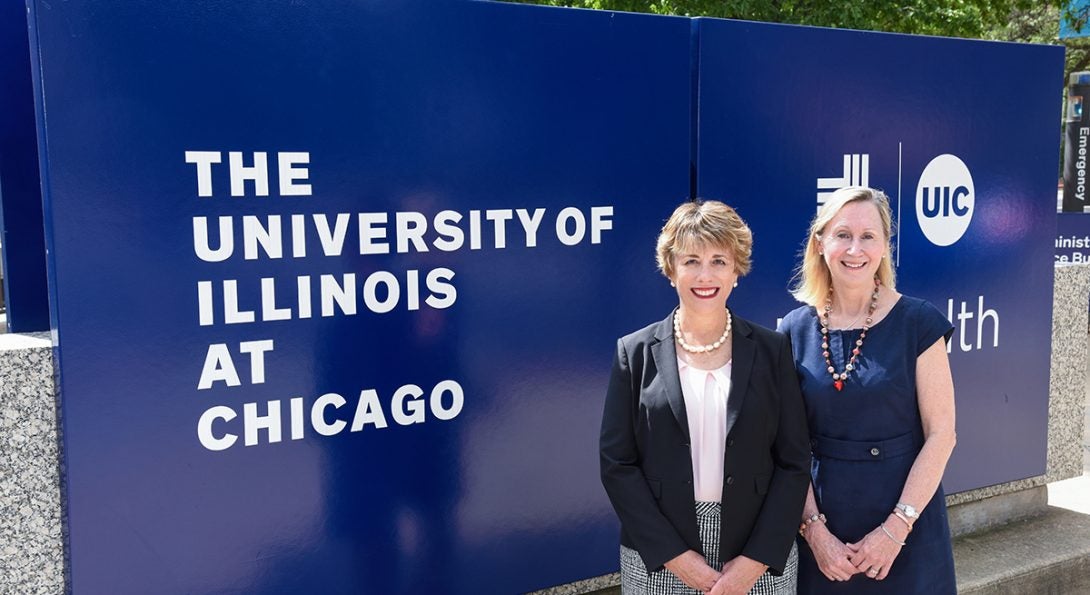 The 2019 class of AAN fellows will include UIC Nursing faculty Susan Dunn and Susan Walsh, as well as alumnae Ching-Min Chen, Kathleen Kobler, Linda Park and Mayumi Willgerodt. Heading link
Six UIC College of Nursing faculty and alumni will be inducted as fellows into the American Academy of Nursing and clinical associate professor Valerie Gruss, PhD, CNP-BC, FAAN, will be honored with the elite Edge Runner award at the academy's annual policy conference Oct. 24-26.
Gruss will be recognized for creating an innovative mobile app, the Dementia Guide Expert, which helps people with dementia and their caregivers navigate the Alzheimer's experience. The Edge Runner award recognizes programs developed by nurse innovators that usher in remarkable improvements to major healthcare challenges.
The college will celebrate its faculty and alumni at a reception from 6 to 8 p.m. on Oct. 25 in the Gallaudet University Room of the Marriott Marquis, 901 Massachusetts Ave. NW, Washington, DC.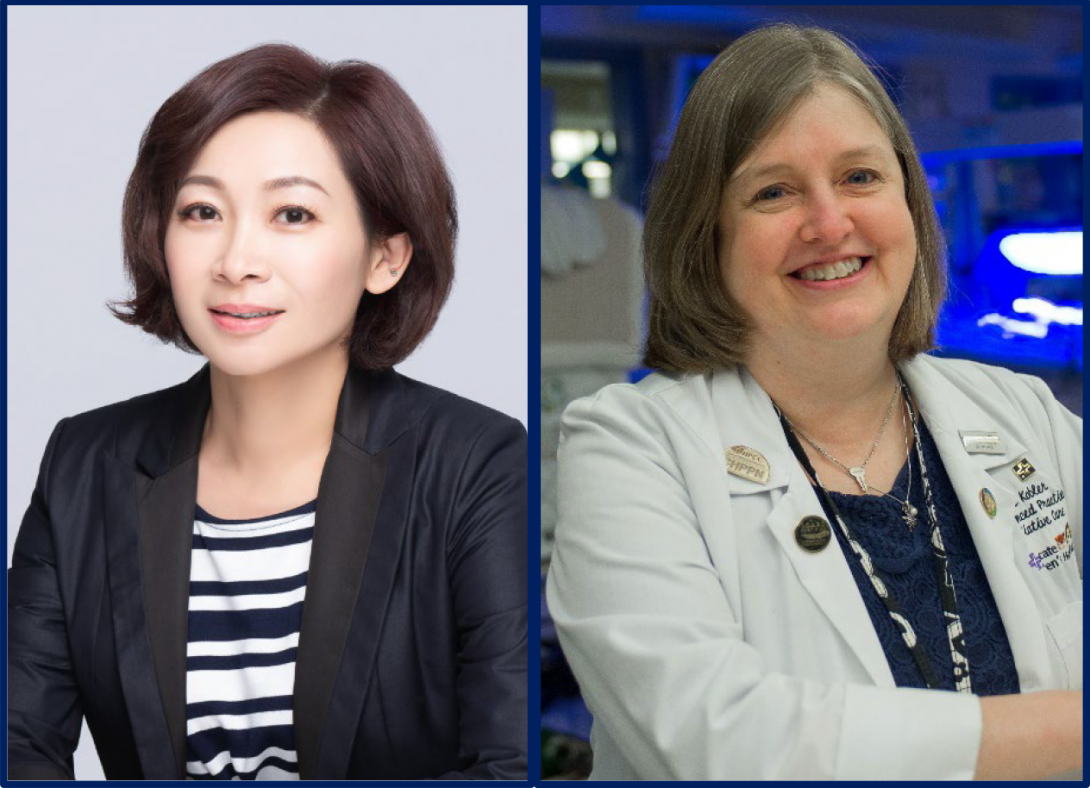 2019 Inductees:
Fellowship into the American Academy of Nursing is considered a significant milestone in a nurse leader's career. The 2019 inductees from UIC Nursing include:
Ching-Min Chen, PhD, BSN '90, RN, DNS: Chen is a professor in the Department of Nursing at National Cheng Kung University in Tainan, Taiwan, and a legislator in the Legislative Yuan of Taiwan. Chen founded the School of Geriatric Nursing and Care Management at Taipei Medical University in Taiwan in 2007. She is dedicated to effectively implementing Taiwan's Long Term Care Program, securing Taiwan's community health nursing network and promoting professional nursing development and lawful rights and interests of all nurses.
Susan Dunn, PhD, RN, FAHA: Dunn is an associate professor at UIC Nursing. She is one of the few investigators in the world studying hopelessness in individuals with heart disease. Her comprehensive and innovative research program is founded on a conceptual analysis that distinguishes hopelessness from depression. Dunn recently received a $2.4 million NIH grant to advance "Heart Up!" a program aimed at increasing physical activity and reducing hopelessness in heart disease patients.
Kathleen Kobler, PhD '17, MS '08, PCNS-BC, CHPPN, FPCN: Kobler is an advanced practice nurse in the Center for Fetal Care at Advocate Children's Hospital. Kobler's commitment to children is reflected through three decades of service to advance the fields of perinatal, neonatal, and pediatric palliative and bereavement care. Her scholarship focuses on areas often unnoticed, including the role of ritual in end-of-life care. Her national impact includes leading ground-breaking policy, certification, and educational initiatives to ensure quality pediatric palliative care provision.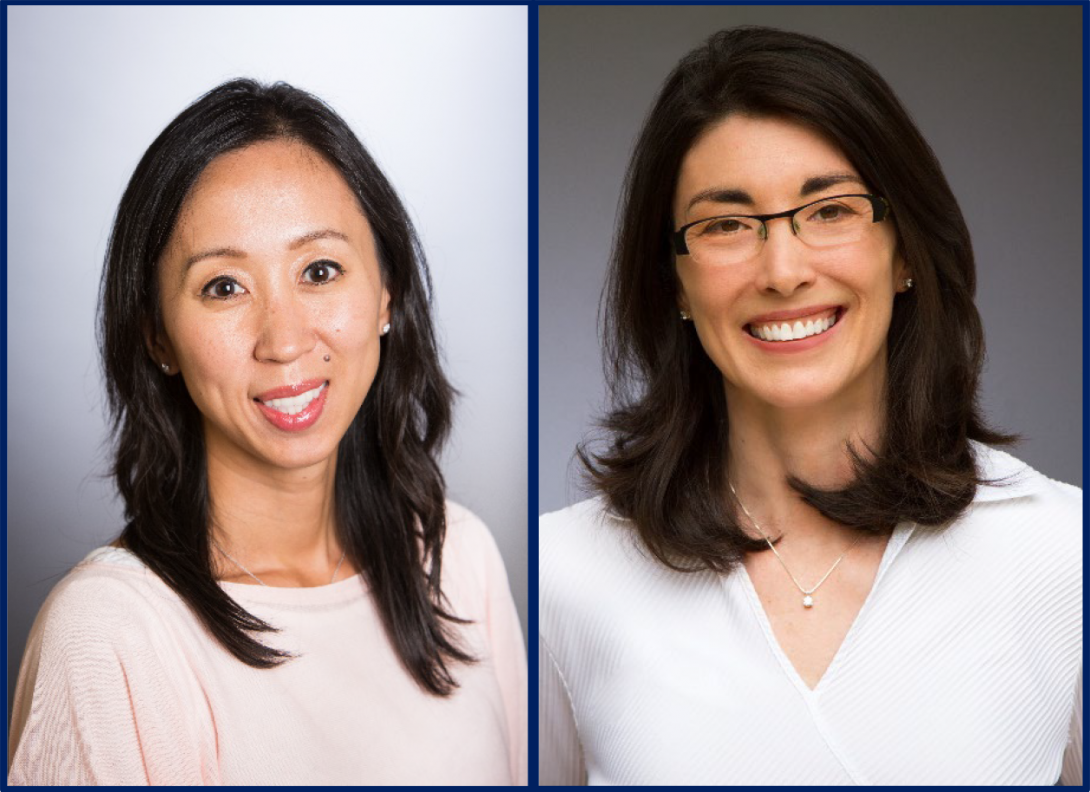 Linda Park, PhD, MS '00, BSN '96, FNP-BC, FAHA: Park is assistant professor at University of California, San Francisco. Park's program of research focuses on the discovery and testing of novel, patient-centered, technology-based solutions to improve patient self-care, clinical outcomes, and quality of life for patients with cardiovascular disease. Her research has contributed to new knowledge and the evolution of successful evidence-based strategies to improve self-care skills for managing chronic disease using mobile technology, wearable devices, and social media. Her work as a nurse practitioner in cardiovascular care has spanned over two decades and continues to inform her program of research.
Susan Walsh, DNP '14, MS '00, BSN '80, CPNP-PC: Walsh is clinical associate professor, director of the pediatric nurse practitioner program, and associate director of the Global Health Leadership Office at the UIC College of Nursing. She leads faculty and graduate students to Haiti several times per year to provide primary healthcare at a clinic in the mountains near the capital city, Port-au-Prince. There, she and her interprofessional teams have worked to improve immediate and long-term outcomes for newborns.
Mayumi Anne Willgerodt, PhD '99, MS '95, MPH, RN: Willgerodt is associate professor and vice-chair for education at University of Washington School of Nursing. Her work is at the intersection of school nursing, interprofessional education and collaborative practice. It has enhanced school nursing's power to transform health, led to critical workforce development, and triggered changes in the academic culture for health professions education. She is the founding associate editor of the Journal of Interprofessional Education and Practice, serves on several advisory boards and consults nationally and internationally on interprofessional education and collaborative practice.
Modified on October 28, 2019