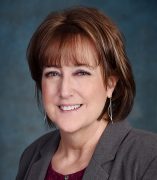 Denise Bockwoldt, PhD, APRN, CDCES
Clinical Assistant Professor
Family Nurse Practitioner
Department of Population Health Nursing Science
Contact
Building & Room:
942 NURS
Address:
845 S. Damen Ave., MC 802, Chicago, IL 60612
Email:
CV Download:
Related Sites:
About
The long term goal of Dr. Bockwoldt's program of scholarship is to assist persons living with chronic conditions, particularly type 2 diabetes, adapt to the self-care demands required for maintaining health and preventing complications.  Dr. Bockwoldt maintains a clinical practice providing primary care for vulnerable and underserved populations.   She is interested in exploring the use of telemedicine technology for diabetes medication management for inpatient, long term care, and outpatient settings.
Dr. Bockwoldt has a special interest in promoting diagnostic reasoning skills with NP students and participates with a collaborative of the Society to Improve Diagnosis in Medicine.
Selected Grants
HRSA, Advanced Nursing Education Nurse Practitioner Residency Program (HRSA-19-001), Co-investigator
Professional Leadership
Member, National Advisory Council (2019-2022), National Health Service Corps, HRSA
Education
PhD, Nursing - Rush University
Post-MS FNP Certificate - University of Illinois, Chicago
MS, Nursing - University of California, San Francisco
Licensures and Certifications
Family Nurse Practitioner
Certified Diabetes Educator
Professional Memberships
Illinois Society of Advanced Practice Nurses
Society to Improve Diagnosis in Medicine
American Association of Nurse Practitioners
National Organization of Nurse Practitioner Faculties
Midwest Nursing Research Society
Selected Presentations
Bockwoldt, D., Smith, S., & Benbenek, M. (2020, April). Teaching diagnostic reasoning skills: a key nurse practitioner competency. Podium Presentation: National Organization of Nurse Practitioner Faculties, 46th Annual Conference, Chicago, IL
Bockwoldt, D.  (2019) Primary Care of the Person with Super Obesity. APRN Midwest Conference, Lisle, IL. October 25.
Bockwoldt, D. & Vaez, K. Vivar con diabetes: Understanding How Individual, Family, and Community Stressors Contribute to the Development of Type 2 Diabetes in Latino Youth. Presented at the 2017 Latino/a Behavioral Health Conference, Chicago School of Psychology, October 2017.
Bockwoldt, D. Host, CAN-TV program: Health Affairs A-Z. Chicago, IL. May 18, 2016.
Bockwoldt, D. Using Smart Text Messaging to Streamline Population Health and Improve Disease Management. Webinar panelist for the Midwest Clinicians Network, January 2015.
Bockwoldt, D. ACA Payment Models – New Business Models and Partner Ecosystems. Panelist/presenter at the Chicago Health Tech and Health 2.0, Chicago, IL, May 2014.