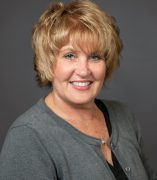 Geri Kirkbride, PhD, RN, CENP, CPPS, CPHQ
Adjunct Clinical Assistant Professor
Associate Member of the Graduate Faculty
Department of Population Health Nursing Science
Pronouns: She/her/hers
Contact
Address:
845 S. Damen Ave., MC 802, Chicago, IL 60612
Office Phone:
Email:
CV Download:
About
Dr. Kirkbride serves as Adjunct Clinical Assistant Professor in the department of Population Health Nursing Science and is an Associate Member of the Graduate Faculty. She completed her PhD in 2014 from the University of Iowa. Her research interests include patient safety and organizational systems. Current memberships include the National Patient Safety Foundation, American Organization of Nurse Executives, and Sigma Theta Tau International Nursing Honor Society. She has completed Greenbelt certification in Lean-Six-Sigma. Nationally, she is a Certified Professional in Patient Safety (CPPS), is Certified in Executive Nursing Practice (CENP), and a Certified Professional in Healthcare Quality (CPHQ).
Dr. Kirkbride is employed by Memorial Health System. Her current role is Director of Quality, Safety & Compliance at Taylorville Memorial Hospital.  Her primary responsibilities include oversight of patient safety and quality initiatives, and regulatory compliance. Dr. Kirkbride began her career as a staff nurse and has worked across inpatient, outpatient, and long-term care settings in varying capacities. She has extensive leadership experience.  She served as a Nursing Director for ten years, gaining expertise in executive nursing practice and integrating patient safety into complex care delivery systems. Previous roles also include Patient Safety Coordinator, Nursing Research Facilitator in this Magnet designated hospital.