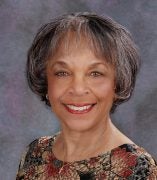 Gloria Bonner, PhD, RN, FAAN
Assistant Professor Emerita
Department of Biobehavioral Nursing Science
Contact
Address:
845 S. Damen Ave., MC 802, Chicago, IL 60612
Office Phone:
Email:
CV Download:
About
I am an Assistant Professor, Emerita at the University of Illinois, College of Nursing.  As an advanced practice nurse, I functioned as a nurse practitioner, clinical specialist and public/home health care manager.  Within these positions I maintained a keen interest in health disparities within the African American (AAs) and low income families as a public health and ambulatory care expert.  My career centered on managing the health care for adult patients and teaching their families best approaches for self-care. My focus, as a gerontologist specialist, is on end-of-life care planning for caregivers of a minority population severely affected by end stage dementia.  I became especially interested in the dementias and caregiving for AAs during doctoral studies while learning about the high prevalence of the underlying diseases, tremendous burden imposed and need for informed end-of-life decision making.  As a public health scientist, I conduct community/church-based interventions to improve advance care planning among AAs facing death from dementia.  Through sustained NIH research funding over 20 years, my original research and unique approach developed, tested and implemented an empirically based education program that teach skills for caregivers to make informed end-of-life treatment decisions for terminally ill relatives. An Advance Care Treatment Plan (ACT-Plan) education intervention evolved from my studies tested successfully for efficacy with over 300 study subjects. Findings include increased caregivers' informed decision-making, knowledge about end-of-life treatments and confidence in choices made. Large urban mega-AA churches with as many as 10,000 congregants and neighborhood public health agencies are settings where the impact from my work is exceptionally strong. I have conducted my research in these settings with extremely successful recruitment and retention of participants. Publications from my investigations are in scientific peer-reviewed national and international journals. I contribute to the work force of nurse researchers, mentor PhD minority students and train AA nurses in skills necessary for successful PhD-level research careers. In addition, I guide nurses from the majority population to become culturally competent with conducting research in AA communities.
The following include recent scientific peer-reviewed and community-based presentations.
Watkins, Y.,J.,  Bonner, G., Wilkie, D., Ferrans, C., Dancy, C.  "Kolb's Experiential Learning Theory: An education model for African American Dementia Caregivers on Advance Care Planning for End-of-Life treatments."  Oral Presentation at the Midwest Nursing Research Society, March 7-10, 2013, Chicago, Il.
Bonner, G.J., Burnett, G.M., Wilkie, D., Roberson,T., Dancy, B.,  Ferrans, C. E. (2014). Church-based Recruitment of African Americans: Lessons Learned.  Podium presentation at the Council for the Advancement of Nursing Science, September 19, 2014, Washington D. C.
Bonner, G.J., (2016). Engaging Stakeholders in a Dementia Education Program for African Americans in Church-based Settings: A Randomized Controlled Trial. Keynote speaker at the Making the End Count Palliative and End of Life Conference sponsored by Suwannee River Area Health Education Center, University of Florida Health and Haven Hospice in Gainesville, Florida.
Bonner, G.J., Hart, A., Freels, S., Watkins, Y., (2018). Findings from an End-of-Life Education Intervention for African American Caregivers of Relatives with Dementia. Podium presentation at the Gerontological Society of America Conference, November 16, 2018, Boston Mass.