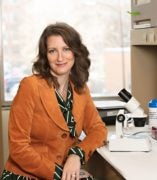 Julienne Rutherford, PhD
Associate Professor
Associate Department Head
Department of Human Development Nursing Science
Pronouns: She/her/hers
Contact
Building & Room:
NURS 822
Address:
845 S. Damen Ave., MC 802, Chicago, IL 60612
Office Phone:
Email:
CV Download:
About
Dr. Rutherford is an Associate Professor of Women, Children, and Family Health Science in the College of Nursing at the University of Illinois at Chicago (UIC), serving masters level midwifery and women's health nurse practitioner students as well as PhD students. Dr. Rutherford is a biological anthropologist (Indiana University, PhD, 2007) whose work integrates evolutionary theory with biomedical science. Her research program revolves around a central interest in the dynamic maternal environment in which a fetus develops, with a primary focus on the primate placenta as a signaling interface between mother and fetus. She works predominantly with marmoset monkeys, a litter-bearing nonhuman primate that produces variable intrauterine environments. Dr. Rutherford is the PI of an NICHD-funded R01 project to address how the period of prenatal development impacts reproductive development and function into adulthood, and that of subsequent generations. She is the co-Investigator on a Department of Defense study of placental response to Zika infection and vaccination during pregnancy in the marmoset monkey. Other areas of research include postpartum bleeding and linking placental function to fetal brain development and evolution. Additionally, Dr. Rutherford is part of a four-woman team that published the groundbreaking SAFE study about sexual harassment and assault in the field sciences, with the first paper published in 2014 and the follow-up published in 2017. She has been a Robert Wood Johnson Future of Nursing mentor, and she is the recipient of many awards including the UIC Researcher of the Year Rising Star in Clinical Sciences, American Society of Primatologists Legacy Award, National Academy of Science Kavli Foundation Fellow, the American College of Nurse Midwives Excellence in Teaching Award, and an NIH Loan Repayment Program Award.
Selected Grants
Department of Defense, Zika countermeasures: pre-clinical pregnancy models to assess protective efficacy against placental damage and fetal demise, Co-Investigator
NICHD, Womb to Womb: Programming Reproductive Development in Female Marmoset Monkeys, PI
CON Internal Research Support Program, Identifying novel placental biomarkers to predict risk of excessive blood loss at delivery, PI
Selected Publications
Thayer ZA, Rutherford JN, and Kuzawa CW. (2020) Maternal Nutritional Buffering Model: An evolutionary framework for pregnancy nutritional intervention. Evolution, Medicine, and Public Health 2020(1): 14-27
Narapareddy (formerly Riesche) SR, Wildman DE, Armstrong DL, Weckle A, Bell AF, Patil CL, Tardif SD, Ross CN, & Rutherford (2020) Maternal weight affects placental DNA methylation of genes involved in metabolic pathways in the common marmoset monkey (Callithrix jacchus). American Journal of Primatology 2020(82: e23101): 1-11
Rutherford JN, deMartelly VA, Ragsdale H, Lee NR, Avila JL, Kuzawa CW (2019) Global population in placental size and structure: Evidence from Cebu, Philippines. Placenta 85: 40-48
Rutherford JN (2019) Academic descent with intentional modifications: a reflection on mentoring as developmental environment. American Anthropologist, 121(2):482-483. 
Rutherford JN, Asiodu IV, and Liese KL. (2019) Reintegrating modern birth practice within ancient birth process: what high cesarean rates obscure about physiologic birth. American Journal of Human Biology 31(2): e23229
Seferovic M, Sánchez-San Martín C, Tardif SD, Rutherford JN, Castro E, Li T, Hodara VL, Parodi LM, Giavedoni L, Layne Colon D, Tamhankar M, Yagi S, Martyn C, Reyes K, Suter M, Aagaard KM, Chiu CY, and Patterson JL. (2018) Experimental Zika Virus Infection in the Pregnant Common Marmoset Induces Spontaneous Fetal Loss and Neurodevelopmental Abnormalities. Scientific Reports, 8:6851.
Riesche SL, Tardif SD, Ross CA, Ziegler T, Wildman DE, Rutherford JN. (2018) The common marmoset monkey: avenues for exploring prenatal and placental mechanisms in developmental programming of pediatric obesity. American Journal of Physiology – Regulatory, Comparative, and Integrative Physiology,  314(5): R684-R692.
Rutherford JN. (2017) The Borderless Fetus: Temporal Complexity of the Lived Fetal Experience. In Han S, Betsinger TK, and Scott AB; The Fetus: Biology, Culture, and Society, pp. 15-33. Berghahn Books: New York.
Nelson RG, Rutherford JN∞, Hinde K, and Clancy KHB. (2017) Signaling safety: characterizing fieldwork experiences and their implications for career trajectories. American Anthropologist 119(4): 710-722. (∞All four authors contributed to all components of study design, data analysis, and manuscript preparation)
Clancy KBH, Nelson RG, Rutherford JN∞, and Hinde K. (2014) Survey of Academic Field Experiences (SAFE): trainees report harassment and assault. PLoS ONE 9(7): e102172  (∞All four authors contributed to all components of study design, data analysis, and manuscript preparation)
Service to Community
Board of Directors, Breastfeed Chicago (2019-present)
Professional Leadership
International Scientific Advisory Committee (2018), International Federation Placenta Association
Advisory Board (2018-present), University of Illinois Committee on the Status of Women
Faculty Chairperson (2017-2019), Collegue of Nursing, University of Illinois at Chicago
President (2013-2018), Midwest Primate Interest Group
Editorial Board (2017-present), Frontiers in Physiology, Embryonic and Development Physiology Section , 2017-present
Invited reviewer (2015, 2016), Human Placenta Project, Eunice Shriver National Institute of Child Health and Human Development
Steering Committee (2015-2016), American Association of Physical Anthropologist Presidential Panel on Harassment
Biological Anthropology Section Editor (2013-2015), Anthropology News, Newsletter of the American Anthropological Association
Executive Committee (2013-2015), Biological Anthropology Section, American Anthropological Association
Notable Honors
2015, Excellence in Teaching Award, American College of Nurse Midwives
2014-2017, Loan Repayment Program, National Institues of Health, Contraception and Infertility Division
2014, Kavli Fellow, 16th annual Chinese-American Kavli Frontiers of Science Symposium, Beijing, National Academy of Sciences and the Chinese Academy of Sciences
2013, Researcher of the Year Rising Star in the Clinical Sciences, University of Illinois at Chicago
2011-2012, Leadership Mentoring Fellow, American Anthropological Association
Education
2007-2009 Postdoctoral Fellowship, Northwestern University (Evanston, IL)
Institute for Policy Research and Cells to Society (C2S): The Center on Social Disparities and Health; Laboratory for Human Biology Research, Department of Anthropology
2007 Ph.D., Indiana University (Bloomington, IN), Biological Anthropology; Minors: Animal Behavior and Medical Sciences (Gross Anatomy and Histology)
2003-2006 Predoctoral Internship, Southwest National Primate Research Center. Southwest Foundation for Biomedical Research (San Antonio, TX)
2004 M.A., Indiana University (Bloomington, IN), Biological Anthropology
1994 B.A., Miami University (Oxford, Ohio), Anthropology and Zoology
Professional Memberships
American Anthropological Association
American Association of Physical Anthropologists
American Society of Primatologists
International Federation of Placenta Associations
Marmoset Research Group of the Americas
Midwest Nursing Research Society
Midwest Primate Interest Group
Perinatal Research Society
Placenta Association of the Americas
Selected Presentations
INVITED CONFERENCE KEYNOTE AND PLENARY PRESENTATIONS
INTERNATIONAL
2018
PLENARY: Womb to Womb: Programming Reproductive Development in the Female Common Marmoset Monkey. International Federation Of Placenta Associations Developmental Origins of Health and Disease symposium, Tokyo, Japan (September 24)
* Placenta 69: e4
NATIONAL
2015
LEGACY AWARD ADDRESS (PLENARY): The Legacy of Placental Function in Primate Brain Development and Evolution. American Society of Primatologists annual meeting (June 16)
2014
PLENARY: The infinite fetus: connecting person and placenta through time and space. Cusp Conference (October 23)
https://www.cuspconference.com/videos/julienne-rutherford-2014/
2013
PLENARY: How I Learned to Stop Worrying and Love the BIRCWH. The Art and Science of Interdisciplinary Research, 10th Anniversary Interdisciplinary Women's Health Research Symposium,
National Institutes of Health (October 24)
INVITED LECTURES
2018
Womb to Womb: Maternal birth condition and current gestational obesity status predicts offspring perinatal mortality and adult reproductive outcomes. Division of Endocrinology, Metabolism, and Molecular Medicine; Northwestern University; Feinberg School of Medicine, Chicago, IL (April 19)
SAFE science: Sexual harassment and assault in academic field work. DePaul University, Department of Anthropology, Chicago, IL (February 21)
SAFE science: Sexual harassment and assault in academic field work. UIC, Department of Anthropology, Chicago, IL (February 19)
SAFE science: Sexual harassment and assault in academic field work. Women's Leadership and Resource Center, UIC, Chicago, IL (January 31)
SAFE science: Acknowledging and eradicating sexual harassment and assault in the academicworkplace. SUNY Broome, Broome, NY (January 18)
2017
SAFE science: Sexual harassment and assault in academic field work. DePaul University, Department ofAnthropology, Chicago, IL (March 2)
2016
The infinite fetus: connecting person and placenta through time and space. UIC College of Nursing 65th Anniversary Alumni Breakfast (October 1)
Research Currently in Progress