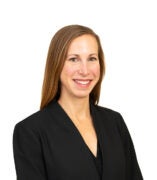 Sarah M. Fitz, DNP
Clinical Assistant Professor
Specialty Director: Adult-Gerontology Acute Care Nurse Practitioner Program
Department of Biobehavioral Nursing Science
Pronouns: she/her/hers
Contact
Building & Room:
624 NURS
Address:
845 S. Damen Ave., MC 802, Chicago, IL 60612
Office Phone:
Email:
CV Link:
About
Sarah Fitz obtained her Master of Science in Nursing from Vanderbilt University School of Nursing and completed her Doctor of Nursing Practice at UIC College of Nursing.  She is an adult Acute Care Nurse Practitioner with experience in advanced lung disease, pulmonary transplant, and hospital medicine.  Her doctoral work centered around quality improvement initiatives to improve the hospital discharge process and prevent readmissions among lung transplant recipients.  Areas of interest include diversity, equity, and inclusion, quality improvement, evidence-based practice, and acute care.  Dr. Fitz is currently the chair of UIC College of Nursing Equity and Inclusion Committee.
Selected Grants
HRSA, Erie Advancing Practice Fellowship, Health Education Specialist
Selected Publications
Fitz, S.M., Diegel-Vacek, L., Mahoney, E. (2020) Implementing an evidence-based discharge bundle for lung transplant recipients. Progress in Transplantation. 30(3):281-285.
Fitz, S. M., Sparbel, K. J. H., Rosenberger, K. D., & Corbridge, S. J. (2020). Fostering professionalism in doctor of nursing practice students. Journal of Nursing Education and Practice, 10(5), 56-62.
Professional Leadership
Chair, UIC College of Nursing Equity and Inclusion Committee
Notable Honors
2022, Barbara Berger Award for Excellence in Teaching, UIC College of Nursing Department of Biobehavioral Nursing Science
2018, DAISY Award for Excellence in Nursing Education, The DAISY Foundation
Education
2008 Master of Science in Nursing, Vanderbilt University School of Nursing
2019 Doctor of Nursing Practice, University of Illinois Chicago College of Nursing
Licensures and Certifications
APRN - Illinois
RN - Illinois
Acute Care Nurse Practitioner - American Nurses Credentialing Center Board Certification
Professional Memberships
American Association of Nurse Practitioners
National Organization of Nurse Practitioner Faculties
Sigma Theta Tau
Selected Presentations
2021 Academy for Professionalism in Health Care Conference, Enhancing Professionalism and Interpersonal Trust in the Health Professions in a Time of Crisis (Virtual podium)
2020 Midwest Nursing Research Society Conference: Implementing an Evidence-Based Discharge Bundle for Lung Transplant Patients (Virtual poster)
2019 Helene Fuld Evidence-Based Practice Summit: Implementing an Evidence-Based Discharge Bundle for Lung Transplant Patients (Podium)
Research Currently in Progress
Oral Care and Nonventilator Hospital-Acquired Pneumonia (Evidence-Based Practice Initiative)