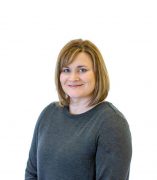 Dawn Renee Sarginson, MSN, RN
Visiting Clinical Instructor
Department of Biobehavioral Nursing Sciences, Springfield Campus
Contact
Address:
One University Plaza, SAB 23, Springfield, IL 62703
Office Phone:
Email:
About
Dawn Sarginson joined the University of Illinois (UIC), College of Nursing Springfield Campus in the Spring of 2018 bringing 22 years of diverse experience in nursing. Prior to her experience at UIC she was an instructor at Millikin University teaching Pharmacology and Medical Surgical courses. Additionally, she taught full-time at MacMurray College in Medical Surgical Clinical, Psych-Mental Health Clinical, and Fundamentals classrooms.
With over 22 years of clinical nursing experience, her professional career includes acute care nursing, administrative, research, and quality management positions in such departments as the Cardiac, Pulmonary, Medical Intensive Care Unit, Cardiac Intensive Care Unit, Quality Management, and Cardiovascular Research.
Professor Sarginson obtained her BSN from St. John's College in Springfield, IL. She went on to obtain her MSN from Millikin University in 2010. Currently, she is completing a PhD in Nursing Education at Nova Southeastern University where her current research interest are in technology and social media teaching strategies as well as evaluation. Prior clinical research includes activities regarding the relationship between sleep apnea and heart failure.
Selected Publications
Sarginson, D. (2010). Identifying barriers to CPAP use in the sleep apnea patient [Abstract]. Journal of Heart and Lung, 39(4), 360-361.
Zak, S., Farell-Anderson, K., Prasun, M., & Sarginson, D. (2016). Characteristics of heart failure patients followed in an outpatient disease management program[Abstract]. Journal of Heart and Lung, 45 (4), 375-376.
Professional Memberships
2010 Member Sigma Theta Tau International, Honor Society of Nursing, Nu Pi-At-Large Chapter
2018 Member The Honor Society of Phi Kappa Phi International, -All-Discipline Honor Society