Meet DNP Students
UIC Nursing students—from bachelor's to master's to doctoral—are living lives of inspiration. Here we introduce a few DNP students.
Check in often. We're adding new students regularly.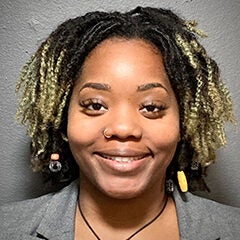 Inez White-Brown

Hometown: Chicago
Campus: Chicago
Focus area: FNP post-DNP certificate

Why did you want to become a nurse?

I wanted to become a nurse from a young age. I consider myself to be a healer. I am very gentle and a "people person" naturally, so the role has been effortless. My grandmother introduced me to nursing as a child and counseled me to enroll in the licensed practical nursing program as a high school student. Completing this program expanded my knowledge of the nurse's role and fueled my desire to obtain my Doctor of Nursing Practice degree.

What else are you involved in through school (clubs, groups, extracurriculars)?

I am a graduate assistant for the College of Nursing Urban Health Program. In this role, I am involved in publicizing upcoming events, outreach, tutoring, and mentoring. I am also a graduate assistant for the RN to BSN nursing program here at UIC. I am an abolitionist organizer organizing through a Black Queer Fem lens.

What's your favorite: book, TV show, song/artist, movie or food?

My favorite food is a tie between pizza and peanut butter & jelly sandwiches. Currently, my favorite artist is Ari Lennox.

|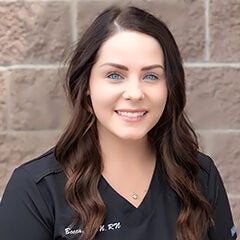 Becca Quaid, MS '21

Hometown: LeRoy, Illinois
Campus: Urbana
Focus area: Family Nurse Practitioner

Why did you want to get your DNP?

After graduating from UIC's AGMS program in 2021, where I served on the Graduate Student Nurses Organization and the Graduate Admissions Committee, I knew I wanted to expand my scope of practice in order to provide higher-quality care to meet the needs of my patients and develop that trusting patient-provider relationship. While at UIC, I also had the opportunity to instruct clinicals for BSN students, which led me to thinking about teaching nursing courses in the future and enabled me to gain more hospital experience.

Why did you choose an FNP focus?

The patient population is very broad and diverse. As an FNP, I can see infants, adults, gerontological, and even pregnant women. Visits for these patients can vary in reasoning, ranging from wellness visits to acute and chronic illnesses. I am specifically interested in providing holistic care and promoting health and wellness for all age groups. UIC's FNP program is preparing me to provide such breadth care.

|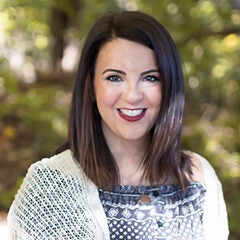 Dallas McIntyre

Hometown: Andalusia, Illinois
Campus: Quad Cities
Focus area: Adult Gerontology-Acute Care Nurse Practitioner

Describe your favorite moment as a nursing student so far?

My favorite moment as an AG-ACNP student was getting to intubate my first patient.

What do you do for fun outside of school?

I have two kids, ages 6 and 4, so spending time with them is my favorite thing to do. We love to be outside, go swimming, go to the trampoline park, skating, bowling, or pretty much anything else! I love to ride my Peloton, read books, and watch Grey's Anatomy.

|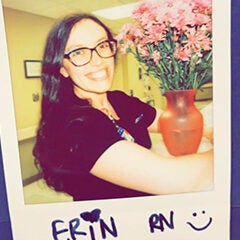 Erin Mickels

Hometown: Chicago
Campus: Chicago
Program: Family Nurse Practitioner

Why did you want to become a nurse?

Growing up, I always knew that I wanted to help others, but didn't know what I wanted to do. It wasn't until my grandfather got sick with cancer that I knew I wanted to become a nurse. Seeing the care that they provided to him and the rest of my family, I knew that was my calling and I haven't looked back since.

What do you do for fun outside of school?

Outside of school, I enjoy cooking, working out, spending time with loved ones, and traveling. The last place that I traveled to was Boston where I went whale watching for the first time!

|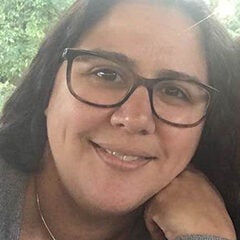 Lisa Hickman

Hometown: Rockford, Illinois
Campus: Rockford
Focus area: Nurse-Midwifery/Women's Health Nurse Practitioner

Why did you want to become a nurse?

My journey through health care has been a long one. I first attended UIC as a pre-med biology major in 1998. Life happened, and I found myself taking a break from school and working a full-time job in a doctor's office. Through that experience, I found that I loved the one-on-one time I had with the patients. I got my LPN certification, and once I dipped my toes into nursing, there was no turning back. I continued my education to receive my BSN, and found my home in labor and delivery. I wanted to learn more–to do more–so I returned home to UIC and continued on for my DNP.

What do you do for fun outside of school?

When I'm not studying or in clinical, I spend time with my husband and our three daughters. We love to garden in the summer time, and spend as much time outdoors as we can. I love music, the theater, good food, and exploring different cultures. The world is a big place, and I hope to travel more once our girls are older.

|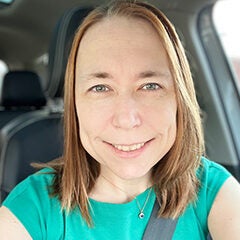 Rebecca Phillips

Hometown: Urbana, Illinois
Campus: Chicago
Focus area: Pediatric Nurse Practitioner-Acute Care

Why did you want to become a nurse?

I became a nurse because I wanted to provide compassionate, ethical, and research-driven care to all populations of patients and their families. My background as a former foster child in the DCFS system has pushed my drive to reduce health disparities and increase health education for children and their families. Becoming a nurse allows me to care for the people in my communities in ways other career paths wouldn't. Nursing is work of the heart and that is the biggest reason nursing was the best career choice for me.

What else are you involved in through school (clubs, groups, extracurriculars)?

I am involved in the Interdisciplinary Approach to Health Disparities (IAHD). I currently work with the Juvenile Temporary Detention Center (JTDC), alongside a fourth-year medical student, a fourth-year dental student and my faculty mentor, Dr. Susan Walsh, DNP, APRN, PNP-PC, to provide sexual health literacy about sexually transmitted diseases (STD). This provides a unique opportunity for educating at-risk youth, reducing health disparities, and working in collaboration with other healthcare professionals.

|
Submit this form and an Enrollment Advisor will contact you to answer your questions.