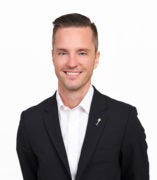 Michael W. Calik, PhD
Assistant Professor
Department of Biobehavioral Health Science
Address:
845 S. Damen Ave., MC 802, Chicago, IL 60612
Email:
Office Phone Voice:
(312) 413-0581
Related Sites:
About
The goal of my research is to investigate pharmacological treatments of sleep-related breathing disorders (e.g. obstructive sleep apnea [OSA]). I am a neuroscientist studying respiratory modulation during sleep.
My published results show that dronabinol, a cannabinoid, injected locally into the nodose ganglia (cell bodies of the vagus nerves containing cannabinoid receptors) attenuates reflex apnea and increases upper airway activity in rats; apnea attenuation, but not increases in upper airway activity, is blocked by systemic cannabinoid antagonism. Moreover, systemic administration of dronabinol in chronically instrumented conscious rats decreases apnea index, but also decreases time spent in REM sleep.
Combined with the human trials showing a decrease in OSA severity with dronabinol administration, and the results from my investigations of the a rat model of apnea, dronabinol has the potential of being the first drug approved for OSA treatment. However, cannabimimetic modulation of respiration needs clarification. It is my goal to investigate the cannabinoid dependent and independent receptor-mediated mechanisms of the peripheral and central nervous systems that augment state-dependent respiratory control. Moreover, I will study other pharmacological agents that can be used alone or in combination with cannabinoids to reduce apnea propensity.
I will study the neurophysiological, neurobiological, and neuropharmacological mechanisms of the respiratory circuitries (both peripherally and centrally) implicated in sleep-related breathing disorders.