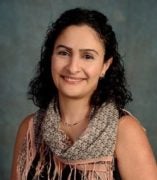 Sarah Abboud, PhD, RN
Assistant Professor
Department of Women, Children and Family Health Science
Address:
845 S. Damen Ave., MC 802, Chicago, IL 60612
Email:
Office Phone Voice:
(312) 355-3283
CV Download:
About
My research work centers on the intersections of ethnicity, sexuality, gender, health, and immigration among immigrants, ethnic minorities, sexual and gender minorities in the United States, in particular Arabs and Arab Americans, and in Lebanon. My work is informed by social justice, intersectionality, and health equity frameworks and aims at decreasing the significant health disparities faced by marginalized populations. Along with my research work, I have extensive experience in sexual health, qualitative research methods, mixed methods, and community-based participatory research approaches.
In the US, my work has concentrated on virginity and sexual initiation, communication with parents about sex and sexuality, and sexual attitudes and behaviors among young adult Arabs. I am currently working on the development of a sexual and reproductive health promotion intervention for young adult Arabs in Chicago, with a focus on intimate partner sexual violence prevention. As part of a fellowship at Yale University, I am also exploring HIV/STI risk behaviors and mental health of Lebanese gay and bisexual men, pre- and post-migration to the US.
In Lebanon, my work has centered on HIV/AIDS, where I investigated the quality of life of people living with HIV/AIDS. I am currently a board member of LebMASH (Lebanese Medical Association for Sexual Health), where we are working on advancing healthcare for LGBTQ individuals, as well as sexual and reproductive health throughout the country.
I completed my BS and MS in Nursing at the American University of Beirut School of Nursing, Lebanon, and my PhD and post-doctoral fellowship at the University of Pennsylvania School of Nursing, where I was a member of the Centers for Global Women's Health and Health Equity Research. I am currently a Visiting Faculty Fellow at Yale University School of Public Health Center for Interdisciplinary Research on AIDS (2017-2019).
Selected Grants
Institute for Research on Race and Public Policy, Toward the development of a community-based and youth-focused sexual violence prevention intervention for Arabs in Chicago, Principal Investigator
Institute for Research on Race and Public Policy, Intrapartum Inequalities: Birth Experiences and Obstetric Interventions among Immigrant Women in Chicago, Co-Investigator
Selected Publications
Agénor, M., Abboud, S., Peitzmeier, S., Delgadillo, J.G., Pérez, A., & Borrero, S. (2018). Human papillomavirus vaccination initiation among foreign-born white, black, Latina, and Asian young adult U.S. women: A national population-based study. Cancer Causes and Control. Accepted.
Naal, H., Abboud, S., & Mahmoud, H. (2018). Developing an LGBT-Affirming Healthcare Provider Directory in Lebanon. Journal of Gay & Lesbian Mental Health. Letter to the editor. Accepted.
Abboud, S., Kim, S., Jacoby, S., Mooney-Doyle, K., Waite, T., Froh, B., Kim, H., Sowicz, T., Kelly, T.A., & Kagan, S. (2017). Co-creation of a pedagogical space to support qualitative inquiry: An advanced qualitative collective. Nurse Education Today, (50), 8-11.
Abboud, S., De Penning, E., Brawner, B., Menon, U., Glanz, K., & Sommers, M.S. (2017). Cervical cancer screening among Arab women in the United States; an integrative review. Oncology Nursing Forum, 44(1), E20-E33. doi: 10.1188/17.ONF.E20-E33.
Education
2014           PhD, University of Pennsylvania
2007          MS, American University of Beirut, School of Nursing, Lebanon; Minor in Education.
1999           BS, American University of Beirut, School of Nursing, Lebanon