$1.5M grant expands services at nurse-led clinic in Humboldt Park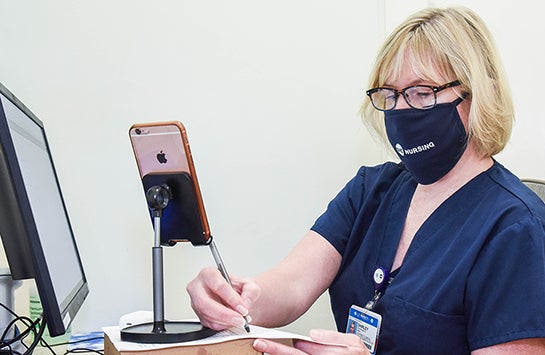 A $1.5 million grant will expand care at the UIC College of Nursing-managed Mile Square Health Center in Chicago's underserved Humboldt Park neighborhood. The new funding will allow providers there to offer universal screening for substance abuse and improve care for individuals incarcerated at two Chicago adult transition centers.
The three-year grant from the Health Resources and Services Administration (HRSA), awarded to UIC Nursing clinical assistant professor Virginia Reising, DNP '18, RN, PEL-CSN, PHNA-BC, and UIC Nursing executive associate dean Susan Corbridge, PhD '09, APRN, FAAN, FAANP, will allow faculty and staff to build upon an existing system of integrated primary and behavioral healthcare.
"[This is] really important when we look at rates of opioid use in the Humboldt Park community," says Reising. "That community has been ravaged by opioid use and death. We know there's a significant issue in the population we serve. It starts with universal screening."
The new grant, called Project EXCELL (Expanded Collaborative Care to Enhance Life and Learning) means:
Providers will screen universally for substance use and, for those who screen positive, offer therapy and medication-assisted treatment;
Men at Safer Foundation's Crossroads and North Lawndale Adult Transition Centers who are transitioning back to the community from the Illinois Department of Corrections will be able to access providers at Mile Square-Humboldt Park via telehealth;
A nurse will be on site twice a week at the Crossroads location to conduct health assessments and offer a public health clinical experience for students;
Interdisciplinary trainings will be offered on trauma-informed care, domestic violence and implicit bias, among other topics.
Collaborative Care model
This project builds on a 2017 HRSA grant, also led by Corbridge and Reising, to provide both mental health and medical care in a single primary care setting, a concept based on the University of Washington AIMS Center model of Collaborative Care. The initial funding allowed the clinic to hire a full-time licensed clinical social worker with a certification in alcohol and drug counseling. Every patient is screened for depression and anxiety and offered treatment. To date, the clinic has served more than 250 patients with the integrated model of care.
The new grant continues that work and adds substance use screening and interdisciplinary training opportunities for UIC students on behavioral health and substance use disorder.
Michelle Martinez, BSN, RN, a UIC Nursing master's degree student who is the clinic manager and project manager, added that screening is critical because patients don't always report substance use on more generalized intake forms.
Patients who screen positive are offered short and targeted therapy, and, when needed, medication. All primary care providers at the clinic have training and a Drug Enforcement Agency waiver to prescribe buprenorphpine, an approved treatment for opioid use disorder. Biweekly case consultation meetings are held with the social worker and a psychiatric nurse practitioner who can advise the primary care providers about medication management.
"This is a prime example of how we provide care using the collaborative model," Martinez says. "We are treating the patient holistically. We're not just offering medication assistance. We really want to know their barriers to care and how we, as their medical home, can help overcome those barriers and be successful."
Expanded care for ATC
The grant will allow UIC Nursing clinical instructor Amy Johnson, PhD '18, RN, to be on site at the Safer Foundation Crossroads ATC twice a week, offering assessments for new residents and point-of-care tests for blood glucose, blood pressure and cholesterol. She'll also be able to connect men to primary care at Mile Square-Humboldt Park and other resources in the communities to which they'll be returning.
In addition, this will expose students from UIC Nursing and other health disciplines to a new public health clinical opportunity.
The grant also provides the men at both the Crossroads and North Lawndale facilities with the opportunity to access care at Mile Square-Humboldt Park via telehealth visits, particularly important as COVID-19 is putting significant restrictions on their movement.
"These men are not allowed to leave when on lockdown," Reising says. "That effectively cuts them off from being able to access care. Being able to use telehealth is really important for such a vulnerable population."
Modified on July 21, 2020