Our Beginnings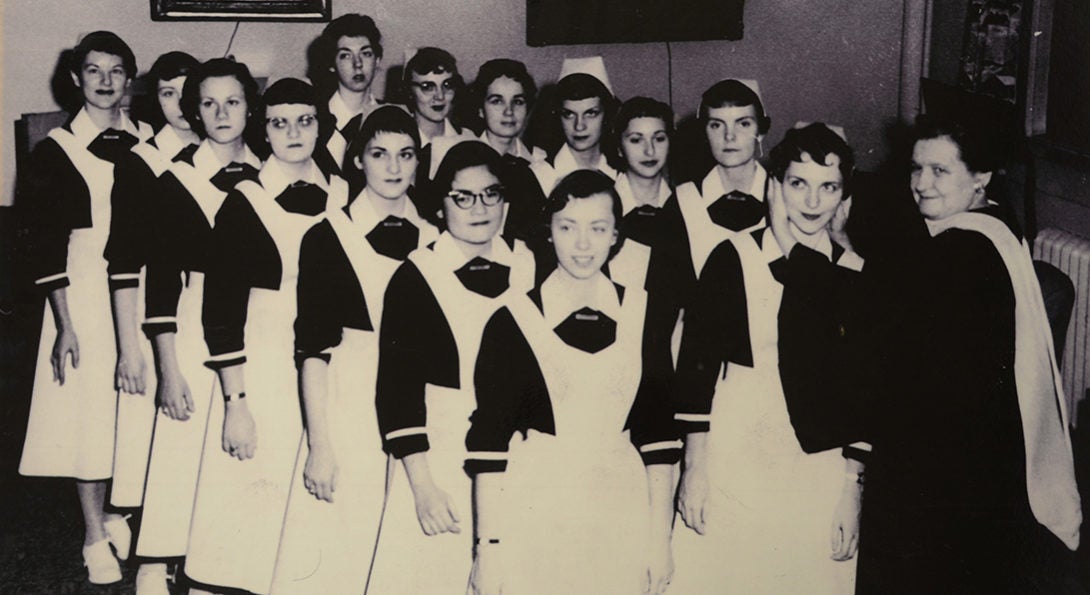 In 1951, the U of I Board of Trustees approved founding a "School of Nursing," leading to Illinois' first BSN program at a public university. We haven't stopped innovating since.
Nursing at the University of Illinois has a vibrant history full of many memorable achievements.
Although formal nursing education can be traced back to 1873, it would be another 68  years before the University of Illinois began laying the groundwork for a school of nursing. Until then, Illinois nurses were trained at hospital schools where their focus was hands-on experience.
As the demands of the profession grew, so did the need for higher education. At the request of area hospitals, nursing courses started to be offered at the University of Illinois' Medical Campus in Chicago in the early 1940s. Then in 1949, the Affiliate Collegiate program was established between the University of Illinois and four hospital schools of nursing in central Illinois. The program allowed hospital students to earn their bachelor's degrees and inaugurated the RN to BSN program.
In 1951, the Board of Trustees for the University of Illinois authorized the organization of the School of Nursing to be an autonomous unit of the university. The Affiliate Collegiate program was discontinued and the University of Illinois at Chicago became the first public institution in Illinois to offer a curriculum leading to a Bachelor of Science in Nursing. The program attracted students who might otherwise have chosen another course of study and another profession. The admission of the first class to the School of Nursing in September 1954 marked a defining moment in the history of nursing at UIC.
Like all U of I programs in Chicago at that time, undergraduate classes were held at the university's campus, located on Navy Pier.
In 1956, Emily C. Cardew became the institution's first dean of nursing, and the first class of eight students graduated in 1957. Soon after, redesignated as a College of Nursing, UIC established a master of science in nursing. In the late 1960s, construction of a new building at 845 S. Damen Ave. was completed. This new facility allowed the number of incoming students to triple.
In the 1970s, the college expanded to include satellite campuses in Peoria and Urbana. It established the first PhD program for nurses in Illinois. And it created the first graduate program of its kind in nurse midwifery in the U.S. The college expanded to the Quad Cities in 1980, to Rockford in 1991, and to Springfield in 2015.