3 students selected for Schweitzer Fellowship
UIC College of Nursing students in the DNP program were selected for the Schweitzer Fellowship Heading link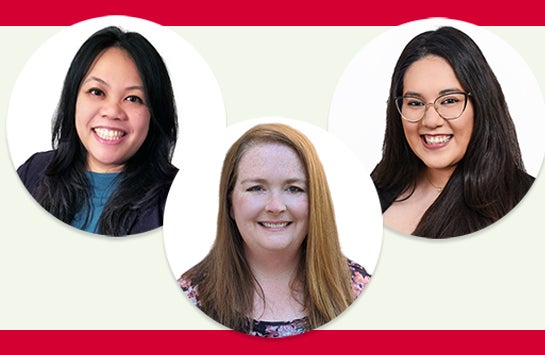 Three UIC College of Nursing students in the Doctor of Nursing Practice degree program were selected for the distinguished Schweitzer Fellowship, a year-long, service-learning program intended to address the unmet health needs of underserved communities in the Chicago area.
The three students were among 28 selected for the fellowship from more than 100 applicants. Ten are from UIC.
Named in honor of humanitarian and Nobel laureate Albert Schweitzer, MD, the Chicago Area Schweitzer Fellows Program encourages students to become lifelong leaders in service to vulnerable Chicagoland residents. In collaboration with existing community organizations, each Schweitzer Fellow launches a community-based project, providing 200 hours of service.
The fellows from UIC Nursing are:
Cindy Cruz, BSN '12, RN: Cruz, whose focus area is Advanced Population Health Nursing, will develop a series of short and supplemental presentations called Un Minuto Conciente (Mindful Minute) at Alivio Medical Center. The presentations will be focused on mental health care for pre-diabetic adult participants of the Prevent T2 program, in order to help them build coping strategies that will facilitate their success in achieving a healthier lifestyle.
Jean Gavina, RN: A Health Systems Leadership student, Gavina's project will concentrate on preventative health, wellness and self-care sessions, as well as healthy lifestyle workshops in collaboration with L.E.S. Live Every Second and other community organizations in the Chicago area. She will empower community advocates by providing the tools and skills needed to advocate for healthier communities among Filipino Americans and other minority groups.
"This is wonderful opportunity to grow, learn, connect and empower others and be able to give back to the community," Gavina says.
Jenn Cunningham, RN: Cunningham's project will be carried out in Peoria's most disadvantaged area. A student in the Pediatric Nurse Practitioner – Primary Care program, she is partnering with a local, grassroots, nonprofit organization called Southside Community Center. Her work will focus on expanding the organization's programs to build resilience in families and children.
"This is my community, and it is my passion and purpose in life to help families thrive, reduce the risk of child abuse, and advocate for the needs of individuals whose voices traditionally go unheard," she says.
Modified on August 23, 2022