'A giant star in nursing' gone: Remembering Dean Mitzi Duxbury
Mitzi Duxbury, PhD, RN, FAAN, who led the UIC College of Nursing as its fifth dean from 1983 to 1988, died earlier this month. She was 87.
Duxbury left her mark on the college in ways that are felt today: She guided UIC Nursing into the burgeoning realm of nurse-led research, cemented an academic-practice collaboration with the University of Illinois Hospital and Health Sciences System, and created a fertile environment for new nurse researchers to grow.
"We just lost a giant star in nursing," said Mi Ja Kim, PhD, RN, FRCN, FAAN, who served in various administrative roles under Duxbury and succeeded her as dean. "She was a visionary leader who wanted to advance nursing science and showcase the nursing profession to society as a research-based practice discipline. Her leadership and support for faculty research were extraordinary and her expectation for excellence—equal to none—made the college's research standing top-tier in the country."
Duxbury, who held advanced degrees in educational policy and administration, understood the workings of a university, and in particular, of a health science center. At the time, nursing was not fully embraced as a science-driven discipline, but Duxbury would play a vocal role in changing that.
"Nurses have the unique opportunity—indeed, the responsibility—to advance the science of nursing," she wrote in the January/February 1978 issue of The American Journal of Maternal/Child Nursing. "No one has the continuous access to the client that nurses have. No one has the opportunity for observation and data collection we have."
Making a name for herself
Duxbury, who grew up in the small town of Cambria, Wisconsin, got her nursing diploma from Madison General Hospital in 1952. When her husband got drafted in the Korean War, they moved to Fort Riley, Kansas, where she developed an interest in maternal and infant care as a civilian nurse in the obstetrics ward of Fort Riley Hospital.
Several cross-country moves and three children later, she returned to Wisconsin, where she went back to school to get her bachelor's degree. She loved school and saw it as a way to earn more money.
"There was a time when nurses were treated almost like nuns," Duxbury told an oral historian from the University of Minnesota. "Pay them nothing but great respect."
She taught at a technical college while earning her master's degree in educational policy studies and her PhD in educational administration from the University of Wisconsin-Madison.
Duxbury worked for March of Dimes from 1972 to 1977 as director of health personnel development, where her boss was Virginia Apgar, the inventor of the newborn-assessment tool, the Apgar Score. There, Duxbury developed what were affectionately called, "Mitzi's Modules," a series of educational modules designed to teach professionals about maternal and infant care.
This helped her develop a national reputation, and she was hired as assistant dean for graduate studies at the University of Minnesota in 1977 with a singular mission: establish a doctoral program for nursing. Facing resistance, she quickly got to work building up the faculty's research enterprise and shepherded the program through final approval in 1982.
'A nurse's nurse'
In 1983, she accepted the deanship at the UIC College of Nursing, succeeding Helen Grace, PhD, MS '65, FAAN.
Duxbury believed that practice informs research and vice versa, and she built a strong relationship with the University of Illinois Hospital, encouraging the hospital to start a fund for nursing research projects at the hospital. It was a vision for symbiotic academic and practice partnerships that the college continues to value and pursue today.
"Dr. Duxbury was a true nurse leader—most notably for her understanding of the inextricable link between academia and practice," says UIC Nursing Dean Terri Weaver, PhD, RN, FAAN, ATSF.
Karyn Holm, PhD, RN, FAAN, FAHA, who was assistant dean/associate dean for practice under Duxbury and Kim, describes her as "a nurse's nurse." She recalls that Duxbury was one of the first nurses elected into the Institute of Medicine.
"She was able to stand toe-to-toe with anybody," says Holm, now Vincent de Paul Professor Emerita Nursing at DePaul University. "That's what she taught me to do."
Because nursing was just gaining a foothold in academia, Holm says Duxbury was also critical to strengthening the college's research reputation by training and then hiring promising nurse investigators.
"Her goal was to build a cadre of nurses with PhDs on the tenure track," says Holm. "That's where students came into play; she created an environment where they wanted to stay on as faculty."
After Duxbury left UIC, she went on to become a professor at the University of Wisconsin-Madison. Nearly 20 years later, she established two scholarships at UIC Nursing in perinatal, neonatal and midwifery.
As a PhD student and then young faculty member under Duxbury, Carol Ferrans, PhD '85, MS '82, RN, FAAN, says Duxbury helped transform the college into a national and international leader. Ferrans is now the Harriet H. Werley Endowed Chair for Nursing Research.
"She made us what we are today, and that is not hyperbole," Ferrans says.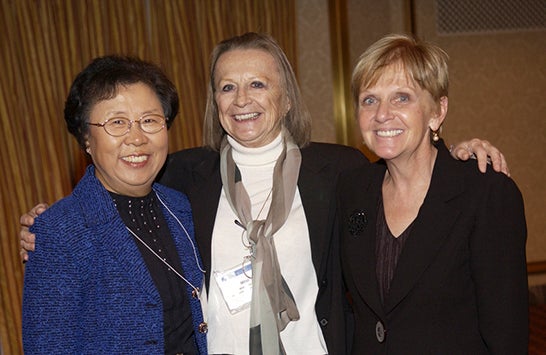 "Dr. Duxbury saw the whole picture, and our college is on surer, stronger footing today because of her service 30+ years ago."
– UIC Nursing Dean Terri Weaver, PhD, RN, FAAN, ATSF
"I had the privilege of serving as the associate dean for research under Mitzi's leadership, and my world view of nursing science and research was expanded beyond my imagination. I also had the privilege of serving as the associate dean for academic affairs later, which gave me close working relationship with her and opened up opportunities to learn the intricacies of academic administration. She presented nursing to the public as a science that informs practice, and she valued clinical nursing as an equal partner to academic nursing."
– UIC Nursing Dean Emerita Mi Ja Kim, PhD, RN, FRCN, FAAN
"Mitzi was my dean; she was my boss; she was my mentor and she was my friend. She came from a very proud research background. She came to Illinois to do two things: to build the research enterprise and to cement a relationship with the University of Illinois hospital and clinics. She was really a renaissance woman. She brought the old into the new; she made the new even newer. She didn't really need a lot of pats on the back. She just went forward with things."
– Karyn Holm, PhD, RN, FAAN, FAHA, assistant/associate dean for practice/clinical affairs at UIC Nursing; Vincent de Paul Professor Emerita Nursing, DePaul University
"Mitzi was very bright, articulate and analytical. She had an ability to summarize and identify the most important highlights after hearing speeches and reading nursing literature. I think she had a real impact on faculty here. At the same time, while she could be very serious about certain issues, she also had a marvelous sense of humor."
– Susan Dudas, retired UIC Nursing associate professor
"Dr. Duxbury was an innovative leader who was committed to improving women's health and the health of newborn infants. … Dr. Duxbury fostered my early career by supporting my involvement in the Rockefeller Foundation initiative for women's health and infants and other national activities. She was always willing to read my research applications and offer feedback. She was a great mentor, always making sure I was on the best path to further my career."
– Rosemary White-Traut, PhD, RN, FAAN, professor emerita at UIC Nursing and senior scientist at Children's Hospital of Wisconsin
"Her name fit her personality. Mitzi had a lot of spunk. She was really quick-witted and learned really quickly. She was extremely kind. She was a good model for an important university that was moving ahead. She was the one who established a legislative administrative position. You can't be in a forward-thinking institution and be in a vacuum when it comes to legislation."
– Susan Kennedy Sullivan, now a judge in the Circuit Court of Cook County, who worked under Duxbury on research and legislation
"How can I ever forget Mitzi? She gave me my job at the UIC College of Nursing in 1984. I had been hired on a grant about a year earlier to make videos for two classes. One day, while walking through the administrative office hallway, I passed Dr. Duxbury. She stopped me and said, 'I really like the work you are doing for us and would like to bring you on full time.' Bam! Just like that I had a position at the college. I thought she was an eccentric genius and always enjoyed collaborating on media work for her."
– Mark Mershon, UIC College of Nursing multimedia associate
"Mitzi Duxbury was a brilliant scholar and fearless dean who had the vision and courage needed to transform our college into a national and international leader. She made the hard choices that enabled us to become one of the top-ranked colleges of nursing in the country and the world. I am enormously grateful to Mitzi for her stellar leadership and friendship."
– Carol Ferrans, PhD '85, MS '82, RN, FAAN, Harriet H. Werley Endowed Chair for Nursing Research
"I have fond memories of Mitzi Duxbury. Her vision of having a strong, collaborative model between university hospital practice and education of nursing students was a model that enhanced the status of the College of Nursing and its faculty at that time. Mitzi believed very strongly in nurses being advocates for their patients and having real input into treatment plans. Because of this philosophy, as a hospital-based Clinical Nurse Specialist (CNS) I was given the opportunity to work closely with the College of Nursing, functioning as the clinical instructor for undergraduate students at the university hospital. Mitzi would also have meetings with the Clinical Nurse Specialist group at least annually. Eventually this vision expanded to nursing administration and was supported by Dean Mi Ja Kim after Dean Duxbury left the college. The department heads in the college had a collaborative role with the directors of nursing at the hospital. Under this model, both faculty and clinicians gained valuable knowledge and insights and were able to combine theoretical models with everyday practice to enhance the role of nursing. I am grateful for her vision and the opportunity to have worked collaboratively with the College during those years. Dean Duxbury left a meaningful mark on education and practice. Mitzi 'walked the talk.'"
– Janet Spunt, MS '83, BSN '74, RN
Modified on August 04, 2021