Artwork unveiled for student lounge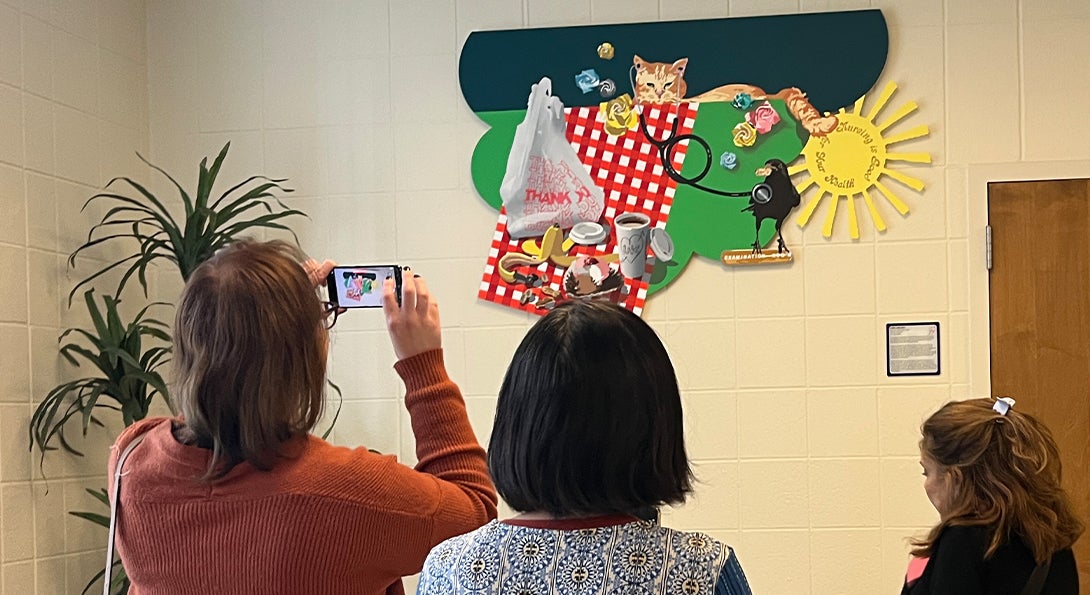 Students who spend time in the first-floor student lounge of the Chicago campus will be able to gaze upon a new piece of art, specifically designed for them, which was unveiled at a ribbon-cutting ceremony on Tuesday.
The artwork, "Foam In, Foam Out," was created by Louisville, Kentucky-based artist Lori Larusso, at the request of associate dean for equity and inclusion Rosalba Hernandez, PhD, and with assistance by assistant professor Sarah Martha, PhD, RN.
"The UIC College of Nursing strives to be inclusive and welcoming in all that we do," said Dean Eileen Collins at the unveiling. "This will serve as a physical manifestation of our wish that all of our students—who are our reason for being—will feel a sense of home and belonging."
Larusso, who attended the unveiling, met with students in April, asking them to share how they related to nursing through the lens of objects, or symbolic items that form the backdrop of their experiences at UIC Nursing.
The result is a colorful acrylic on panel that brightens the Chicago campus' recently renovated student lounge, room 145. After students talked about the importance of self-care, Larusso incorporated imagery of a picnic, a cat and a bird, representing spending time with friends, animals and in the outdoors. A stethoscope represents caring for others, while the image of a sun is a nod to a pin she saw in the Midwest Nursing History Research Center.
Larusso says the title, "Foam In, Foam Out," refers to the hygiene protocol of sanitizing hands upon entering and leaving a patient's room.
At the unveiling, Hernandez called it a "remarkable piece of art."
"It's a privilege to witness the union of art and nursing, two disciplines that draw from the wellsprings of human emotion and compassion," she said.
Larusso has been awarded numerous residency fellowships and her work is exhibited widely in the U.S., including in the 21c Museum Hotels. She is represented by Rubine Red Gallery in Palm Springs and Galleri Urbane in Dallas, Texas.
Modified on November 20, 2023