Award expands programs with Cook County Corrections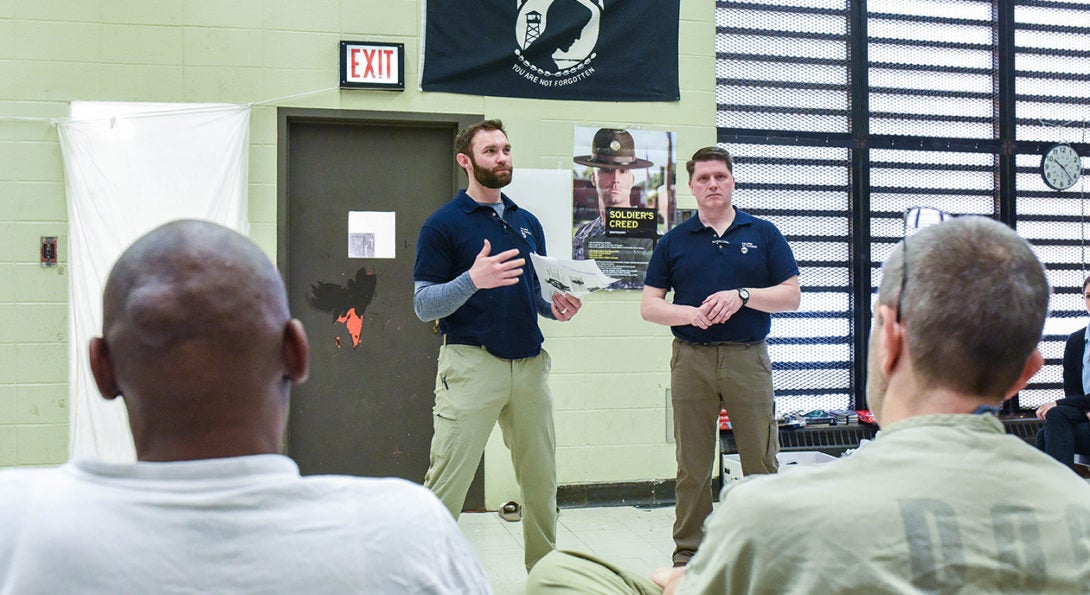 opening
Student Jeremy Baker stands in front of eight men. They are seated on metal benches, wearing khaki prison scrubs with DOC—Department of Corrections—stamped in big, black letters on their backs.
Two heavy metal doors and a Cook County Sheriff's Office deputy separate the group from the hallway.
"Raise your hand if you have a place where you felt very relaxed," Baker says to the men, his voice echoing off cinderblock walls. "It could be the beach or the woods. Your 'happy place.'"
Baker is one of 18 UIC College of Nursing master's degree students who, during the spring semester, completed a clinical rotation in Cook County Jail, 2700 S. California Ave. Each Tuesday, the students passed through a gauntlet of metal detectors and checkpoints to provide health education to detainees.
The public health practicum is one of three justice health initiatives of the UIC College of Nursing that are getting a boost under a one-year grant from the Rita and Alex Hillman Foundation, one of the nation's leading philanthropies dedicated to advancing health through nursing.
The Innovations in Care Catalyst Award of $150,000 will allow the college to:
provide health education to detainees at Cook County Jail with weekly visits from graduate-level students;
meet with individuals who are on early release at a Cook County support center, sharing health information and helping them navigate to primary and mental healthcare at the UIC College of Nursing's Mile Square Health Center in Chicago's Humboldt Park neighborhood;
create a web-based module that can qualify for continuing education credit for faculty and students from colleges and universities focused on healthcare delivery and health issues pertinent to a correctional facility and population.
The intent of the programs is to close gaps in healthcare for the incarcerated population, both by reaching detainees who are still inside Cook County Jail and also by informing them of their option to seek care at the UIC clinic once they've been released, says Susan Corbridge, PhD, APRN, FAANP, associate dean for practice and community partnerships. The educational module will help spread best practices to healthcare faculty and students across the country.
Corbridge says recently released detainees are especially at risk for health problems, suffering from high rates of substance abuse, chronic illness and infectious disease.
"Ninety-five percent of people who are incarcerated will eventually be released back to the community," Corbridge says. "This is just a group that's lost. They have limited access to healthcare within that first year of release. They use the ER a lot. They also have a higher mortality rate during that time."
Changing health outcomes
At their weekly visits to the jail, the UIC nursing students conduct an informal needs assessment with the detainees to find out what health topics they are most interested in. The practicum is team taught by Rebecca Singer, DNP '18, RN, clinical instructor, and Geraldine Gorman, PhD, RN, clinical associate professor. Each week, the students present information on the topics—things like nutrition, aging or sexually transmitted infections—to three tiers, or groups, of detainees.
"I love working with this population because we get extended time with them, week after week," says Kristen Hanauer, who did a rotation in the jail before she graduated with a master's degree from the UIC College of Nursing in December 2017. She's now working with the college on the grant. "If you can educate them on one or two aspects of primary care, it can change their health outcomes for the rest of their life. The main thing is to empower them so when they aren't here, they continue to find healthcare."
'Walking much straighter'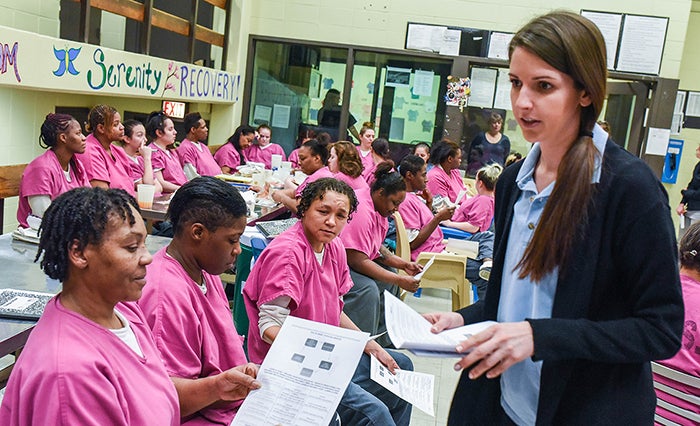 One week in April, the group was talking about stress: what it does to the body and exercises the detainees can do to relieve it.
UIC student Amanda Cunningham starts by leading detainees in a men's veterans tier through a series of stretching exercises. She asks if anyone wants to stand up and most of the men do.
"Reach your hands to the sky for a big stretch," she says. "Inhale. Back to center. Switch your grip. Exhale."
Military flags line the walls—POW/MIA, Coast Guard, Navy—and a soldier's creed poster. The deck is loud. Someone is on the phone, and officers occasionally interrupt by shouting for detainees to come get medication.
Baker and another student, Chris O'Brien, explain the affects that stress can have on different parts of the body. Baker shows the detainees how to focus their breathing and visualize being in a relaxing place.
Jose Sosa, a detainee in the tier, tells Baker he feels most relaxed at home, watching TV from his favorite chair.
"You can go there in your mind," Baker says.
In an interview later, Sosa, who worked as a barber before his arrest, says the nursing students helped him to combat his sciatica by bringing him exercises he can do while in jail.
"I'm walking much straighter," he says.
Cook County Sheriff's Officer Mary McCormick, who works at the jail, says she thinks the visits from the UIC students "are phenomenal."
"Everybody needs to hear about exercise, diet, stress releasers," she says. "Regardless of whether you're here, or if you're in the outside world, these are things we need as human beings. I think it's great because we don't hear it enough."
Calling it a unique experience, O'Brien says he's enjoyed his rotation at the jail, adding that it gives him a different perspective than the typical bedside nursing rotation.
"This gives [the detainees] the skills they need to be more successful when they get back out," he says.
Modified on November 27, 2018