Beverly Goldsmith: Finding meaning in tragedy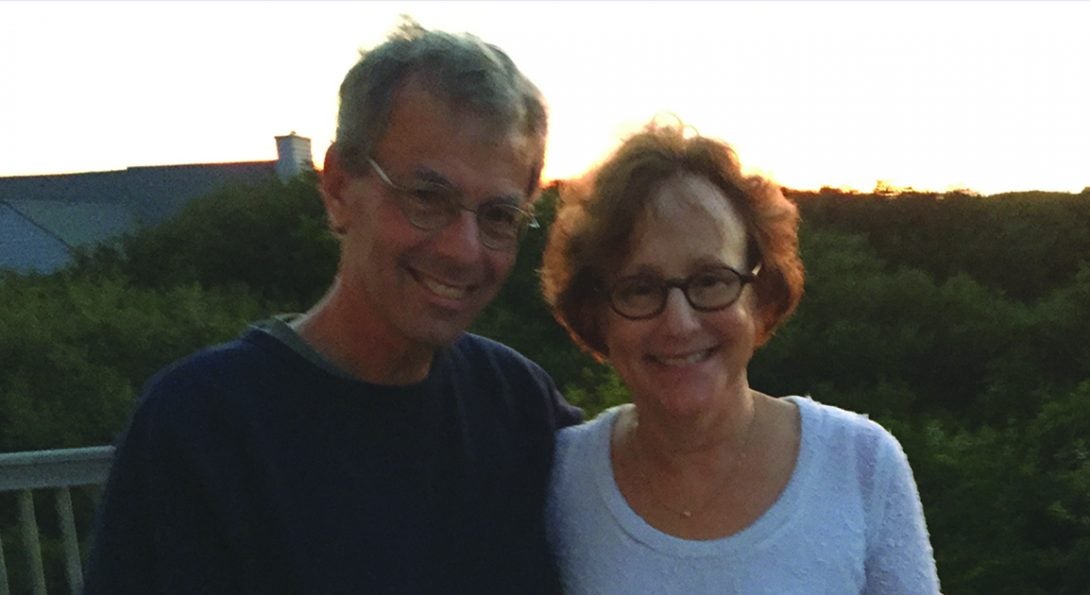 The Goldsmiths will endow a faculty scholar in memory of their sons Heading link
With more time at home during the pandemic, Beverly Bernstein Goldsmith, BSN '69, MS '73, began reflecting on how the critical thinking skills and motivation she developed at the UIC College of Nursing helped her cope with life's challenges, both past and present.
"Life is a journey and sometimes it is a challenging one," says Goldsmith. "All you can do is to prepare yourself as best you can to cope to whatever life presents and hopefully you have the skills to deal with what comes your way."
Goldsmith and her husband of 42 years, Barry, have chosen to endow a faculty scholar position in psychiatric mental health nursing.
"My years at the college and my continued connection with it better prepared me to deal with life's tragedies and continue my journey on a productive and meaningful path," she says.
The gift is being given in memory of their two late sons, Adam and Jacob, and is being directed to the area of Beverly's expertise. She worked as an adult psychiatric mental health nurse practitioner for many years in the Washington, D.C., area.
"I wanted to be sure that not just our lives had meaning," she says. "By giving this gift, we are giving lasting meaning to Adam and Jacob's lives."
The Goldsmiths older son, Adam, had a neurodegenerative disorder. As his disease progressed, Goldsmith spent time searching for a diagnosis and treatment, all the while providing him with a comfortable daily life.  Although a diagnosis was never found by his death at age 18, the family learned 15 years later that his disorder was caused by a genetic mutation.
Their younger son, Jacob, also struggled emotionally with his brother's illness and his own addiction for 15 years. He died at age 31.
Goldsmith says she hopes the endowed faculty scholar gift will help to enrich the science behind psychiatric-mental health nursing and that the beneficiaries of the gift will teach those approaches to new nurses and nurse practitioners entering the field.
"My hope is this gift will in some way help other families who are coping with progressive neurological or addiction issues," Goldsmith says. "Over the years, the recipient scholars will pass on their knowledge to many other nurses giving care."
Beverly grew up modestly in Chicago's Albany Park neighborhood and says she feels lucky to be able to make the gift to UIC Nursing, adding that by doing so, it allows her to give "more meaning" to her own journey and give "dignity and respect" to her late sons and their journeys.
Goldsmith was in one of the first graduating classes of the community mental health nursing graduate program at UIC, started by Gertrude Stokes. During her studies, she learned the importance of research-driven nursing practice. Goldsmith, a former assistant professor at UIC Nursing, was part of a research team that explored relationships before marriage, spearheaded by former dean Helen Grace, PhD, MS '65, FAAN, and she co-authored a chapter with UIC Nursing professor emerita Kathleen Knafl in the book, "Families Across the Life Cycle."
"I realized that 10 years of my adult life was spent at the College of Nursing," she says. "The college and its faculty inspired me and helped me develop into who and what I am. Over the years, I have come to value the importance of all nurses pursuing a baccalaureate degree and using a theoretical framework in practice. I owe a debt of gratitude to the entire faculty, and especially former dean Mary Kelly Mullane for leading and pioneering this educational track at the university more than 50 years ago."
Modified on October 27, 2020