Bostwick paper details racial inequality in COVID-19 deaths
Second report looks at needs of community-based organizations during pandemic Heading link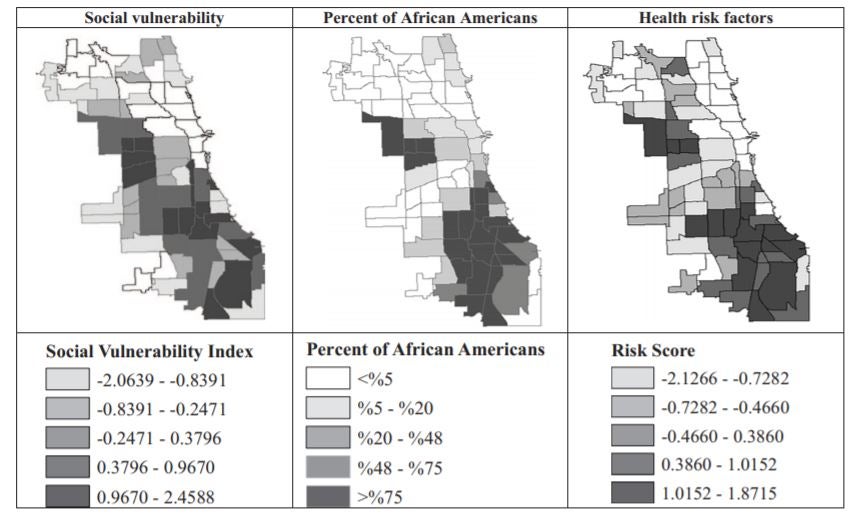 UIC College of Nursing associate professor Wendy Bostwick, PhD, MPH, co-authored a paper that maps COVID-19's disproportionate impact on the south and west sides of Chicago, which are predominantly African American communities.
The manuscript, "Social Vulnerability and Racial Inequality in COVID-19 Deaths in Chicago," was published in the peer-reviewed journal Health Education and Behavior. UIC School of Public Health associate professor Sage J. Kim was lead author.
The paper looked at COVID-19 data from the Chicago Department of Public Health up to April 20. Of 13,000 confirmed COVID-19 cases in Chicago, about 46% of cases were African Americans and about 20% were white. Among 538 deaths, 56% were African American and about 16% were white. That stands in contrast to the racial make-up of the city, where about 30% of the population is African American and about 33% is white.
After demonstrating that COVID-19 deaths were clustered on the south and west sides of Chicago, Kim and Bostwick looked at data from the U.S. Census and Chicago Health Atlas to show that these neighborhoods also had higher levels of health risk factors and "social vulnerability" – economic, demographic and geographic characteristics that determine a community's capacity to deal with natural disasters and hazards.
They wrote in the paper:
"One of the reasons for such racial disparities could be the fact that African American communities were disproportionately affected by multiple chronic diseases before the COVID-19 pandemic. Additionally, persisting social inequities, including poverty, racial discrimination, and spatial exclusion, have dismantled community capacity. As a result, residents in highly segregated, disfranchised neighborhoods are disproportionately exposed to social and health risks."
Or, as Bostwick said in an interview, "This confirms and further demonstrates a whole host of inequities, and how those inequities are very geographically concentrated in Chicago."
Needed: Emergency financial support
Bostwick and Kim also published a report detailing the results of a survey that looked at the needs of community-based organizations during COVID-19. Conducted in conjunction with UIC's Center for Health Equity Research, the point-in-time assessment covers the period of April 10 through April 29 and included 88 organizations that provide direct service.
The survey found:
More than half reported emergency financial support was their most pressing need;
Nearly 70% of organizations reported the people they serve were in need of food; and
Four out of five organizations reported clients had an increase in mental health problems.
Bostwick said that organizations reported needing to quickly pivot; for instance, helping clients find food even if that wasn't typically its service area or offering COVID-19 testing in areas where it wasn't available.
"I don't think I can overstate the importance of the whole spectrum of community-based, community service organizations in Chicago," Bostwick says. "They really are a crucial part of the safety net."
Modified on February 21, 2022