Karen Dalal: Carrying on a legacy
Group of nurses, former co-workers came together to honor Joann Deagosteno, BSN '77, with scholarship Heading link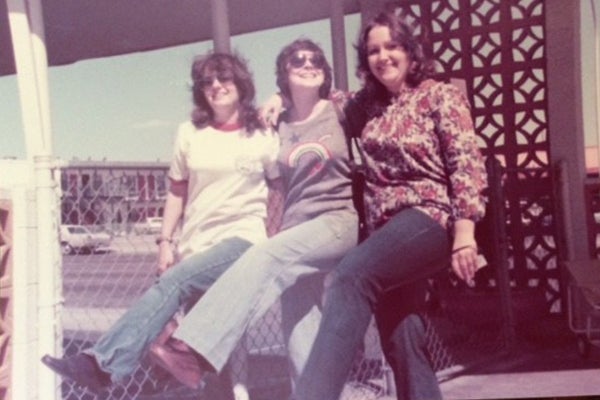 When things got a little crazy during the night shift in the old University of Illinois Hospital, Joann Deagosteno, BSN '77, was always there with a laugh.
"Joann would come down the hall and we would give each other a look," recalls her longtime friend Karen Dalal, BSN '75. "She would start singing the Four Seasons song, 'Oh, What a Night,' and we would start laughing. She had a way of making everything fun."
Deagosteno passed away earlier this year, and to honor her memory, Dalal and 13 former coworkers decided to start a scholarship fund at UIC Nursing. When they learned about it, family members of the late Ella Straka, BSN '77, another friend and former classmate, also made gifts to the fund.
Dalal says she was proud of how a group of retired nurses came together to create the fund.
"People think you need a lot of money to create a scholarship," she says. "But smaller amounts of money can help tremendously."
In addition to working together on 7 East, a surgical wing at UI Hospital, and later in the emergency room, Dalal and Deagosteno were also roommates and travel companions, and Deagosteno was a bridesmaid in Dalal's wedding.
"Joann was just what I think of as an ideal nurse: high standards, very efficient, very personable," Dalal says. "I think her patients always felt they were the highest priority. She was someone you not just enjoyed working with, but someone you wanted to emulate."
Deagosteno grew up on Chicago's South Side and attended South Suburban College for her associate's degree in nursing before transferring to UIC for her bachelor's. Dalal says cost is the reason Deagosteno started at a community college, and the scholarship will be given preferentially to transfer students and those from the South Side.
"Both of us were people who came from working class backgrounds," Dalal says. "College can seem out of reach for a lot of people. My hope is that this may help push someone through, or maybe it will stimulate someone else to do something similar."
Modified on October 27, 2020