Corbridge among 16 selected for U of I system honor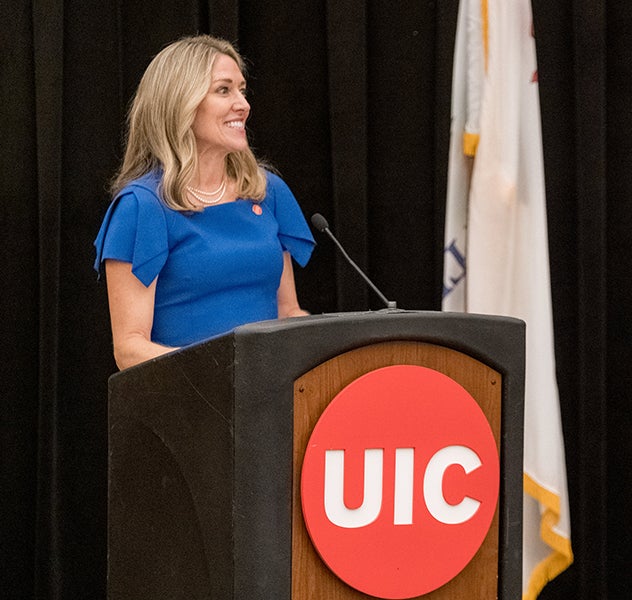 UIC Nursing's executive associate dean Susan Corbridge, PhD '09, APRN, FAANP, FAAN, is among just 16 faculty members across all three U of I universities to be selected for the 2021-22 class of President's Executive Leadership Program (PELP) Fellows. Corbridge is a clinical professor in both the College of Nursing's Department of Biobehavioral Nursing Science and the College of Medicine's Department of Medicine, Division of Pulmonary, Critical Care, Sleep and Allergy.
More than 70 faculty members from the Chicago, Springfield and Urbana-Champaign campuses were nominated for this unique professional development program, which is designed to "broaden participants' understanding of higher education issues and to strengthen their leadership skills related to overseeing a public institution," according to the program's website.
"We are fortunate to be part of a community with so many dedicated leaders who are interested in furthering their skills as well as enhancing our institution," said U of I System president Timothy Killeen in an email announcing the new fellows class.
As a fellow, Corbridge will attend four seminars throughout the academic year, taking place in Urbana-Champaign, Springfield, Chicago and Washington, DC. They will cover the topics of governing a Big Ten university; public policy partnerships and the university's relationship with the state; leading a minority-serving research university; and federal issues impacting higher education.
Corbridge is the second nursing faculty member chosen as a PELP Fellow; Eileen Collins, professor and associate dean for research, completed the fellowship in the 2018-19 academic year.
Modified on July 06, 2021