UIC Nursing Alumni–Elijah Hernandez
Registered nurse, Memorial Medical Center, Springfield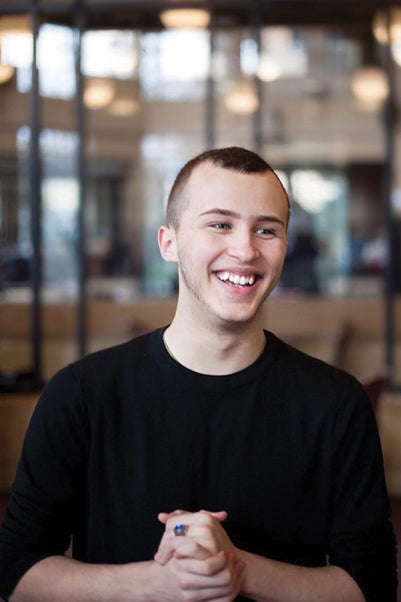 As Elijah Hernandez, BSN '19, RN, stepped up to the podium, he took a long, slow breath and faced the room of 200 people. He wore a gray vest, glasses and a neutral expression on his face, but inside, his mind was churning. His legs felt like lead. This moment would've seemed improbable only a few years earlier. As a child, Hernandez was diagnosed with high-functioning autism (then-called Asperger's syndrome). He grew up in a low-income home in Chicago and was homeless for a period of time during college.
When his classmates unanimously chose him to represent them as the student speaker at the April 27, 2019, Springfield pinning ceremony, it was so unexpected and overwhelming to him that his reaction was to laugh.
He had little public speaking experience, and as someone on the autism spectrum, social communication is a challenge. But Hernandez' classmates didn't give him much choice. They wanted to hear from him. And when he got down to preparing his remarks, he knew he had a lot to say.
"Fun fact: when I was a kid, I used to read the dictionary like a regular book," he began in the opening lines of his speech. "The younger version of me also didn't talk much, avoided everyone like the plague and spent hours at a time playing on the computer."
The day he was diagnosed with Asperger's syndrome—which can include difficulty with social interactions, narrow and intense interests, repetitive behaviors, sensory processing challenges and neuro-motor differences—"was the day I became the kid with autism in my family," he said in his speech.
Seeing his mom's work as a hospital admissions coordinator made him interested in becoming a doctor, but when a friend in high school suggested nursing, he says "a light bulb lit up." Nursing would give him a "behind the scenes" role in healing and connecting with patients.
Hernandez began his college career at UIC in Chicago with the help of scholarship funding. But when he was waitlisted for the BSN program, which admits students only after they've attained two years of college-level coursework, he feared that he would run out of money before he could graduate. Luckily, he received an email offering him a spot at the Springfield campus. The move to Springfield was difficult. His parents were getting divorced and he was even homeless for a few days.
His instinct when he arrived in Springfield was to isolate himself and retreat into his computer for comfort, just as he had done in childhood. But he connected with peers who affectionately dubbed themselves, "the Waitlisters," fellow transplants from Chicago who also previously attended UIC.
Nursing requires complex social interactions, and many of his classes and experiences took him out of his comfort zone, but the camaraderie among his classmates propelled him to success. Standing at the podium that day, the first person in his family to finish college, he talked about "redefining family."
"The most profound realization I would have was that somewhere over the course of these past two years, this class became a part of my family, too."
When Hernandez stopped speaking, the audience stood and applauded. Springfield campus director Cynthia Reese, PhD, MS '95, RN, CNE, described the moment as "one of the highlights of [her] career as a nurse educator."
At her table, someone noticed that Hernandez wasn't wearing the $100 pin that symbolizes the transition from student to nurse. Reese explained he couldn't afford it. The person, who wants to remain anonymous, was so moved by his story, she offered to buy it for him.
Hernandez is now an RN working on the neurology/neurosurgery unit at Memorial Medical Center in Springfield.
Modified on August 15, 2023