Emphasizing equity: Q&A with new associate dean Phoenix Matthews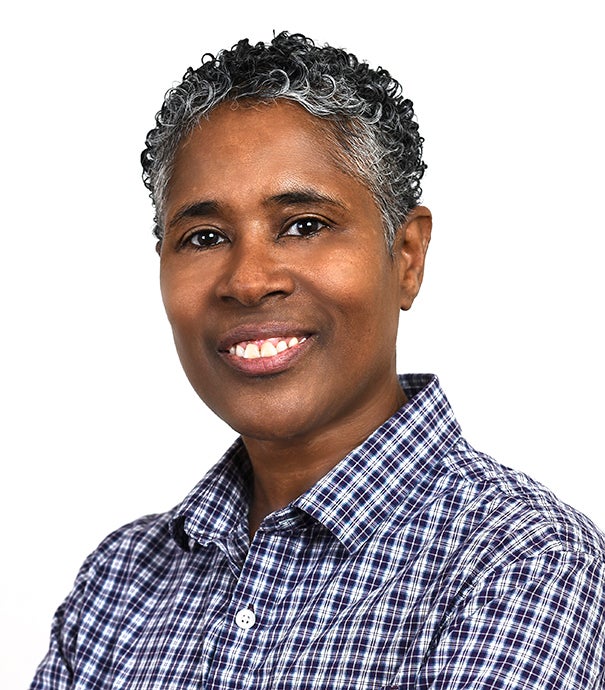 Professor Phoenix Matthews, PhD, took the helm as the UIC College of Nursing's first associate dean for equity and inclusion in January. Dean Terri Weaver, PhD, RN, FAAN, ATSF, says this new position is intended to create a more inclusive and equitable environment with a high level of diversity in the college's student body, staff and faculty.
A clinical psychologist, Matthews has been at the college since 2003 with a focus on cancer-related health disparities research, particularly related to tobacco use. Matthews, who is the college's Helen K. Grace Diversity Scholar, also recently helped shepherd through legislation requiring every single-occupancy restroom in the state of Illinois to be labeled gender-neutral.
We talked to Matthews, who uses a gender-neutral pronoun, about why this position is needed and how they hope to shape it.
You're the first person in this position. What's your vision for the role?
Across the university, there's a real desire to capitalize and build on something that's apparent at UIC — its diversity – and a desire to think about the power of diversity to achieve a number of important societal and academic goals for our students. For me, I see this role as one that is keeping an eye on the overarching goals of the university and shepherding through the college's own diversity strategic goals and objectives.
How would you characterize the state of the college's inclusivity, equitability and diversity?
I think we have come a long way since I started in 2003. We have this position. We have a diversity strategic plan to guide us. We have increased diversity in the curriculum, through case studies, patient examples and social determinants of health. We have a health equity course. We have signage around in terms of gender inclusive restrooms, which is a clear response to a changing social need of students, faculty and staff.
But I don't think we've harnessed our full potential in terms of bringing everyone on board, having some very specific priorities and getting frequent feedback and assessment on how we're doing on stated goals, objectives and priorities. I'd like to see us really embed diversity issues as indicators of success.
How are we doing on student diversity?
We can say, in terms of race and ethnicity, we have a lot of diversity here. Because of our global health program, we have a lot of international students. That is a strength of the college. But that strength cannot be a substitute for the relatively low levels of African American and Latino students educated in the Chicago Public Schools system who are here in the college. If we have a commitment to access and inclusion, then reaching out to our local school systems and increasing the likelihood of those students coming here should be something we're working on.
What about faculty?
Here, we have some underrepresentation in terms of male faculty and we can do better with African American, Latino and Asian faculty.
For me, I'm going to be thinking about: Where do we need to do outreach and very, very sustained, targeted recruitment for students and faculty? How can we connect with places that are educating higher volumes of diverse nursing graduates and bring them on as faculty? We must work more intentionally about relationship-building related to diversity.
What are your priorities?
First, I want to focus on having a collegewide discussion about our mission statement — being much more intentional about the importance of social justice, equity and access in the mission of the work we're doing in the college. I want to help the faculty position themselves as national leaders in the ways we think about the role of healthcare as a social justice issue, an important right of all Americans. I'm also interested in offering a health equity concentration, sort of like a minor.
I'd like to bring in a series of workshops on an evidence-based approach called Intergroup Dialogue: It helps students to understand their own cultural perspective, which in turn helps them better understand others. The goal here is improving relationship-building of our students.
I'd like to start to cluster hire: Bringing in two or three faculty from diverse backgrounds who can come in as a cohort. What we have found from the social sciences literature is that this idea of a posse can improve retention, research success, a sense of comfort and satisfaction with the work environment, and also their interest in staying and being a long-term part of our faculty.
I'll be looking to reach out and do more work in the college's five campuses beyond Chicago, drawing on their expertise and the ways in which diversity and inclusion may look different in a smaller metro area or rural context.
What obstacles do you see? What opportunities?
Where I see a lot of tension in our college's efforts to create a diverse and inclusive environment is the backdrop of the larger social climate of the country right now. I think we're in a moment in time in which a lot of polarization in our country related to equity and access has resurfaced. I think it is important to create a culture in the college in which we can have respectful dialogue and exchange of ideas about how to move forward toward our goals in our work as nurses, researchers and champions of change.
Modified on March 16, 2020