Faculty member named Magnet Nurse of the Year
Urbana adjunct instructor Christine Wetzel is 1 of 5 nurses selected nationally for recognition Heading link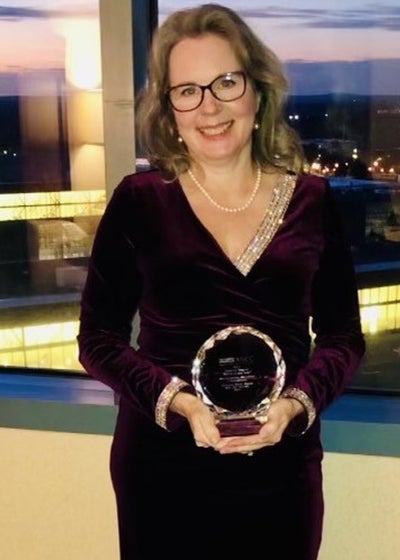 Christine Wetzel, DNP, MS, RNC-NIC, IBCLC, an adjunct clinical instructor at the UIC College of Nursing Urbana campus, was named the 2021 National Magnet Nurse of the Year for "New Knowledge, Innovations and Improvements" by the American Nurses Credentialing Center.
A NICU nurse at Carle Foundation Hospital in Urbana, Wetzel has conducted research and developed practice standards to improve the care of newborns in NICUs across the country. She led the creation of the first evidence-based instrument to help NICU providers assess risk for necrotizing enterocolitis, a potentially deadly abdominal infection in premature babies.
Danny Van heusden , who sits on the Commission on Magnet Recognition, says the tool, known as eNEC, increased early detection of the infection—the "No. 1 NICU surgical emergency."
"This was seminal work, as it was the first [necrotizing enterocolitis and] feeding tolerance tool to be developed and used by any NICU clinician," he said in his introductory remarks at the conference.
Van heusden added that, "as a direct result" of Wetzel's work, Carle's NICU has one of the lowest necrotizing enterocolitis rates in the Vermont Oxford Quality Database, a collaborative of more than 1,200 hospitals working to improve neonatal care. Wetzel noted Carle's exclusive human milk feeding protocols for the highest risk infants are also very important to the hospital's low NEC rates.
"I am beaming with pride," says Urbana campus director  Krista Jones, DNP, MSN, RN, PHNA-BC. "This is a well-deserved recognition of Christine's brilliant, compassionate work and education of our students."
Throughout Wetzel's 28-year nursing career, she has been a passionate advocate of the importance of breast milk. She recently introduced the "Evaluation of Mother's Own Milk (eMOM)" guide to help mothers and nurses assess breast milk production during the first month of a preterm infant's life.
Wetzel calls herself a "legacy nurse" because her grandmother was a nurse, adding that it was important to her to continue practicing at the bedside even after getting a doctoral degree.
"As a University of Illinois Chicago clinical instructor, I encourage my students to consider bedside nursing as a lifelong career," Wetzel said in her conference remarks. "I am not just a bedside nurse. I am a proud, highly skilled, lifesaving Magnet nurse with a truly rewarding career."
The award was presented during the 2021 ANCC National Magnet Conference and the ANCC Pathway to Excellence Conference in Atlanta, which recognized the outstanding contributions of a clinical nurse in each of the five Magnet model components: transformational leadership; structural empowerment; exemplary professional practice; new knowledge, innovations and improvements; and empirical outcomes.
Modified on February 17, 2022