Prof Geraldine Gorman honored with practice award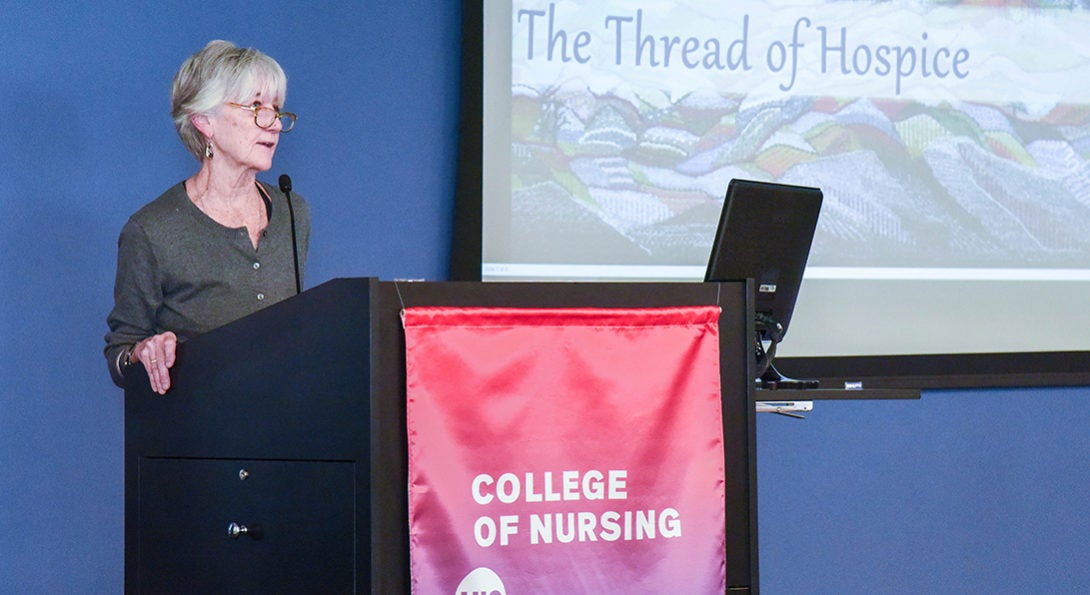 The clinical associate professor is called an "indefatigable warrior for social justice" as she wins the Judith Lloyd Storfjell Distinguished Award for Scholarly Practice
body copy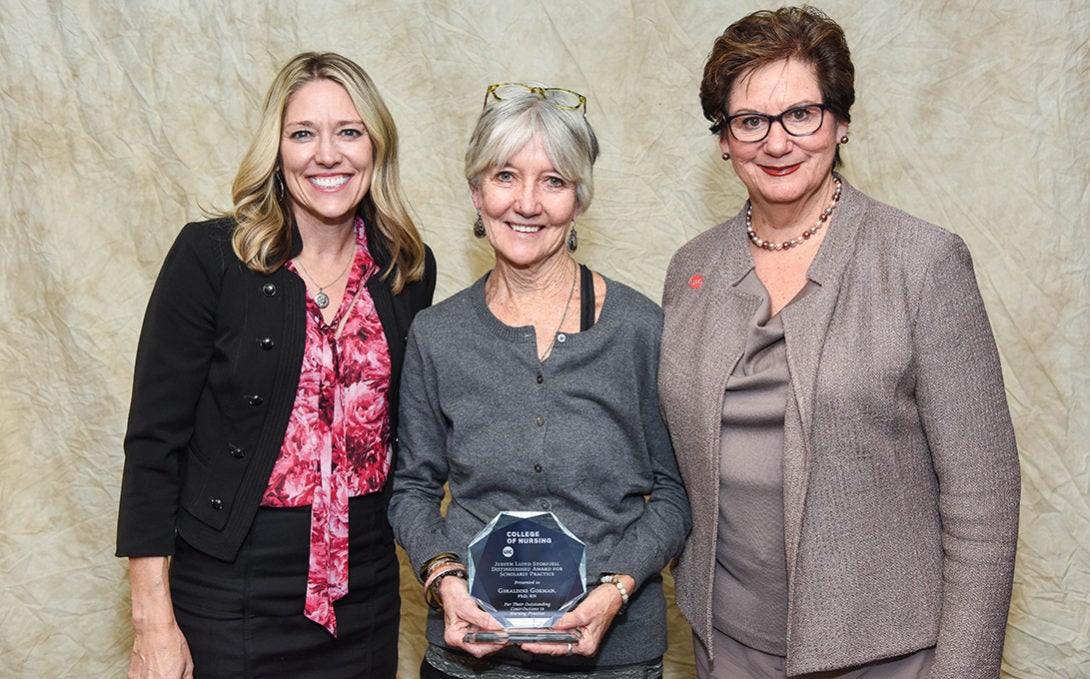 Coming of age during the 1970s and second-wave feminism, UIC College of Nursing clinical associate professor Gerry Gorman knew for certain that she didn't want to go into a "gendered" profession.
"There were two things I wasn't going to become: I was not going to become a nun and I was not going to become a nurse," she says.
Now, 27 years into her career as a nurse, Gorman admits she had to do a little "backtracking" on that promise.
On Oct. 24, Gorman was honored as recipient of the 2018 Judith Lloyd Storfjell Distinguished Award for Scholarly Practice, which honors a faculty member who has made an outstanding contribution to nursing practice. It is the highest award the college confers to recognize practice by faculty or alumni.
For the last 16 years, Gorman has practiced as a hospice nurse, maintaining a commitment to end-of-life care and providing community health clinical experiences in hospice for nursing students. She's also a passionate champion for social justice initiatives, volunteering her time to engage in prison outreach and primary prevention of war strategies.
"Dr. Gorman is an indefatigable warrior for social justice and has translated her passion into a lifelong campaign for health equity," wrote Martha Dewey Bergren, DNS, clinical associate professor, in her nominating letter. "She has cultivated a cadre of novice nurses to embrace the nursing role of advocating for the health and well-being of the poor, the dying, veterans, the incarcerated, refugees and victims of war."
Living stories
Gorman began her career as a student of English literature. Her plan was to get a doctorate in that field, but in graduate school, she began volunteering with a social service organization called Little Brothers of the Poor, working with low-income elderly in Chicago. She fell in love with direct service work. After getting her master's degree in literature in 1979, she abandoned her plans and took a full-time job at the community-based care organization.
Finding herself unable to provide as much comfort and care as she wanted, in her 30s, she decided to return to school to pursue a nursing license. To her, public health nursing was not incongruous with literature. On the contrary, she saw her patients as "living stories."
"Nursing provided an even more in-depth opportunity to get as close to the heart of the story as you possibly could," she says.
Gorman found her way to hospice care after a disheartening experience working in hospital-based oncology in the early 1990s. There, she says she watched patients suffer through expensive treatments that may have temporarily prolonged their lives, but detracted from the quality.
She almost quit nursing.
"It wasn't because people were dying," she says. "It was the way they were dying and the few choices that were available to them."
She adds: "I learned about hospice and that was what saved my nursing career."
Gorman has worked as a hospice nurse since 2002, most recently with Unity Hospice, a small, family-run organization that serves many uninsured and underinsured clients. Her practice is separate from her full-time faculty position at the college.
She says it's been important for her to maintain her work in hospice, calling it a "privilege" to go into people's homes and bear witness to what they're going through.
"It's much easier to teach nursing if you practice nursing," she says. "When I tell students how proud I am to be a nurse and how much I love the practice of nursing, it's true and present."
Social justice crusader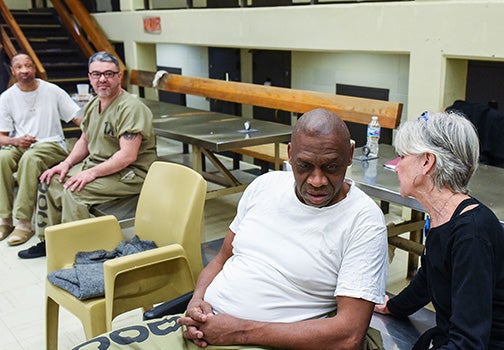 Gorman believes that nurses carry a "significant social mandate" to act in a way that's beneficial to society.
For her, that translates into a focus on preventing war and promoting peace. Gorman says the aftermath of Sept. 11 – the wars in Iraq and Afghanistan — served as a wakeup call about the importance of speaking out against "the profound costs of waging war." She joined a humanitarian war relief organization called Emergency USA and went to Afghanistan in 2013 to work with an emergency hospital there.
"That is probably my strongest call to conscience," she says. "I think that nurses have a real role in speaking out against violence of all kinds, whether it's the firearm violence in our own communities here in Chicago, or it's the violence that surrounds incarceration and re-entry into communities, or it's the violence we are responsible for overseas."
Gorman is the only nurse on an interdisciplinary Peace Caucus of the American Public Health Association, which published an article in the American Journal of Public Health, describing public health teaching competencies for the prevention of war. She's planning to put together an elective with the School of Public Health on the topic next semester, using a reader that the group developed as the textbook.
Gorman's social justice work also translates to prisoners. She began volunteering at a maximum security prison in Michigan City, Indiana, 20 years ago. About two years ago, she and Rebecca Singer, UIC College of Nursing clinical assistant professor, began bringing graduate students to Cook County Jail for a community health practicum. Gorman authored an article based on her experience there in Public Health Nursing in 2018, and co-authored articles in Advances in Nursing Science and Public Health Nursing.
This summer, Gorman started a book club with women in the medium security tier of the Cook County Jail.
Inspiring students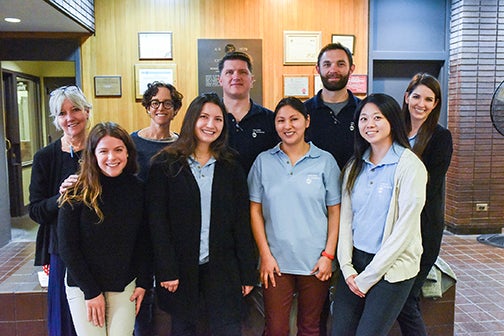 Gorman's students say it's her commitment to practice – both through hospice and social justice work – that makes her such an inspiring teacher.
Gorman served as a Master Teaching Scholar from 2015 to 2017, which is awarded by the Teaching Learning Center at UIC. She's won the College of Nursing Graduate Faculty Award of Excellence three times since 2014.
Stephanie Ezell, one of Gorman's former students who is now pursuing her PhD at the college, says "there's no way I could overstate how important she's been to me."
Ezell recalls how shadowing Gorman as she made rounds to patient homes on a Saturday prompted her to pursue hospice nursing.
"From the very first patient I saw, I knew that's what I wanted to do," Ezell says. "Both the nature of the situation itself but also her interaction with the patient… She was so naturally compassionate and nurturing to the patients, families, spouses and caregivers."
Annie Perry Shideler, a graduate entry master's student, has taken two courses with Gorman, calling her an "extraordinary mentor" and a "beacon of hope" for many students at the college.
"She shows us in action and word how to encounter and embrace other people, to care for them without patronizing or belittling them, and to find common humanity and community everywhere we look," she says.
Modified on November 05, 2018