Gift creates Heung Soo and Mi Ja Kim Endowed Faculty Scholar Position
Dean Emerita Mi Ja Kim credits the college for her illustrious career, saying it's where she 'grew up' Heading link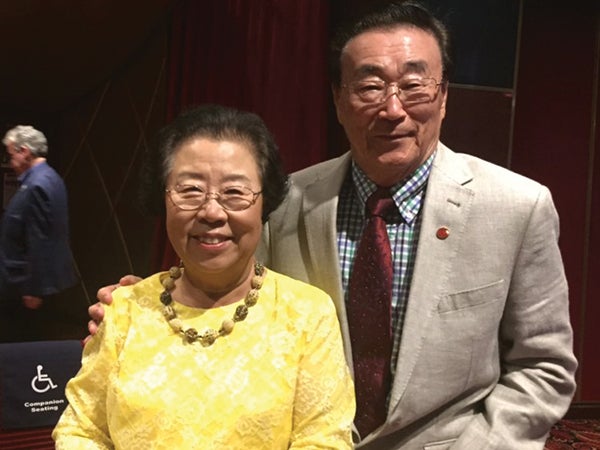 In 2018, UIC Nursing Dean Emerita Mi Ja Kim, PhD, RN, FRCN, FAAN, made a significant gift to create the Dr. Mi Ja Kim Endowed Faculty Research Award. Now she and her husband have doubled the endowment to $250,000 to transform the award into the Heung Soo and Mi Ja Kim Endowed Faculty Scholar Position.
"Expanding the gift was important to me to recognize and support faculty research at a higher level," says Kim, who also served as vice chancellor for research and dean of the Graduate College during her 38 years on faculty at UIC. "This is special because my husband has joined me for this gift as he is an ardent supporter of UIC Nursing faculty research."
UIC Nursing Dean Eileen Collins, PhD, RN, FAAN, FAACVPR, ATSF, says the gift is special for an additional reason.
"An endowed faculty scholar position bearing the name of Mi Ja Kim, who is known worldwide in the field of nursing science, is an incredible tool for our college to use in recruiting and retaining world-class faculty," says Collins.
The Heung Soo and Mi Ja Kim Endowed Faculty Scholar will parallel the Helen K. Grace Endowed Diversity Scholar position, currently held by Associate Dean for Equity and Inclusion Phoenix Matthews, PhD.
Named an American Academy of Nursing "Living Legend" in 2012, Kim continues to remain active in research and scholarship. Kim's own research career includes more than $12 million in extramural funding; publication of 160 scholarly articles; and honorary fellowship in the Royal College of Nursing in London.
Kim's motivation for supporting nurse scientists is her belief that researchers who are changing the face of healthcare should be rewarded with funds to spend on their work at their discretion.
"God has blessed me and my family immensely," she says. "I hope the gift will serve as inspiration for others to also give when their time comes. If I can do it, anybody can do it."
Modified on October 21, 2021