Grant targets HIV prevention among sex workers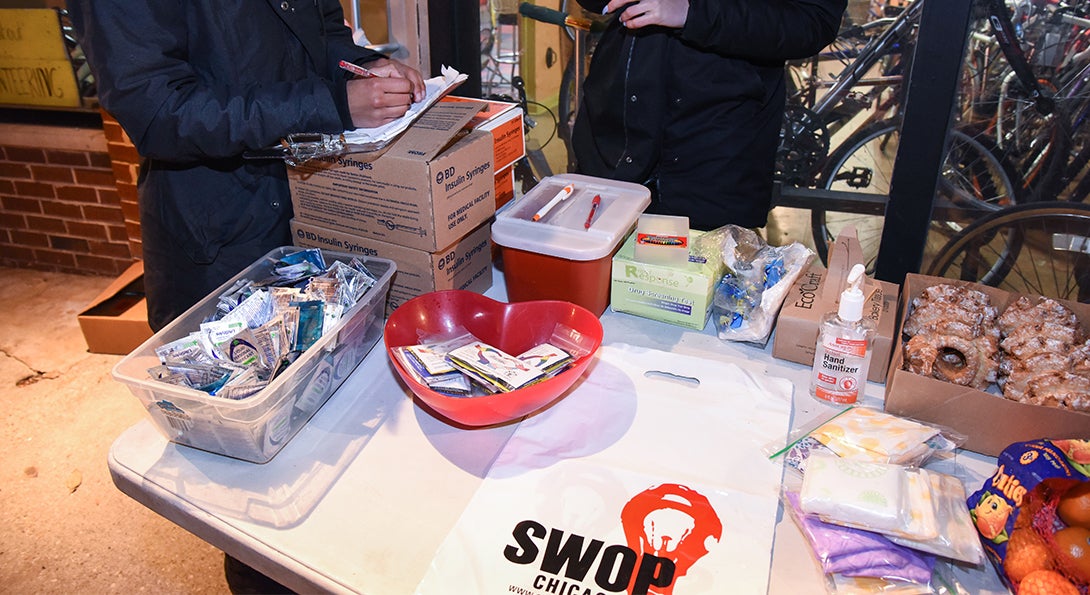 The UIC College of Nursing has received a grant from the Rita & Alex Hillman Foundation to pilot a strategy to prevent HIV and sexually transmitted infections among sex workers.
In collaboration with stakeholders , UIC College of Nursing researchers will assess the needs of sex workers in Chicago. They will then determine the feasibility and acceptability of a collaboratively developed community-empowered model of group healthcare that is similar to models developed by CenteringHealthcare. The "Centering" model prioritizes three main components: healthcare in a group, interactive learning and community building.
"The model promotes social support and joint problem-solving," says Randi Singer, PhD, clinical assistant professor and the lead investigator on the project. "What we know is that community empowerment interventions can reduce HIV epidemics because the design, implementation and evaluation of those interventions are inclusive of the perspectives and insights of the impacted community."
The project comes on the heels of a statewide initiative, Getting to Zero Illinois, to end new HIV infections by 2030. Sex workers are one of five "key populations" at increased risk for HIV, according to the World Health Organization. Nearly 40,000 people in Illinois are living with HIV, 23,800 of whom live in Chicago. Globally, the risk of acquiring HIV is 21 times higher for sex workers than adults aged 15 to 49 years old, according to UNAIDS.
Breaking down barriers
"Centering" originated with CenteringPregnancy, a group model of prenatal care, and has been modified for different populations. However, no prior studies have explored whether it can decrease HIV risk among sex workers. The curriculum emphasizes group sessions led by a healthcare worker where participants share experiences and questions and can learn from one another.
Codi Schei, who has been employed as a sex worker since 2005, will be one of the individuals doing outreach to the sex worker community to help recruit study participants. She's on the leadership board of the nonprofit advocacy group Sex Worker Outreach Project-Chicago. Along with SWOP-Chicago, Howard Brown Health and Centering Healthcare Institute are the key community partners for this project.
"I think one of the main barriers is institutional harm and trauma from both healthcare providers and researchers alike, because sex workers are often seen as this edgy thing to pick at, instead of as human beings," she says. "Patching together those bridges of broken trust is going to take a lot of time."
Schei adds that some sex workers fear surveillance or criminalization related to HIV status and others live in poverty. Sex workers who might benefit most from the study may not have access to the tools required to participate, such as phone or internet access, transportation or stable housing.
Schei says she appreciates that the Centering concept encourages people to engage with their own healthcare and adds, "that could be empowering."
"Self-management is a core component of this model," Singer says. "It says that sex workers are able to manage their own health, that they don't need to be managed, but they might want some new tools gained through enhanced learning, skill building and a collaborative client-provider relationship."
To assess the model, researchers will conduct pre- and post-intervention surveys with participants to explore whether the model increased knowledge and changed attitudes and behaviors related to HIV prevention, self-management and harm reduction. Those results will guide the potential for a future, larger study.
UIC Nursing co-investigators are Phoenix Matthews, PhD, professor and Helen K. Grace Diversity Scholar, and Crystal Patil, PhD, professor and head of the Department of Women, Children and Family Health Science. Other co-investigators include: Amy K. Johnson, PhD, Northwestern University and Lurie Children's Hospital; Douglas Bruce, PhD, DePaul University; Susan Sherman, PhD, Johns Hopkins University; Alexandra Lutnick, PhD; and Julia Gelbort, MSN, are also co-investigators on this project.
Modified on March 15, 2021