UIC Nursing Alumni–Guadalupe Niño
Circulating nurse, Memorial Medical Center, Springfield Heading link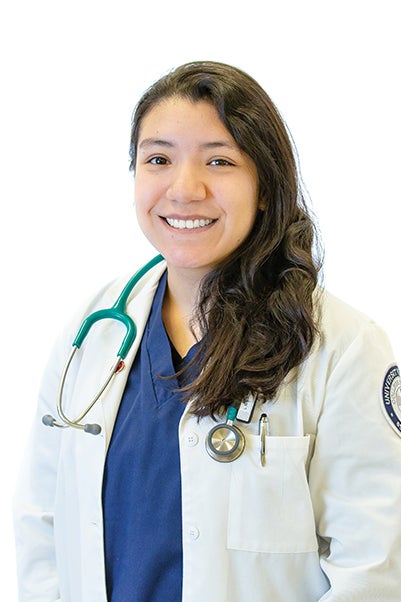 Guadalupe Niño, BSN '19, RN, always imagined herself attending college and practicing nursing in her home city of Chicago. Instead, she followed her passion to Springfield, where she discovered a new home.
Q: What drew you to nursing?
A: When I was around 8 years old, my only living grandmother was diagnosed with cancer. After finding out that my grandmother was so sick, my family moved from Chicago to Mexico to take care of her. My brother and I were involved in the care of our grandma until her condition became more severe. After she passed away, we moved back to Chicago, where my parents would take me to their medical appointments to translate. The communication barrier made the healthcare system frightening, but the nurses were always a calming presence to me. They helped me build a bridge for my family to the healthcare system. I knew I wanted to be that bridge for others.
Q: What was your transition to Springfield like?
A: It was difficult at first. I always thought I would pursue the goal of becoming a nurse while being in Chicago and having my family with me every step of the way. While I was thrilled to have been accepted into the UIC College of Nursing, I didn't know anyone else who would be attending the Springfield campus. My family describes me as a very determined, goal-oriented and passionate person. They reminded me of my goal and of their continuous support. My classmates who are Springfield natives were very welcoming. They would take us out to experience the great things Springfield had to offer. Over two years, the whole class grew closer as a cohort. We all became a big family.
Q: What are you doing now?
A: After personally experiencing the support that Memorial Medical Center offers to its staff, I decided to accept a position in Springfield as a circulating nurse in the main operating room. Memorial will help me establish a strong foundation with endless opportunities for growth.
Niño was a 2018-19 recipient of the Memorial Health System scholarship.
Modified on August 15, 2023