Lilian Ferrer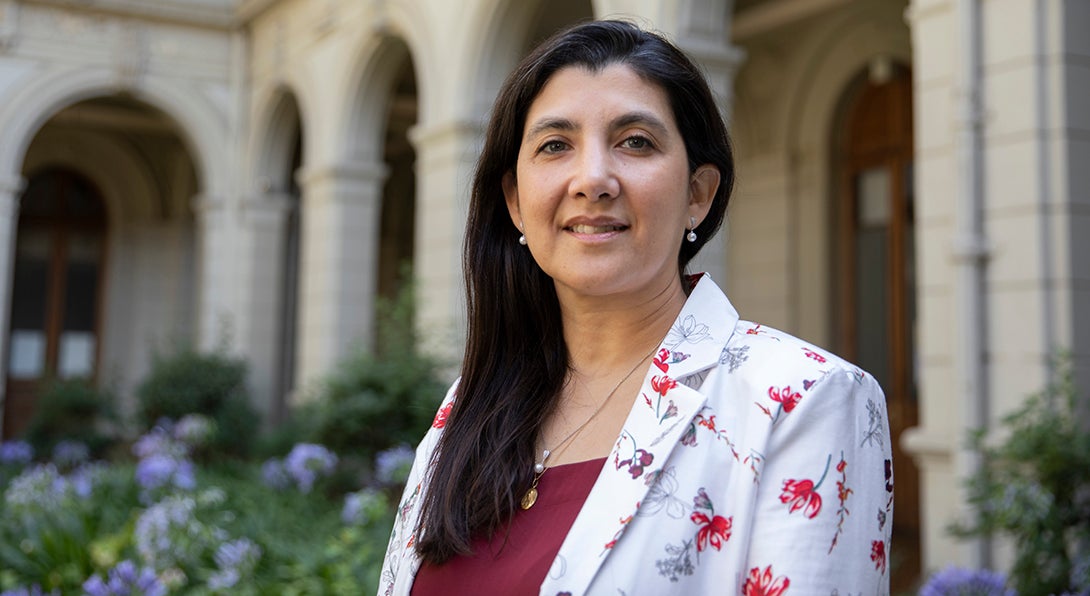 Ferrer earns 2022 UIC Nursing Outstanding Alumni Achievement Award Heading link
Lilian Ferrer, PhD, MS '01, FAAN, had her first encounter with international education at a British grade school in Santiago, Chile. That early exposure sparked an interest in exploring how things are done in a different part of the world.
She did just that, moving to Chicago at age 25 with her husband and her young son, to get her master's degree in public health nursing from the UIC College of Nursing.
Ferrer says this step was crucial; it strengthened her knowledge of interdisciplinary global health, taught her to collaborate with professionals from both the public and private sectors, and gave her a broad vision of health.
Now, as full professor and vice president for international affairs at Pontificia Universidad Católica de Chile, Ferrer has made globalism a hallmark of her career. She is a 2022 UIC College of Nursing Outstanding Alumni Achievement Award winner.
"I am very proud of the contribution that we, as nurses, can make," she says. "In my position at a top-ranked university in Latin America, nursing gives me a sensitivity and special concern for others. Being a nurse means I'm part of a group of people who care about others, who care about human beings."
'Changed my life'
After Ferrer studied nurse-midwifery at the university she now helps to lead, she chose UIC Nursing for her master's degree. She says she knew by observing nursing in other places, she could learn "how to better improve or do things here in Chile."
"Once I got to the U.S. and particularly to UIC, I was very thankful, because I was exposed to four people who changed my life," she says.
She remembers global health legend Beverly McElmurry, EdD, RN FAAN, challenging her to imagine where she would be in 10 years, inspiring her to map out her future career. She also met Nena Peragallo Montano, DrPH, RN, FAAN, a Chilean nurse and faculty member at UIC, who served as a role model.
Professor Emerita Tonda Hughes, PhD '89, RN, FAAN, the 2021 UIC Nursing Distinguished Alumni Award winner, showed her how she could use her research to make big changes. Lastly, professor emerita Kathleen Norr, PhD, a sociologist, helped her look past boundaries to a global society.
After getting her master's, Ferrer pursued her PhD in public health at UIC.
"I wanted to strengthen my nursing heart," she says. "At that point in time, it was important to me to think beyond the issues and problems nurses see at the individual level or at the bedside. I really wanted to go broader."
Trailblazer
"[Lilian] is a risk-taker," wrote Hughes in her award nomination letter.
As a graduate student, she had worked on a project in Chicago implementing an HIV/AIDS prevention program for Mexican and Puerto Rican women. But back in Chile as a nursing professor, when she applied for a grant to work on HIV/AIDS, she received pushback from a Chilean funding organization, which denied that the epidemic was an in issue in the predominantly Catholic country.
"I was getting into topics that were not common for women in Latin America and particularly, for Chilean women," she says.
Soon after, there was an HIV outbreak in Chile, and Ferrer was awarded an NIH-funded grant focused on prevention messaging among men. Her goal was to take a holistic approach in the prevention of HIV/AIDS in Chile.
"It ended up being a very successful initiative, but with support from people from the outside," she says. "It was not possible to start here at that time."
That has changed over time, and in her current position, Ferrer has worked hard to establish a culture of internationalism, where every student, staff or faculty member has an opportunity to engage in international experiences.
She has promoted a more integrated vision of international relations by promoting collaborative work with networks of institutions from different countries, expanding collaborations to new regions of the globe, and establishing guidelines for the internationalization of Latin America.
She has also made great efforts in the training of advanced practice nurses.
Asked what she is most proud of, Ferrer says it's her family. In addition to her husband, she has eight children, who range in age from 6 to 27 years old.
Modified on October 03, 2022